Russia's biggest charity raises over $600,000 at a New Year's event in London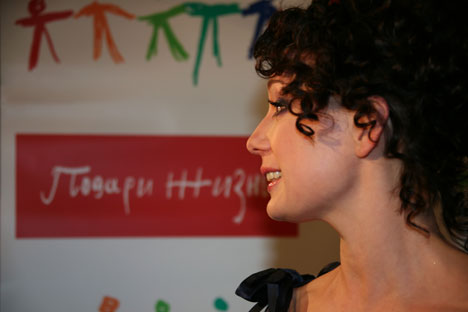 Chulpan Khamatova is Russian prominent actress and a co-founder of 'Podari Zhizn' (Gift of Life) charity organization. Source: RIA Novisti.
Gift of Life – a charity founded by Russian actresses Chulpan Khamatova and Dina Korzun to support children with leukemia – brought Russian and international celebrities together in London to celebrate the New Year according to the Julian calendar.
An "Old New Year" charity evening in London raised £400,000 ($639,840) for children in the care of the Podari Zhizn (Gift of Life) – the foundation that helps children with oncological diseases.
Gift of Life, the sister organization of Russia's Podari Zhizn, began operations in the UK in 2011. Its main task is to collect funds within the UK and other European countries to pay for the treatment of children in the care of Podari Zhizn.
New Year is celebrated twice in Russia: first on Jan. 1, when the main festivities are traditionally held, and again on Jan. 13, which is the day the Russian Empire used to celebrate New Year's Day according to the Julian calendar.
"The Old New Year is an unusual Russian tradition. It is a festival particularly loved by children, since it extends the winter celebrations and inspires hope of new gifts and miracles," according to Podari Zhizn website.
The gala evening was held at the Savoy Hotel in London. The evening's guests included Russian and British celebrities: actress Inna Churikova and her spouse Gleb Panfilov, businessman Evgeny Lebedev, director Martha Fiennes, and many more. Actresses Dina Korzun and Chulpan Khamatova, co-founders of the charity, acted as the event's hosts.
Katie Melua, a famous British singer who has recently become a patron of Gift of Life, performed for the guests at the event. In addition, around 40 lots presented by donors were sold at auction. The most desirable lots turned out to be tickets to the plays "The Lion in Winter" and "White Lie" (produced by Gleb Panfilov and starring Inna Churikova), along with a 24-seat VIP box at Stamford Bridge for the Premier League home game of choice in the 2013/2014 soccer season; the latter was donated by Roman Abramovich.
The funds raised by the event will be spent on foreign-made, life-saving medications for children. All expenses associated with the organization of the event were paid for through the generosity of Sberbank CIB and Kaspersky Lab.
The Old New Year's Eve charity evening has become somewhat of a proud tradition – last year it raised £330,000 ($526,911). The money was spent on the medicine Erwinase for 21 children suffering from acute lymphoblastic leukemia.
First published in Russian in RIA Novosti.
All rights reserved by Rossiyskaya Gazeta.