Victory Day parade held in Moscow's Red Square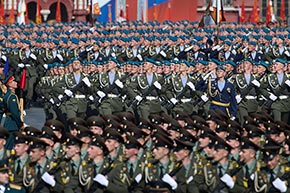 Russian soldiers march along Red Square during a Victory Day parade. Sourse: AP / Ivan Sekretarev
President Vladimir Putin presides over the 68th anniversary celebrations.
The annual Victory Day parade took place in Moscow on May 9, celebrating the 68th victory of allied forces over Nazi Germany. Here is a summary of the parade events.
10:00 am – The Kremlin bells ring out, signaling the start of the Victory Day ceremony. President Vladimir Putin is on Red Square, shaking hands with veterans and officials.
10:05 am – A review of the troops by Defense Minister Sergei Shoigu in the traditional ZiL automobile. Shoigu stands to attention in military uniform.
10:10 am – Various regiments salute Shoigu
10:13 am – Shoigu comes to the podium to present the troops to Putin.
10:14 am – President Putin begins speaking: "Today we celebrate the victory of our people over Nazism… the memory is still fresh with us… it's passed from generation to generation."
10:16 am – Putin is paying tribute to the soldiers and people who fought in Moscow, Leningrad, Stalingrad and other battles and fronts. "We prevented the Nazis from conquering the world," Putin says.
10:18 am – Putin is talking about the importance of maintaining peace in the world, and ends with a wish for future prosperity. His speech lasts 4 minutes.
10:24 am – Troops are marching past on Red Square, currently the infantry regimental academy, and the air force academy.
10:26 am – Live coverage of the Red Square ceremony is being carried in English by RT, the Russian English-language news channel, and by the RIA Novosti news agency in Russian.
10:32 am – RIA Novosti reports that a total of 11,000 troops and some 100 military vehicles are taking part in the parade, while 68 aircraft will perform flyovers above Red Square.
10:40 am – Military vehicles, the Tiger, arrive on Red Square.
10:42 am – Tanks use specially rubberized tracks to protect the cobblestones on Red Square, RT explains.
10:45 am – The Victory Day celebrations will continue all day, with the final event on Red Square with fireworks scheduled for 10pm.
10:46 am – The giant Topol-M missiles are rumbling across Red Square in their truck-carriers.
10:47 am – All the military vehicles taking part in the parade will have been consecrated with holy water by Orthodox priests who serve with the armed forces as chaplains.
10:50 am – A flotilla of 4 helicopters flies over Red Square
10:52 am – Sukhoi jets roar over the square, following a transport plane. Next up are a group of short-range bombers.
10:58 am - Marching bands are goosestepping across the Square.
10:59 am - Vladimir Putin is leaving the podium and walking across Red Square.
All rights reserved by Rossiyskaya Gazeta.