Moscow gears up to celebrate India's Independence Day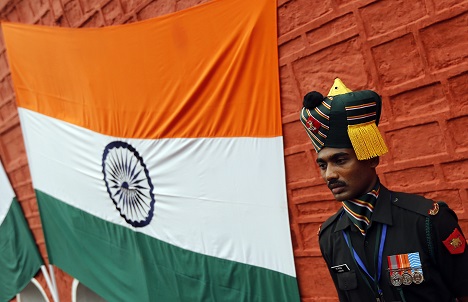 Russia's association with India's freedom struggle goes as far back as 1857. Source: Reuters
Moscow is getting ready to celebrate 'India Day' on the eve of the Indian Independence Day, with a concert and a host of festivities and cultural events planned in the Russian capital on August 14.
The Indian community in Moscow, with support from the Russian Ministry of Culture, Moscow's Department of Culture and the Indian Embassy's Jawaharlal Nehru Cultural Centre, is preparing to celebrate 'India Day,' for the third consecutive year.
On the eve of India's 69th Independence Day, the 'India Day' celebrations will be held on Sunday, August 14 at the Sokolniki Park, for 12 hours from 10:00 in the morning. There will be a grand concert, while various activities, exhibitions and workshops will be conducted through the day.
The highlight of the 'India Day' celebrations this year is the enactment of a traditional Indian Hindu wedding, where visitors can witness a wedding conducted by observing true Vedic conventions. A "Rath Yatra", or 'Chariot journey,' in the centuries old Indian tradition, will also be featured in the celebrations.
"This year, the main musical performance will be a unique synthesis of spiritual texts and music in the style of world music, fusion, ethno new-age, mantra-rock, trance. Each song is a journey into the world, combining the depth of the East and the vitality of the West," said Sammy Kotwani, President of the Indian Business Alliance in Russia. "Ancient IndianRagas, and Vedic mantras in Sanskrit will intertwine with the singing of shamans and Sufi motifs in the new sound of modern rock and trance. The compositions of the band "ImRam" are unique, because of their use of a special 'sacral' technique,» Kotwani said.
"The music has a deep therapeutic effect - giving happiness, joy and inspiration, again and again bringing to the world the universal values that are the foundation of spiritual and artistic progress. Other performers include Svetlana Agarwal, the only performer of traditional Indian songs in Belarus, and the dance troupe 'Salsa Twins', informed Kotwani, one of the organizers.
Besides the concert, an Indian bazaar is being set-up where visitors can buy various Indian souvenirs, handmade jewellery, tea, spices and rice. Among the stalls will be a mehendi (henna body painting) stall, a yoga workshop corner, ayurveda, (the world's oldest system of traditional medicine), tantra and Indian food stalls.
The celebrations include various contests such as 'Rangoli' (intricate rice powder drawings on the floor at the entrance of the house), Chess and an instant lottery offering the grand prize of a 'Ticket to India'.
All rights reserved by Rossiyskaya Gazeta.