A Russian 'bahu' in an Indian home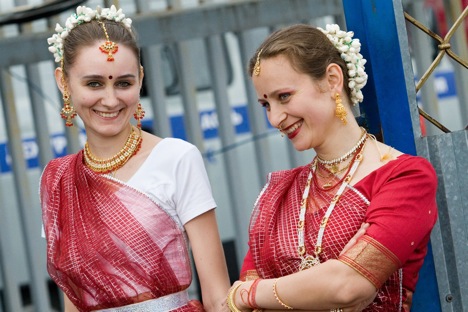 Russian women have it in their blood to take good care of their husbands. Source: Press Photo
Russian women do not fit easily into the traditional daughter-in-law role in an Indian family, but they still enjoy the warmth and affection that comes from being a part of a joint-family.
The 'Bahu' (Hindi for daughter-in-law) doesn't just play the role of the son's wife in the family hierarchy, she is also one of the protagonists of the sophisticated relationship between the two most important women in any man's life.
In India, when a man marries he gets a wife, whereas a woman gets a whole family. The role that the bahu plays in any traditional family as a woman of the house involves sharing responsibilities with her mother-in-law in household chores, such as cooking, shopping and even praying. For an outsider like me, all this seemed like duties that a young wife is expected to do once she gets married. In reality, for most Indian girls it is a way of life in a new family.
In Russian culture, the relationship between a mother-in-law and her daughter-in-law is much more simple and distanced than it is in India. First of all, there are no such close ties between the two families whose children are married. Second, usually there are no joint families. A newly married couple gets full freedom and does not have many obligations before the elders. In India, however, there are lots of expectations from a woman in the son's family. Marriage indicates that a girl is leaving her family forever and enters another family - becoming a 'bahu'.
I have being lucky to go through the colourful experience of being a part of an Indian family for the past eight years. My story is about a Russian bahu in a modern Indian family. What has my experience been? To describe it in few words; emotional, surprising and full of warmth and care.
My mother-in-law is a Keralite and a very educated and experienced professional who spent more than 30 years abroad. My father-in-law is a Bengali Doctor of science who used to live abroad and has seen the world. Spending so many years outside India usually doesn't affect the attitude of Indian family towards traditions and the way they see their life. However, I was lucky enough to join a family which is so open-minded and tolerant to have a non-Indian daughter-in-law.
Indian parents love to take a very active part in their children's lives. It is different in Russian culture. Sometimes it made me feel a little uncomfortable by having family discussions about small things that are happening in our life and having decisions made by the elders in the family.
A daughter-in-law is expected to take as good care of her mother-in-law as she would do with her own mother. Since family relationships in Russia are not that close, no matter how much affection is shown, it is never enough for Indian parents.
After the birth of my son, I had the pleasure of being pampered Kerala style. A masseuse gave me an Ayurvedic oil massage every day to bring my muscles back in tone and a eucalyptus bath afterwards. I also had a babysitter who helped me to take care of my small baby. My mother-in-law took care of my diet so that I could provide a nutritious supply of breast milk. On the other hand, since I got such good care, I feel the need to take as good care of my husband, as mothers do in India.
Food is a very important part of any family experience in India. It is expected that the wife will do the cooking. In many cases, the wife can't start eating before the whole family does and will serve food on the plate of her husband. Maybe all these are old habits but they show the wife's caring attitude towards her husband.
Some of my friends tell me that these are outdated habits; that in modern Indian families this is no longer the case. I have been thinking about that. I have been watching Indian and mixed Indo-Russian families around. I see the changes in today's society.
Many young couples do not behave that way. On the other hand, I also realized that Russian women have it in their blood to take good care of their husbands. That has nothing to do with family, culture or societal expectations. Russian women have great hearts; maybe they can't become ideal 'bahus,' as stereotyped in Indian television programmes and films, but they will give all their love and care to their husbands.
The article was first published in 2013.
All rights reserved by Rossiyskaya Gazeta.