The homeland comes first for boxing star Povetkin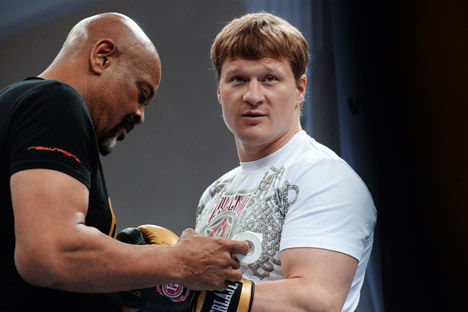 Alexander Povetkin: "A fight is just a fight: the rival is an enemy in the ring, but outside the ropes, we can even be friends." Source: Vladimir Vyatkin / RIA Novosti
Boxer Alexander Povetkin talks about his training, charity work and relations with Wladimir Klitschko.
After his epic bout with the Ukrainian Wladimir Klitschko, "Russian Knight" Alexander Povetkin took some time off from the boxing ring.
The fighter has returned to training and has started working on some charity projects. The Renaissance Foundation, a charity created by the 34-year-old athlete to promote sport and a healthy lifestyle among the youth, can already count one important accomplishment under the belt, after it provided sports equipment to an orphanage in the Kursk region.
"Now we are just looking to see how boxing, kickboxing and martial arts in general develop in Russia," said Alexander Povetkin.
"Children are becoming involved in these sports, so hopefully they will acquire healthy habits. Recently we went to a children's tournament in Volgograd. We also visited some events in the Vladimir and Orel region."
Moreover, Povetkin and his colleague Denis Lebedev recently made the headlines in Russia after they donated a significant amount of money to the family of boxer Magomed Abdusalamov, in a state of induced coma after a fight with Cuban Mike Perez, which took place on November 2 at Madison Square Garden in New York City.
Do you have time left for training?
A.P.: Yes, I train. I work on tactics and physical form. I use equipment, pads, and work on technique in sparring matches. To be entirely honest I have still to watch my bout with Wladimir Klitschko. I have to do this, and analyze [the fight] one more time – see where I went wrong, and move on.
Denis Lebedev and you helped Magomed Abdusalamov...
A.P.: He is a boxer, like we are. Each one of us could have suffered a similar injury. We wanted to help. It was the right thing to do.
Are all boxers selfless?
A.P.: It depends on the person. Earlier, they would ask me: "Are you paid for your fights?" First of all, I box for my country, but the money is still important.
Without money, it is impossible to train, eat and live properly. Therefore, saying that I just box for the fun of it is wrong. However, our country and people come first for me, as they do for Denis Lebedev and many other boxers.
Wladimir Klitschko will be selling your boxer shorts at a charity auction. Did you receive Klitschko's shorts in exchange?
A.P.: My agent met with Klitschko's assistant. I know that he was given some of this equipment.
Would it be right, if we decided to sell his shorts?
A.P.: And why not? I think it is a good idea. I will personally verify that all money received from the sale goes to the right place. People need help, especially children.
It is necessary to build more gyms, so that sports can become more accessible to the younger generations. It will enable young people to become strong protectors of their parents and homeland.
Boys will not be afraid to serve in the army, but on the contrary, they will have the desire to protect their beloved country.
Ever since the fight you have been constantly crossing paths with Wladimir Klitschko. Do you have warmer relations with him than your fans?
A.P.: We had, and continue to have good relations. A fight is just a fight: the rival is an enemy in the ring, but outside the ropes, we can even be friends. This is normal, and so it should be.
First published in Russian in Izvestia.
All rights reserved by Rossiyskaya Gazeta.