World Cup 2018: sporting bonanza or own goal?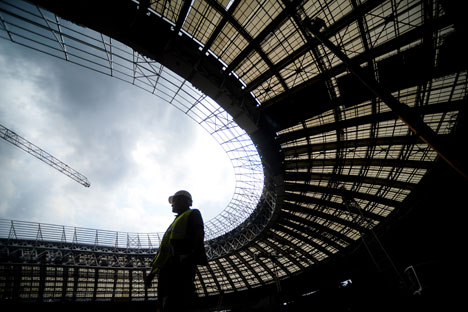 Thinking big: state-of-the-art stadiums are being built for the tournament.
Konstantin Chabalov / RIA Novosti
Russia's economic crisis can help or hinder the World Cup, depending on how host cities see the opportunity.
It could be a marketing exec's dream: hundreds of thousands of visiting football fans, a TV audience of billions, all focused on enjoying themselves against a Russian backdrop. But will that dream come true? Two cities, Kazan and Kaliningrad, sum up the differences in opinion about whether 2018 FIFA World Cup Russia will be a triumph or a disappointment.
The Barcelona approach
In Kazan, the capital of Tatarstan and host for group-stage games and a quarter-final, big sporting events are helping to transform the city's economy and its reputation in Russia and beyond. Encouraged by the success of the city's ice hockey, football, volleyball and basketball teams, Kazan has enormous big-match experience – and is thirsting for more. Hosting Universiade in 2013 and last summer's FINA World Aquatic Championships has transformed the city's visitor infrastructure and sent out a message to the wider world that Kazan is open for business. Mayor Ilsur Metshin likes to compare the impact with the post-Olympic renaissance of Barcelona.
"In the last two years we've opened 88 new hotels," the mayor said during the FINA Championships. "They have well-trained staff and they are running at 90-95pc capacity. The growth is like Barcelona's: before the Olympics in 1992 there were about one million tourists a year, but now it's 12 million."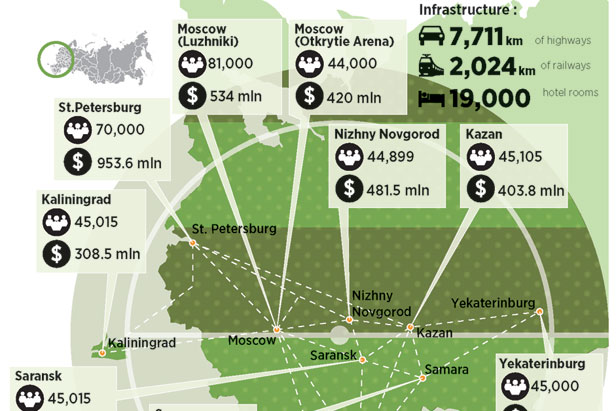 How much is Russia investing in new stadiums and infrastructure for the 2018 FIFA World Cup?
Kazan's numbers aren't quite so impressive, but the trend is encouraging. The city now has 156 hotels and Metshin said that Kazan would welcome two million guests in 2015 – a big rise from 460,000 when he took office in 2006. Speculating on sport has brought financial rewards as well, with Metshin adamant that this summer's grand festival of water sports more than recouped its 3.5 billion ruble (£37m) budget.
Selling 350,000 tickets and attracting around 120,000 visitors to the city – including more than 3,000 members of international delegations – also got the thumbs-up from retailers, with cafés, bars and restaurants estimating a 30-40pc increase in business. Sergei Koshkin, manager of the Kofein coffee bar on Kazan's busy Bauman Street, reckons that about 40pc of his customers during the championships were foreigners – and he is hoping for a similar upswing in 2018 and during the 2017 Confederations Cup, which is a warm-up event for the World Cup itself.
Metshin believes that sport is putting Kazan on the international map. "During the World Championships I had calls from Singapore, Australia, France, the USA, South Africa and Brazil to congratulate us on how well we hosted them," he added. "It's a great way of showing that Russia is more than just Moscow and St. Petersburg. People can see that Kazan is our nation's third capital."
Baltic uncertainty
Kaliningrad, Russia's westernmost point, will play its part in welcoming the world to Russia in 2018 – but, unlike Kazan, has some way to go to convince everybody that the efforts are worthwhile. The city's close historic ties to Germany and central Europe should make it a natural fit for a major international tournament. Yet progress on building a World Cup arena is slow and local attitudes dominated by cautious scepticism. In a region where 90pc of visitors come from elsewhere in Russia, staff in local bars and hotels treat the prospect of a World Cup bonanza with a fatalistic shrug.
Plans for a new stadium have also run into difficulties. Last month, 500 people gathered to protest against compulsory purchase orders affecting the site of the new stadium on Oktyabrsky (October) Island. In particular, local people are angry about the proposed future use of the city centre site, which is currently home to the Baltic-Expo complex.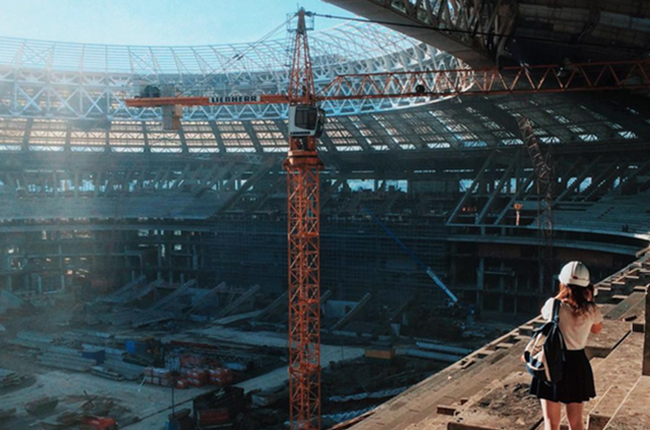 Pyotr Gritsenko, the chief executive of the exhibition centre, told Radio Liberty that far from meeting the needs of staging the World Cup, much of the new building looks like six-storey houses. He accuses the authorities of "lies and outright fraud".
Work has barely started on Kaliningrad's new stadium, with the first stones laid as recently as 17 September. Even then, there was still no formal contract in place to build the arena; at the start of October, Aras Agalarov's Crocus Group was seeking guarantees that the project cost would not exceed 17.5 billion rubles (£184m). Plans have also been scaled back: the initial 40,000-seater venue will now house 35,000 for the World Cup, with 10,000 of those seats removed after the competition. Even so, the proposals are set to run over budget, according to Russia's sports minister Vitaly Mutko, although he's confident the venue will be ready in time for its November 2017 opening.
Mixed messages
Regional governor Nikolai Tsukanov has spoken warmly of the benefits for contractors in Kaliningrad. At a ceremony to mark the start of building work, he praised the quality of the locally sourced concrete piles. Yet Tsukanov has not always been eager to promote football in his city. In 2013, with the local Baltika team pushing for promotion to the Russian Premier League, he found himself embroiled in scandal. According to local Novosti Kaliningrada news portal, Tsukanov said he had asked the team to avoid promotion from the second tier because "we don't have enough money to support Premier League football". Baltika duly suffered a loss of form, failing to win in the closing games of the season and missing out on a play-off place.
Refurbished airport
Kazan and Kaliningrad are not the only cities to get a new look as the World Cup approaches. St. Petersburg has a modern, refurbished airport and work is under way on a new 60,000-seat football stadium. Sochi's Olympic regeneration continues, with the Black Sea restort establishing itself on the F1 Grand Prix circuit. The challenge now is to ensure sporting benefits are shared more widely among other cities in Russia.
All rights reserved by Rossiyskaya Gazeta.