Take a guess: How justified are salaries of Russian players?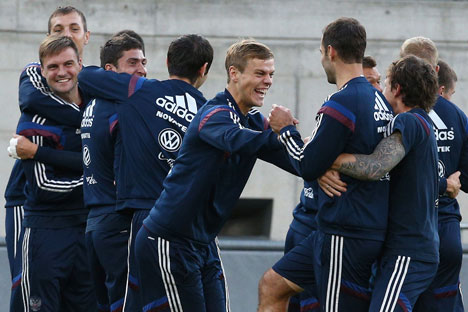 Russia wants to introduce a salary cap for soccer players.
The Russian soccer management is seriously thinking about reducing the cost of salaries of coaches and players. On August 10, the Russian Football Union (RFU) introduced draft financial regulations, which are supposed to set up a salary cap in the Russian league.
In particular, it is proposed to limit the maximum monthly salary of players to 2 million rubles ($31,000). For young players, the proposed limit is even more stringent; those under 21 will not be able to receive more than 150,000 rubles ($2,320) per month and 10 million per year ($155,000), bonuses included. For players aged between 21 to 23, the monthly limit will be 300,000 rubles ($4,640), and 5 million ($232,000) per year, bonuses included.
Russia's Premier League clubs are obliged to include at least five players with Russian citizenship in the first team, according to the limit introduced this summer. This, according to many experts, leads to an artificial and unjustified increase in the salaries of players with the passport of the Russian Federation.
To show the urgent need to save more graphically, we invite RBTH readers to try to guess current annual salaries of Russian players*.
*Salary amounts are based on insider information cited by Sports.ru. The amounts of wages appearing in the rankings is a guaranteed annual net of tax income of players, including the salary and signing bonus (it is divided by the number of years in the contract). Salaries of Russian soccer players are given in mln. euros. Indicated are the player's clubs in the season 2014-15.Only the matches of the Russian Premier League in the season 2014-15 are taken into account.
All rights reserved by Rossiyskaya Gazeta.