Sochi: Soviet exoticism after rebranding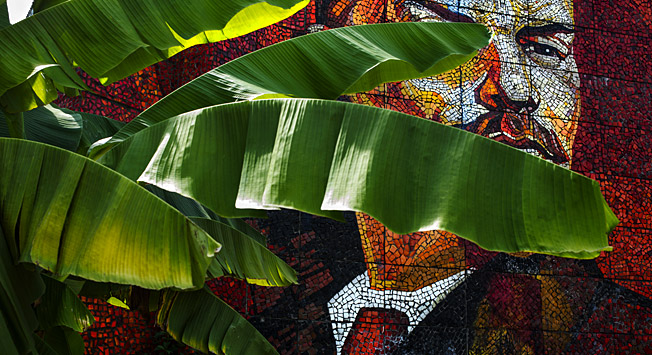 Just five years ago a walk in Sochi wouldn't have impressed anyone: it felt like if you turned a corner, you would find automatic vending machines there with fizzy drinks in communal cups, just like in the good old Soviet times
In my passport under the entry "place of birth" a country that disappeared from world maps a quarter of century ago is listed. Previously, if you felt nostalgia for your childhood, you could always leave your native city and rush to the south of Russia. Is it the same today? I went to post-Olympic Sochi in order to see if this was still the case. I wanted to know if something had been left there for lovers of Soviet romanticism.

Russia's Nice


Photo credit: RIA Novosti/Vladimir Trefilov
As soon as the train leaves, all passengers in accordance with Soviet tradition, immediately unwrap the chicken they had packed at home, peel their hard-boiled eggs and ask the conductor for tea served in special metal cups that you can only find on Russian trains. Without even trying, nostalgia for Soviet times arises. But the arrival in Sochi forces this nostalgic veil to thaw: the town no longer immediately reminds you of its Soviet past. The renovated railway station is a sort of architectural monument to Soviet times, but the ambience is now completely different, more contemporary. At the international airport, completely rebuilt in accordance with world standards, you can hear many languages being spoken all around you and all information is offered in various tongues.
Photo credit: RIA Novosti/Alexey Mayshev
Photo credit: TASS/Victor Klyushkin
The town is now rather similar to Nice, a town located on the same latitude: there are many expensive yachts and stylish restaurants and just like in the French resort you can hear Russian being spoken everywhere (which should not surprise anyone).
Russia's trendiest resort is now fully adjusted to the needs of people with physical disabilities and visual impairments. Sochi's mayor went so far as to set up a special demonstration: he got in a wheelchair and crossed the whole town on it to make sure personally that everything had been organized in a sufficiently comfortable way. Zebra crossings at intersections tell pedestrians whether the light is red or green in two languages. The road conditions have become ideal, which, as is well known, is not particularly common for Russia, let alone the Soviet Union.
Sochi in 2015 is one of the safest places in all of Russia. What impressed me most was that local residents could easily leave their iPads in their cars and not be afraid that someone might smash their windows to steal them. At every corner there is a camera or police officer maintaining public order.
By the way, even Sochi's oldest hotel, the "Rodina," where the most important Soviet people (including astronaut Yuri Gagarin) used to stay, has been transformed into a modern and posh residence.

The Soviet Riviera


Photo credit: Lori/Legion-Media
However, on the way to the delightful Riviera Park, I noticed a huge mosaic with Lenin's image, and a thought occurred to me: perhaps Soviet "exoticism" hasn't fully disappeared from Sochi?
There are some attractions in the park: both modern ones and replicas from Soviet times that you can find in Moscow's Gorky Park or the VDNKh pavilion. As in the days of old, passersby are offered photos with domesticated monkeys, parrots and Komodo dragons. In Riviera Park, the one thing that unites children of today with their Soviet counterparts is that they don't want to leave. They especially like the aquarium and the dolphinarium, and even enjoy the special shows for young kids. Everything appears to have become beautiful and tidy, but Soviet ambience is still palpable and even abundant.



Photo credit: Lori/Legion-Media
Quite a similar atmosphere can be found at the Sochi Circus, where in addition to seeing a show you can also ride a horse, have your picture taken with elephants and see how the animal performers live behind the scenes.
As it became clear during my walk around town, you can admire restored Soviet-era architecture in other places as well, such as the Winter and Summer theaters and the Festivalny Concert Hall. Buy a ticket for an event if you want to check out the interiors.



Photo credit: Lori/Legion-Media
Photo credit: Lori/Legion-Media
One particular attraction that was particularly popular among tourists during the Soviet period was the cable car, which appeared in the 1970s. Despite the fact that Krasnaya Polyana now features far more modern cable cars, the Soviet option in the Arboretum is still popular as it offers a glimpse into the not-so-distant past.
Soviet air high in the mountains


Photo credit: TASS/Andrei Golovanov, Sergei Kivrin
Somehow among the posh hotels and restaurants of the elite ski resort of Krasnaya Polyana, the chain of inexpensive USSR canteens has managed to slip in. The ambience here is in tune with the name, but I wouldn't recommend it: I found hair in my soup.
If you're up for some authentic Soviet exoticism, take a cab to Zelenaya Roshcha to visit Stalin's Dacha. The museum's staff still looks as if they inhabit the mid-20th century and skillfully keep up the air of mystery that characterized those times.
The guide will show you the rooms where the head of the Soviet empire loved watching films, playing billiards and received and rebuked the "nomenklatura." But visitors aren't allowed to peak into Stalin's office or bedroom, which will stimulate your curiosity even more.
They try to present one of the most contradictory figures of the last century as an ordinary man with a withered left hand and leg, who was 1.61 meters tall and suffered from hydrophobia. Moreover, the museum's staff cannot seem to hide their reverence for the General Secretary.
In this once secret place I removed an old thermos from my bag, filled it with air and brought it back to Moscow. And if I ever feel like breathing the air of childhood, I can always open the thermos and inhale it: the spirit in Stalin's Dacha has remained absolutely Soviet.
All rights reserved by Rossiyskaya Gazeta.