Top 7 places to enjoy mountainous Sochi: What to see, eat and do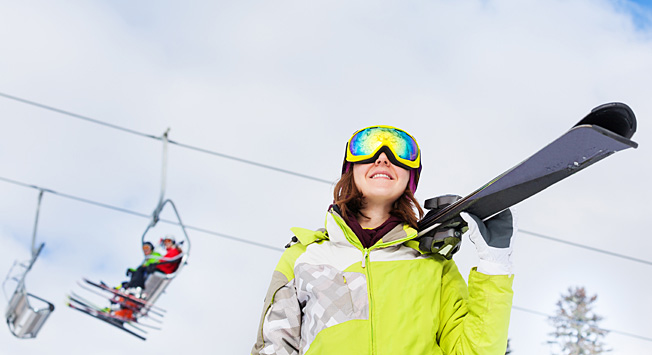 As the ski season begins in Sochi's Rosa Khutor and Krasnaya Polyana resorts, many tourists are expected to flock to the Olympic capital to hit slopes covered with fresh snow. Here's a brief guide to what to eat, see and do to get the most out of your ski vacation.
"If I had a fortune, I would live in Sochi." This famous Russian saying is no longer up to date as Sochi has become a rather affordable resort with hotels built for the 2014 Winter Olympics fighting for clients and offering rooms for any budget. The devaluation of Russia's currency has only added to Sochi's attractiveness among foreigners.
1. Solis Sochi Hotel & Suites 5*. Remember Wes Anderson's The Grand Budapest Hotel? Take a look at the Solis building hidden in forested mountains up in Krasnaya Polyana resort and you'll notice many similarities with the surreal Budapest Hotel. Located at an elevation of 960 meters above sea level, Solis features over 100 rooms with breathtaking views overlooking the Caucasus Mountains. The hotel also offers cave, helicopter and backcountry tours with experienced guides to satiate thrill-seekers.



Photo courtesy: Solis Sochi Hotel & Suites 5* press photo

2. Grand Hotel Polyana 5*. The hotel complex is divided into two big parts: the main building with 413 rooms and a group of 16 separate wooden villas designed as traditional Alpine chalets. An open heated swimming pool makes Grand Hotel Polyana an ideal place for families with children. It's conveniently located near the cableway and the recently opened Galaxy entertainment center.



Photo courtesy: Grand Hotel Polyana 5* press photo

3. Tulip Inn Rosa Khutor 3*. An ideal combination of price and value, Tulip Inn is located only a few minutes' walk from the main ski lifts and shopping galleries, restaurants and nightlife of Rosa Khutor resort. A good budget option, the hotel's restaurant is popular for its European cuisine where the top position is held by the carrot cake.



Photo credit: Lori/Legion-Media

4. Amshensky Dvor restaurant. It's the only restaurant in Sochi combining an ethnography museum with a restaurant. The museum half features over 1,500 household items made of wood, clay, iron, bronze and other materials. The restaurant serves Caucasian cuisine with a wide selection of meat, wild fowl and vegetables.



Photo credit: Alamy/Legion-Media

5. Achishkho restaurant. A traditional restaurant featuring food from nearby Abkhazia received its unpronounceable name after an eponymous mountain in Krasnaya Polyana. If you want to experience the atmosphere of a traditional guest house and take in genuine Caucasian hospitality, this is the place to be. The food is well regarded on all major travel review sites. Try the grilled fish, lavash (Caucasian pita bread) and khinkali, dumplings filled with meat and herbs.



Photo credit: Shutterstock/Legion-Media

6. Skypark AJ Hackett Sochi. When it comes to daredevils, Sochi can satisfy any thirst for adventure, whether it's skiing a steep slope or bungee jumping. The latter is growing more popular after a Russian-New Zealand partnership opened the all-season Skypark high in the mountains surrounding Sochi. Located in the Sochi National Park above Ahshtyrskaya Gorge, it is surrounded by a forest filled with Colchis boxwood, jasmine, rhododendron and other rare plants. Here you can try one of the highest bungees in the world at 207 meters, or if that's too high there's another at 69 meters. The Sochi Swing, supposedly the world's highest can be found here at 170 meters high. Finish up your day with MegaTroll, a trolley hovering 700 meters above the canyon at speeds up to 150 km/h.

Photo courtesy: AJ Hackett Sochi Skypark
7. Culture Ethnographic Center My Russia. Your overall impression of Russia will be incomplete without a peek at its numerous regions, known for their cultural diversity and various traditions. The Caucasus, the town of Suzdal, Central Russia, Moscow, northern regions, Tatarstan, Urals, Siberia and Buryatia – all are displayed in the form of small hotels, restaurants and souvenir shops at Sochi's Krasnaya Polyana. Take a brief stroll across Siberia, stop into a museum of the Caucasus and take a selfie in front of a colorful Buryat temple. However, Russia is too big and diverse to be fully depicted on a territory of 11 hectares. Therefore, the My Russia center is just an appetizer to whet your palate for what awaits you in the rest of Russia.



Photo courtesy: getlstd property photo
All rights reserved by Rossiyskaya Gazeta.