Rocks of freedom: What you didn't know about rock climbing in Siberia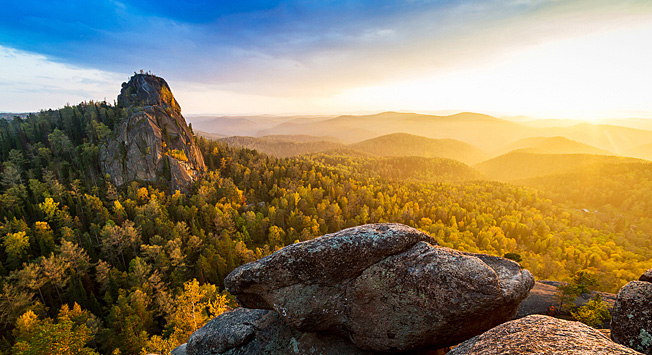 Get acquainted with wild mountaineering at Krasnoyarsk's most important natural sight, the Stolby Natural Reserve.
Located on the Yenisei River, Krasnoyarsk (3,354 kilometers from Moscow) is a lucky town. The Stolby (pillars) Natural Reserve is located right next door, a huge taiga territory that hides gigantic pink and grey cliffs and represents an authentic paradise for mountaineers.
Local residents have been going to the Stolby area to relax and enjoy a bird's eye view of the endless taiga ever since the 19th century. Siberians' love for these wild cliffs has inspired a unique sport and cultural phenomenon called "stolbizm." RBTH investigates what makes this place so special and why should you join these fearless rock climbers.
The Stolby Reserve is divided into several areas. Central Stolby, the main cliff area, is 5 kilometers wide and 10 kilometers long and is open to all, while the territory of the Wild Stolby area is restricted and not recommended for ordinary tourists. The most important sights of the reserve are the cliffs called Feathers, Lion's Gate, Grandpa, Grandma, First Pillar and Second Pillar. These huge rocks got these names because of their unusual shapes.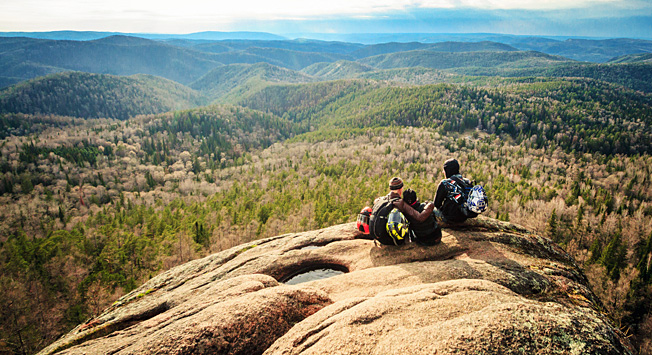 Photo credit: Sergei Filinin
Stolbizm is unlike ordinary rock climbing, and it is not a kind of sport: rather it's a form of amateur free climbing. Authentic "stolbists" can subdue a rock or the vertical face of a rock without ropes, hooks or any other type of mountain equipment. For example, a skilled stolbist is able to come down one of the most dangerous cliffs, Feathers, using the "shkurodyor" technique, which means going down along vertical splits wedging themselves with their shoulders between the rock's faces. The editorial staff of RBTH does not recommend practicing rock-climbing without protection ropes.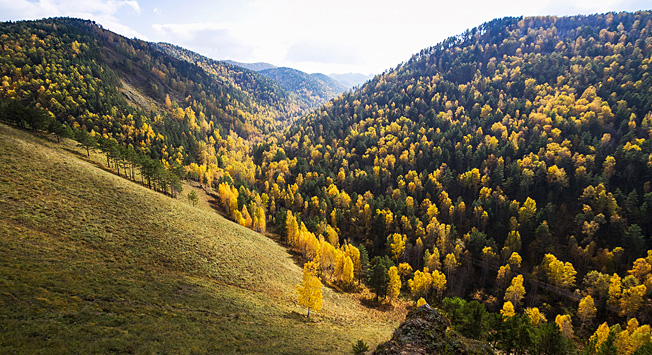 Photo credit: Sergei Filinin

Stolbizm is also a philosophy consisting of friendship, mutual aid and active socializing. Stolbists have their own circles, real clans with names such as "Griffins" or "Abreks," taken from the names of 19th-century guerillas in the Caucasus. Each group has its own "izba" (hut) in the reserve. It's not easy for strangers to get into one: not only do you need a key, but you also need to know how to climb a cliff. For example, the Griffins' small wooden house is located on the top of a cliff that is 50 meters high, one of the faces of which is vertical. Stolbist Roza Petrova shares her experience:
"It's so great to be here any time of the year, especially in fall. Going the familiar way to the hut makes me feel so peaceful and happy. Friends are already waiting for me at the hut and have put the kettle on. We get together, talk, laugh, sing to the guitar and go to the rocks where we climb. Surrounded by taiga forest, the view of Stolby is so inspiring that it feels like my soul flies."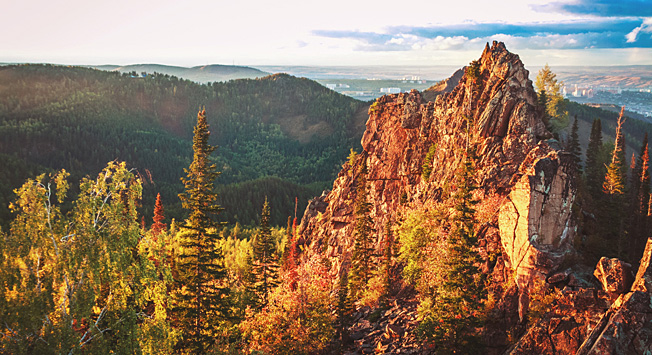 Photo credit: Sergei Filinin

At the end of the 19th century politically active youth used to come to the Stolby. In 1899, as a form of protest against the mistreatment of stolbists by the police, several revolutionaries climbed the Second Pillar cliff and wrote the word "freedom" on it. The writing has been being carefully inscribed for over a century now and is considered the symbol of stolbizm.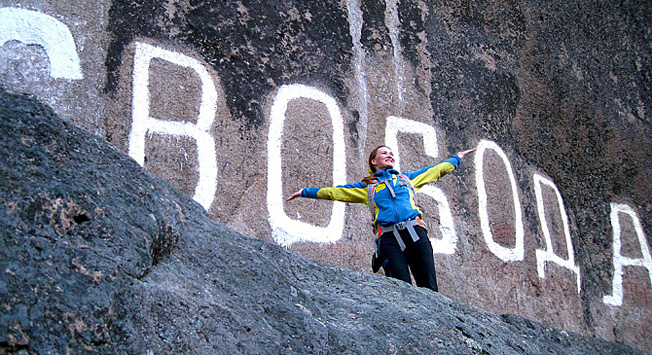 Photo credit: risk.ru

Until the 1990s there wasn't footwear good enough for rock climbing anywhere in the Soviet Union, therefore stolbists used to climb the cliffs in galoshes. Quality rubber could keep a person on the rock even after rain and in cool weather. Today stolbists wear modern rock-climbing footwear.
The Central Stolby area for tourists is quite big, so you'll need a whole day for a visit and should wear sneakers and sportswear. It's difficult to get lost in the reserve, as there are signs everywhere. All the same, it's advisable not to go off the beaten path, for you are surrounded by wild taiga. Climbing the pillars on your own is not recommended, as parts of it can be quite dangerous.
In the Central Stolby area there are toilets and kiosks selling food and drinks. Still it's better to bring some extra sandwiches and water with you. The Stolby Reserve is open all year round.

Above Stolby from big time films on Vimeo
All rights reserved by Rossiyskaya Gazeta.