50 shades of white: The best spots for diving in the Arctic Circle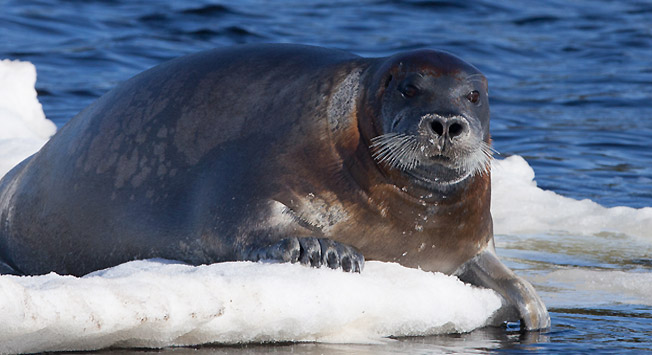 The idea of diving in the White Sea's icy waters may initially seem insane. But in the Karelian village of Nilmoguba all people are alive and kicking: even the local seals have got used to biped beings wrapped in the protective heat of neoprene.
From the Karelian village of Nilmoguba (1,535 kilometers from Moscow) to the geographical Arctic Circle it's just a two-minute journey by boat. And if you want to take a dive in the Arctic it takes only three minutes.
In the village itself there are no shops, nor are there any amusements that you usually find in cities: In winter it gets dark very early and the temperature is usually about -40° C, while in summer the endless Polar day won't let you sleep.
"Nilmoguba is not an ordinary village," says Mikhail 'Misha' Khrobostov, an instructor at the local Polyarny Krug diving center. "Next to the settlement is a Moscow State University biological station that has been in operation for several years and some time ago there was even a branch in Nilmoguba. Scientists have had a lot of influence on the residents: If you drop in at the house of an old Karelian woman, you'll notice the retorts and flasks in which she keeps her liqueurs on her shelves."
This place is not easy to reach, but people know about it and come every year: The Polyarny Krug guest book is filled with enthusiastic feedback in English, French, German, Polish and even Chinese.
Deep White Sea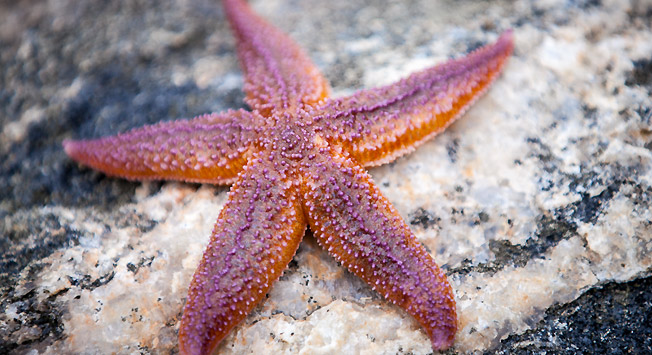 Photo credit: Eugene Ptushka
The high season here begins in winter, when the White Sea gets covered with thick ice. There's plenty of work for instructors: Ice diving is extremely popular among extreme sport lovers for whom the idea of diving in winter doesn't seem crazy. However, even in summer the water temperature in the White Sea forces you to consider the precariousness of every living thing. What is life like in such waters? What can you see here when you are underwater?
Misha knows where to dive and can show you the small fauna from close up. "In his latest dive he found a mussel and began to tease a big wolffish out of the rocks," says Dima, an expert diver on this motley crew. "First he pointed his flashlight at the mussel, then at his empty hand and then on the sand. And so on for a few times. In the end the wolffish came out and began to eat right from his hand."
Feeding a wolffish from your hand is exactly like feeding a wolf on dry land: It's a rather wild fish with strong jaws and conspicuous teeth.
You can't come to the White Sea without experience and just dive down to a depth of 20 meters: You need to go through a proper course first.
Neoprene slipknot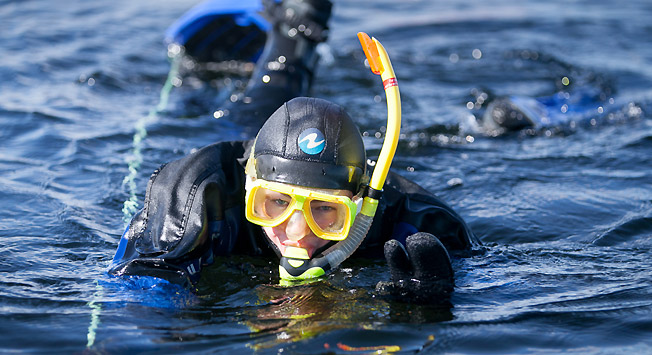 Photo credit: Eugene Ptushka
"First put on a padded jacket…" Misha gives me warm and light overalls that resemble a ski suit. This necessary undergarment is wrapped in a wetsuit; without this you couldn't dive in the White Sea during summer. The suit remains dry even if you are fully underwater: It's as if the diver got wrapped in a large hot-water bag, so that the "overboard" temperature no longer is important.
Misha also hands me a heavy neoprene suit that looks like a diving suit, only it includes also a pair of boots. The suit is rigid and uncomfortable with a zipper along the shoulders. The dry wetsuit, like a life vest, continually pushes the diver upwards. You can't dive in it, and even "hanging" in the water is difficult: the suit tends to turn you over either on your back or on your stomach.
That's precisely why before going underwater, you need to go through a special course called "Dry Suit," designed by the Professional Association of Diving Instructors (PADI). Polyarny Krug is the sole diving center on the White Sea that is a member of this professional international association of diving instructors. You can rent all the equipment at the diving center from the suit to the snorkel.
White banya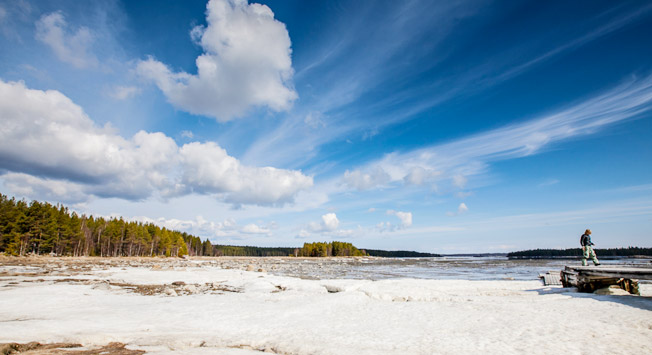 Photo credit: Eugene Ptushka
We dart towards the Krestovye Islands scaring seals that are resting on the rocks. After invoking the heavens in my mind, I jump into the water. I manage to follow my impressions: It's as if the body was in a capsule: It's wet outside and dry inside and I even feel hot as if I were on shore. Only my gloves have gotten wet, although they don't let the cold in, and my cheeks have too, because they aren't covered by a mask.
It takes a moment to get used to amazing sensations. If you plunge your face in the water, at first you'll get the impression that dozens of tiny sharp pins are piercing into it. But within a little while your skin will get used to it and it won't react to the sharpness of the icy water.
Your eyes, however, will be wandering. You'll see kelp pulling itself upwards to form bizarre fantastical gardens, while crabs and minnows move to and fro between the rocks, and huge violet, burgundy and orange starfishes crawl on the seabed with a royal dignity. It's like a cartoon. Mussels hang on the rocks in clusters. Pink and blue jellyfishes drift around, glittering under the sun.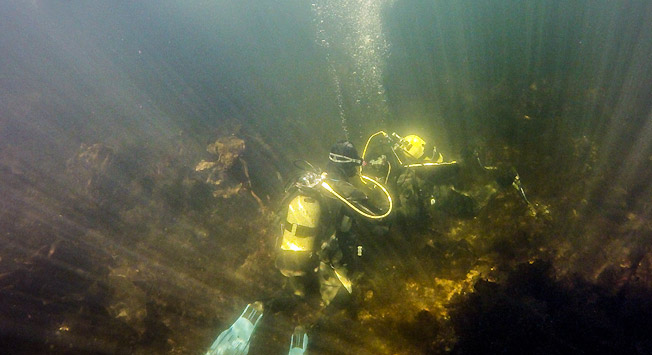 Photo credit: Sonya Lyashkevich

If you look deep down in the water, you'll see the tiny inhabitants of the sea including sea angels. This is an almost unnoticeable predatory mollusk with a rich inner world in a literal sense: From the outside its body looks long and transparent with small wings, while inside, sunbeams make its light orange marrow sparkle.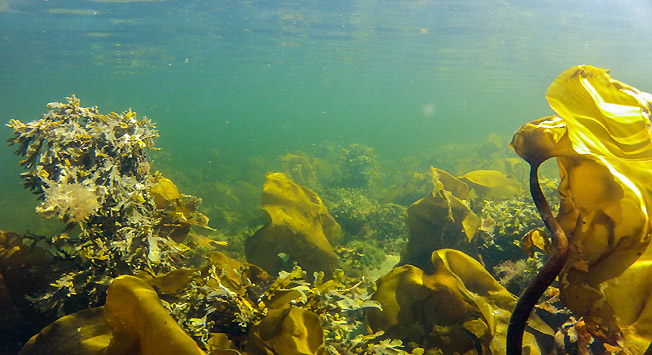 Photo credit: Sonya Lyashkevich
Going back to the base the instructor Misha recalls: "I moved here once and for all in 1992 and became a diving instructor, while my wife Masha took to training polar dolphins, which came here from the Utrishsky Dolphinarium (with branches in St. Petersburg and in Russia's southern regions). We weren't looking for the job of our dreams: it was the job itself that came to us."
All rights reserved by Rossiyskaya Gazeta.