Baikal Ice Marathon: An extreme encounter with world's deepest lake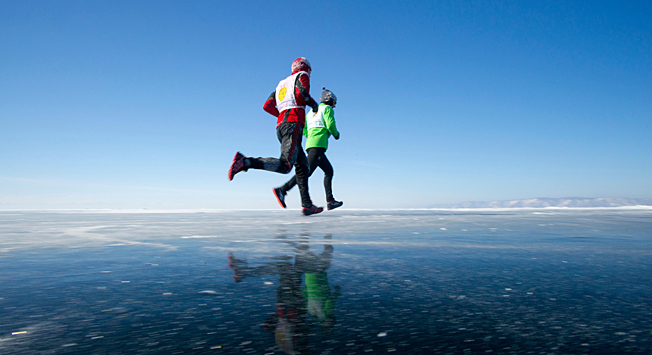 Race 42 kilometers across the planet's largest freshwater lake.
Every year the beginning of spring in the Irkutsk Region is inaugurated by the Baikal Ice Marathon (BIM) – Siberia's largest international sporting event, held some 5,662 kilometers (3,518 miles) from Moscow. If you have been looking for another reason to visit the shores of the legendary lake, here you go.


Running 1,000 meters above the Earth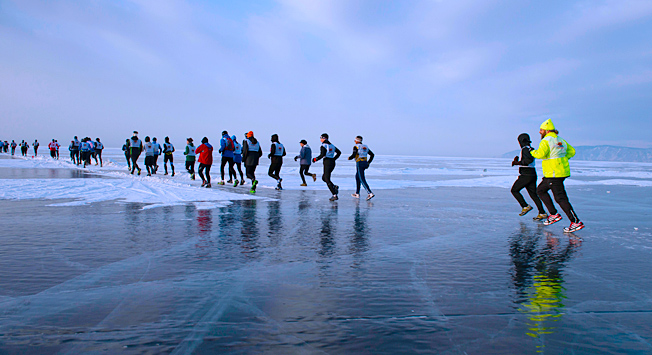 Photo credit: Alamy/LegionMedia

Udo Mueller, a German journalist, has called the BIM "a race at an altitude of 1,000 meters above the Earth." This sports competition is considered one of the most remarkable in the world, as the standard marathon track of 42 kilometers and 195 meters (26 miles and 385 yards) is mapped right across the ice of the giant Lake Baikal, with 1,300 meters (4,265 feet) of blue water beneath it.
Exposing athletes to uncovered ice, deep snow, winds, the sun and frost, BIM adds an intimate encounter with the beautiful, but stern Siberian landscape to the traditional challenge of a long distance race. In 2007, this marathon was included in the Pavilion Books' list of the world's 24 most impressive and extreme foot races.

Sergei Kalashnikov, associate at the Institute of Solar-Terrestrial Physics in Irkutsk, BIM 2015 winner and participant since 2008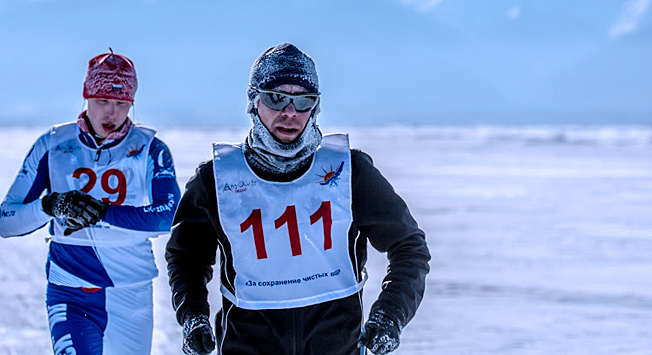 Sergei's number is 111. Photo courtesy: baikal-marathon.org

"My personal record for the marathon distance is 2 hours 42 minutes 15 seconds...Winning such a competition is not an end in itself, but rather the combined result of struggling with competitors, the distance and yourself. For those wishing to participate in the BIM, I can say that deep down in your heart you need to have an ambition to overcome yourself. The only piece of advice I can offer you is stick to a gradual approach. If you are a novice, try running 10 kilometers, a half-marathon, then a regular flat marathon. Having mastered that, you can head out onto the Baikal ice."

Nikolai Tregubov, co-founder of the I LOVE RUNNING school (Krasnoyarsk), director of the Krasnoyarsk Yulskaya zhara (July Heat) half-marathon and first-time BIM participant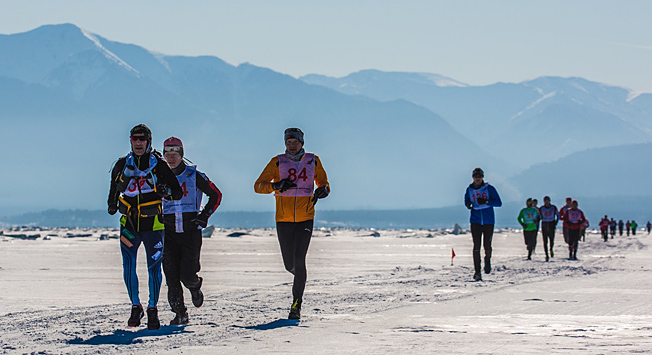 Nikolai is second from the right. Photo courtesy: baikal-marathon.org

"In winter, a distance of 42 kilometers appears intimidating even by itself and here we had to run on ice and snow, which made the task much more complicated. We read all the reports of previous years' participants, asked those that finished the race for advice, bought special equipment, such as sneakers with spikes and light windbreaker jackets, in case there was a strong wind, which is a common thing for Baikal. We also included snow running and ice running in our workout routine in order to better prepare for the conditions of the marathon.
On the day of the race, the weather was very clear and sunny, with a temperature of about - 5 °C (23 °F). The Baikal nature is breathtaking with high mountains surrounding the lake, black ice beneath your feet, incredible patterns covering the ice and astonishingly picturesque cracks, through which Baikal breathes. We ran across one of such cracks on a pre-constructed bridge, and later, when everyone was already at the reception, we heard a powerful burst and saw that crack widen by a few meters. So this marathon lives up to its reputation as one of the most extreme in the world.
We covered the first half of the distance running on hard-packed snow. I caught up to the runner Alexei Cheskidov, who was carrying a backpack and water bottles. Water in the tubes got frozen within a few minutes turning the bottles into a couple of kettlebells, so he simply emptied them later.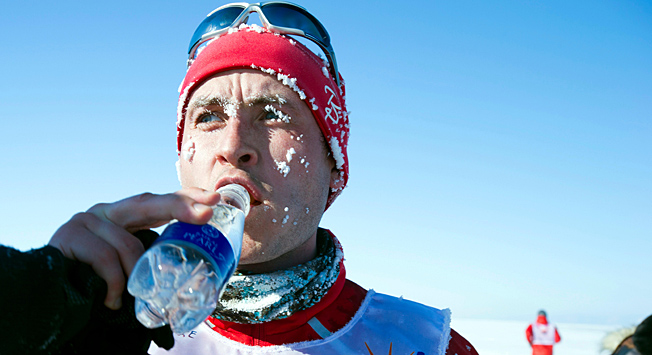 Photo credit: Alamy/LegionMedia
The final five kilometers (3.1 miles) seemed endless to me, with a strong headwind and my feet refusing to do any more running. Older participants passed me by walking at a quick pace. But I had made a promise to myself that I wouldn't switch to walking under any circumstances.
All the participants who outraced me during the last few kilometers were cheering and supporting me: this marathon features a very warm and welcoming atmosphere and half of the participants come from all over the globe. That year the last finisher was a Peruvian woman, who turned 51 on the day of the race, and she had decided to celebrate her birthday by running a marathon in such a place.
Lara McCoy Roslof, RBTH guest editor, participated in XI BIM 2015 by running 21 kilometers in 3:02:15: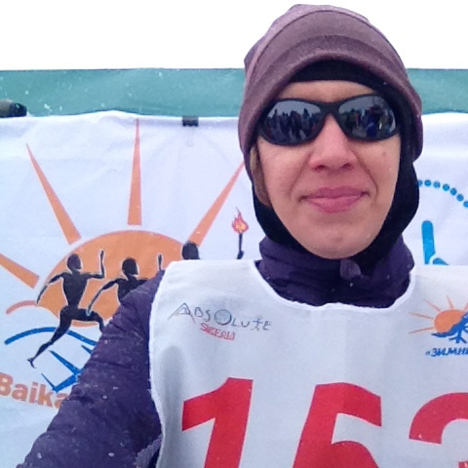 Photo by Lara McCoy

"At one point between 7 and 10 kilometers, a patch of ice appeared under the snow. We all took advantage of it to pick up the pace, but it lasted only a few hundred meters. At the 10k mark (1 hour, 20 minutes), it stopped snowing for a while. I looked around and there was white as far as I could see in every direction. I thought of all the articles I'd read about polar expeditions where people wandered off into the blinding snow. The landscape was beautiful in its own way, but more otherworldly than beautiful."

If you would like to participate in the BIM next year, you probably should start training now. If you want to visit the event as a spectator, include a few nearby destinations as part of your journey, such as Listvyanka and Irkutsk, to have a glimpse of Siberian Baroque architecture, or Olkhon Island, to admire the whimsical structure of the Baikal ice.
All rights reserved by Rossiyskaya Gazeta.