Moscow residents can now top up their Troika transport cards with the official Moscow Metro app, subway representatives announced on Oct. 31. To put money on the card, passengers simply need to download the app and transfer money via NFC connection. What other ways can you pay for riding on Moscow's public transport?
Troika card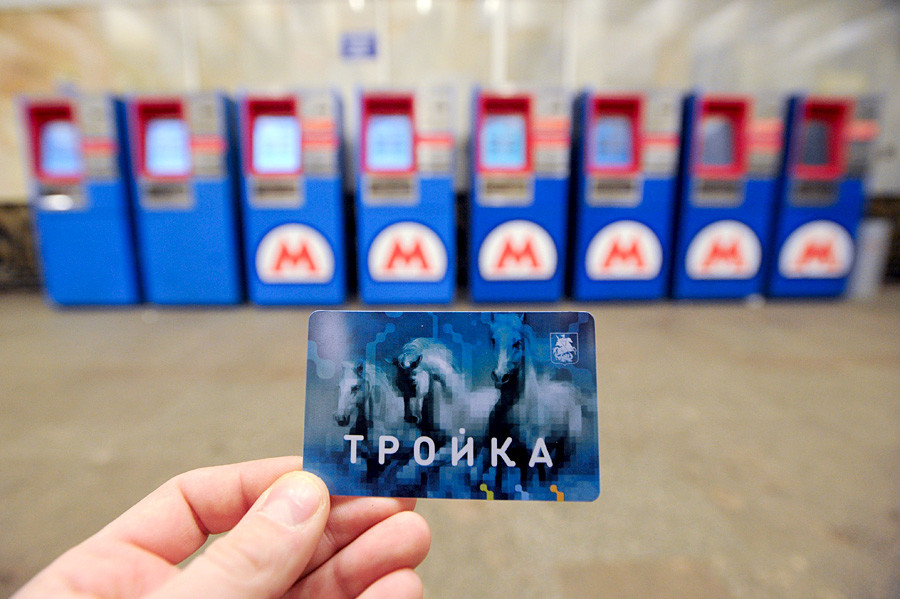 It's by far the most convenient option for using public transport in the Russian capital. This plastic card is valid for five years, so you don't need to throw it away after your trip to Russia. You can ride with a Troika on the Moscow metro, as well as Moscow's Central Ring, buses, trams, and trolley buses.
One ride costs 35 rubles ($0.6), but if you change transport within 90 minutes you will only pay 19 rubles ($0.33) for the next journey. Further changes within those 90 minutes are free.
You can top up your card with the subway attendants who sit behind the glass panels, automated terminals, or via the special Moscow Metro app. Kiosks accept both cash and cards. According to the Moscow Metropolitan official site, you can only keep 3,000 rubles ($51) on your Troika. If you don't use up all your credit before you leave Moscow, you can cash in the card and get your money back - but this is only possible to do at Metro Service Centers (Ulitsa 1905 Goda street, 25 or Staraya Basmanaya Street, 20 bld 1; 8 a.m.-8 p.m. daily).
Your Troika's balance can be checked on the app or on the small yellow terminals inside the metro stations.
Important point – one card should only be used by one person (the subway's rules state that every person should have their own ticket). You can also be hit with a fine of 1,000 ($17) if caught riding the underground without a ticket.
How to get a Troika: Get the card in any metro kiosk or automated ticket office. The card is free, but you need to leave 50 rubles ($0.85) as a deposit. You can return it after.
United (Yediny) ticket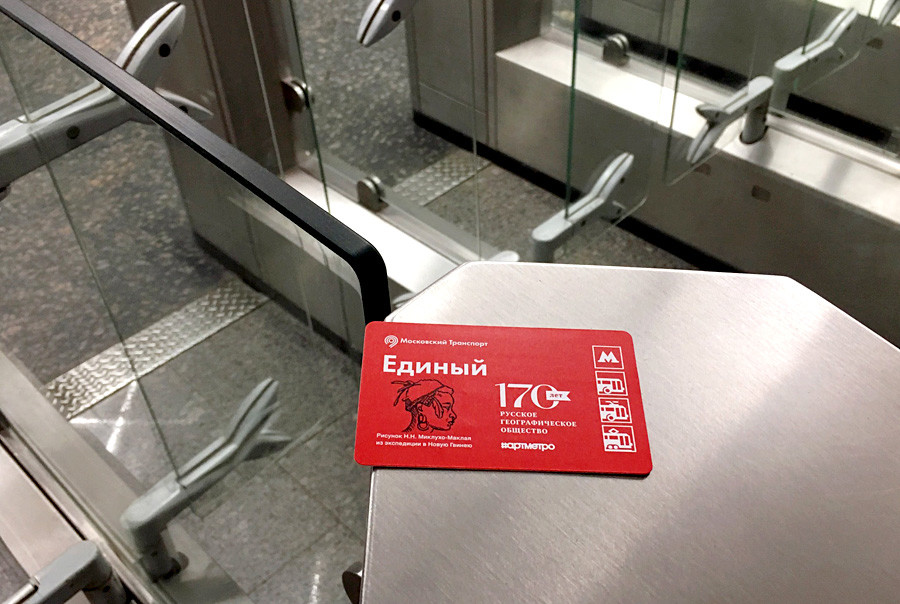 Moskva Agency
This red paper card can have 1, 2, 20, 40, or 60 rides on any kind of Moscow public transport, and the price depends on the number of rides (more rides you buy the less you pay for a ride), from 55 rubles ($0.95) to 28 rubles ($0.48). If you plan to use transport a lot, you can buy a ticket for 60 rides for 1,700 rubles ($30). A ticket for one or two rides is only valid for five days, while other kind of tickets can be used for 90 days.
If you don't plan to use metro, you can order a card for ground transport only (it will be dark blue with TAT letters on the cover). This card costs 1,150 rubles ($19) for 60 rides.
How to get it: You can buy this card in any metro kiosk. Cards for one or two rides can be also purchased in automated ticket offices.
Daily tickets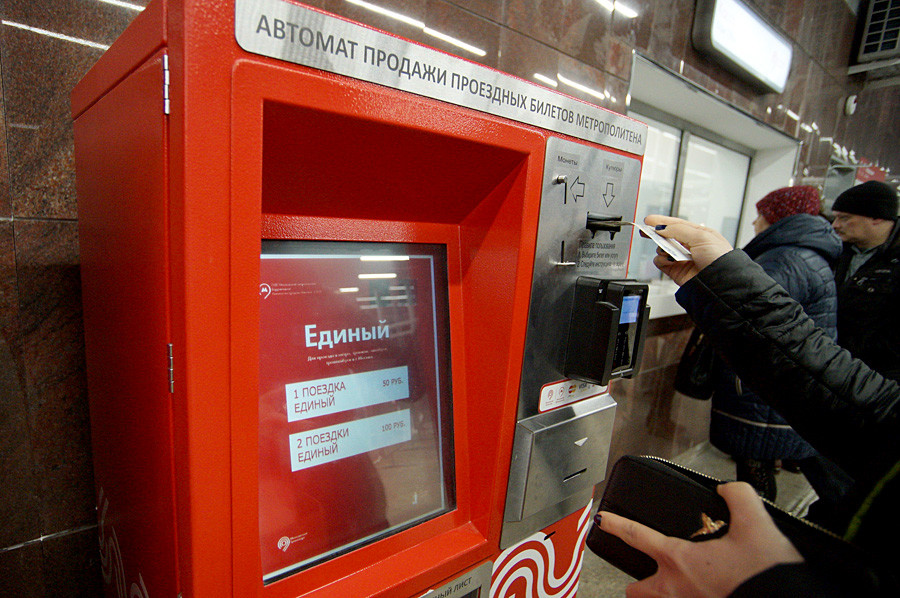 Moskva Agency
Muscovites often buy tickets without ride limits for specific periods – 30 days, 60 days, or one year. But Moscow Metro suggest special tickets for tourists – for one day (210 rubles, or $3.6), three days (400 rubles, $6.9) or seven days (800 rubles, $13.8). They also can be used on any kind of public transport. Tourists' tickets also have no limit for rides.
How to get it: You can buy this card in any metro kiosk.
90 minute ticket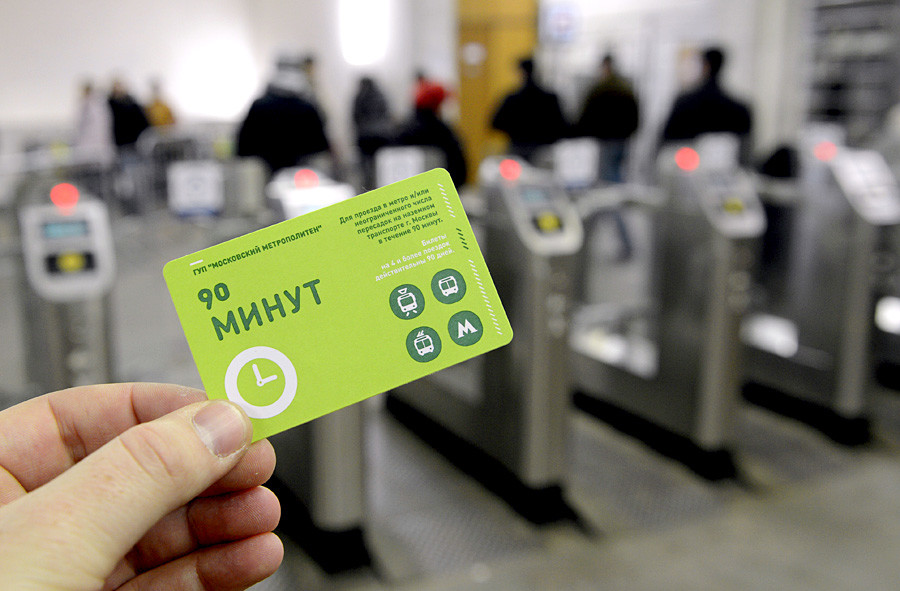 Alexey Filippov./RIA Novosti
Another kind of ticket allows one ride on the metro and any number of rides on other Moscow public transport within 90 minutes. The card can be for one (65 rubles, or $1.1), two ($130 rubles, or $2.2), and 60 rides (2,650 rubles, or $46). This card is useful if you have to catch different kinds of transport for a short time.
It's helpful to add this card to your Troika. Moreover, it will save the paper.
How to get it: You can buy this card in any metro kiosk.
Payment via smartphones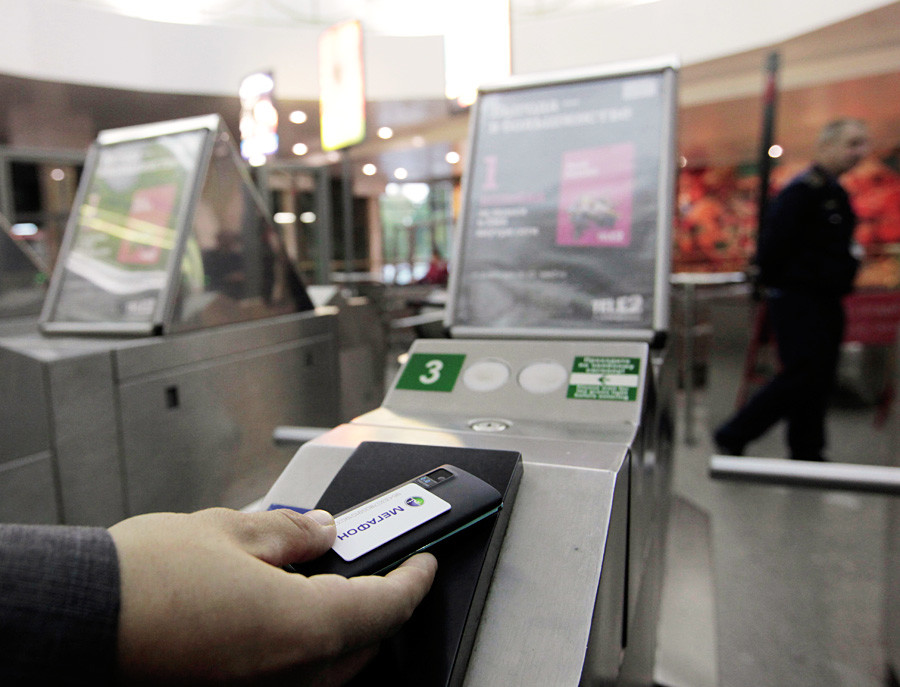 Alexei Danichev/RIA Novosti
Smartphone owners can pay travel fares via Samsung Pay and Apple Pay, linked with MasterCard credit card and the Wallet app. Apple Pay can also be installed on iWatch. The price for one fare costs 40 rubles ($0.7). You can also use these apps for buying usual tickets in kiosks.
Since late 2016, this system has been available at all ring railway stations and 80 metro stations across the city.
In the future, smartphone-enabled ticket turnstiles will be installed at all Moscow metro stations.
How to get it: Download the Samsung Pay and Apple Pay and start riding!
Jewelry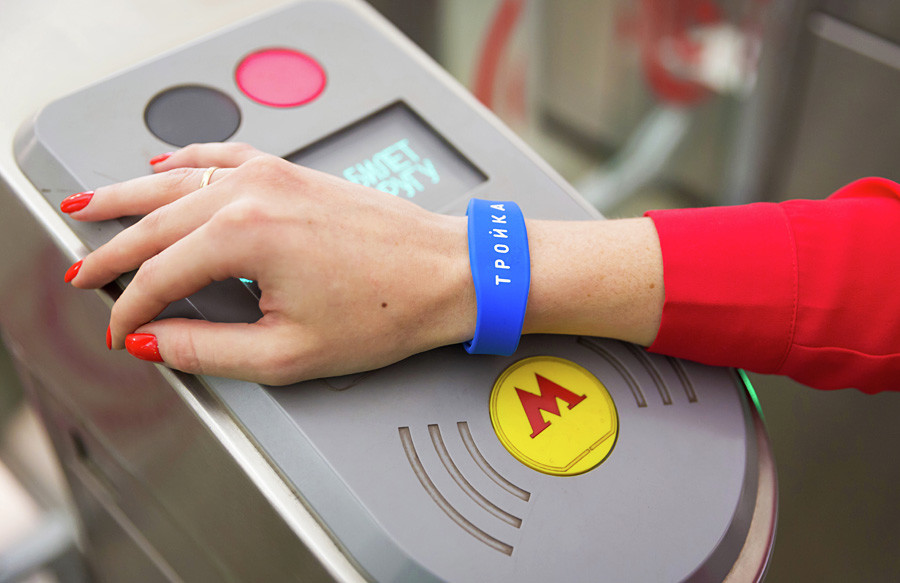 Moscow Metro
Unique tickets have recently appeared in Moscow. Bracelets, rings, and keychains with transport microchips are not only a souvenir from the Russian capital, but also a serious way to use metropolitan. The deposit price for a bracelet is 450 rubles ($8), for a keychain – 350 rubles ($6). One ring costs 2,200 rubles ($38). The price for a fare is the same as for the Troika card.
How to get it: Only at the Pushkinskaya metro station souvenir kiosk and souvenir shops in the Mayakovskaya and Trubnaya metro stations.
Actually there are other options to inserts transport microchip – for example, in 2015 Moscow engineer Vlad Zaitsev implanted a chip in his hand, so all he has to do is wave at the turnstile and he's away - but we recommend enjoying Moscow's transport in a more conventional way.
If using any of Russia Beyond's content, partly or in full, always provide an active hyperlink to the original material.