Ok, so my plane has landed. Should I start to worry?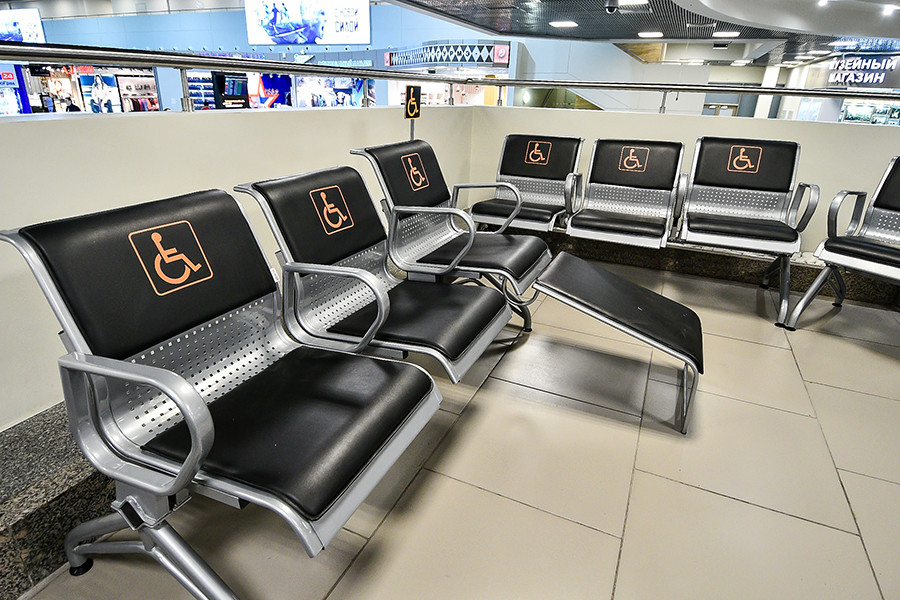 No way. Actually airports in Russia are probably the most disabled friendly areas – there are even special waiting rooms.
When you check in at the airport before boarding the plane you should tell the staff about your needs: They will organize everything at both ends, so when you land in Russia there will be someone waiting for you to drive you to the luggage collection etc.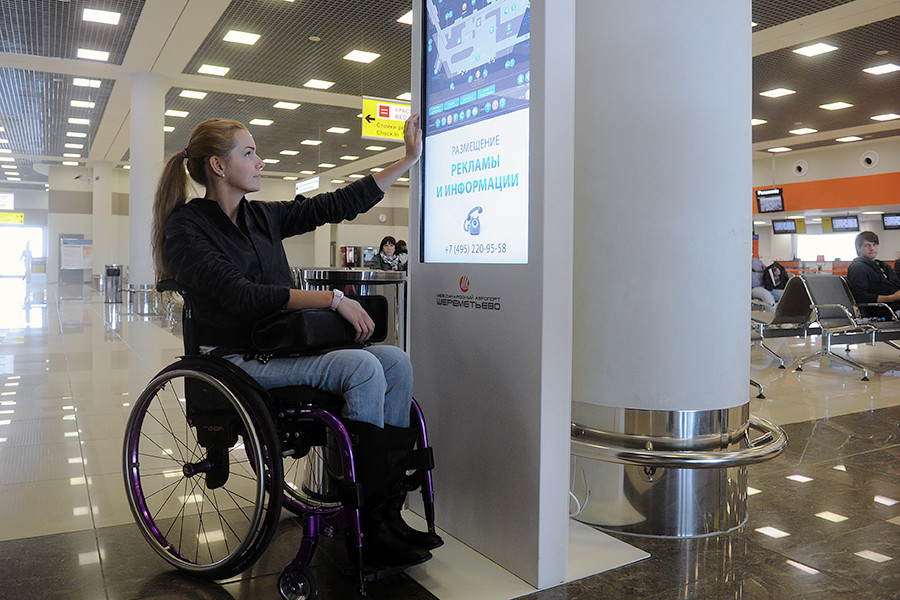 Sheremetyevo airport, Moscow
Press Photo
All airports in Moscow and St. Petersburg have special services assisting passengers during all stages of travel. When you fly back you can request special services in advance by phone or by submitting an application on the airports' websites: Sheremetyevo, Domodedovo, VnukovoandZhukovsky in Moscow and Pulkovo in St. Petersburg.
How can I get from the airport to the city?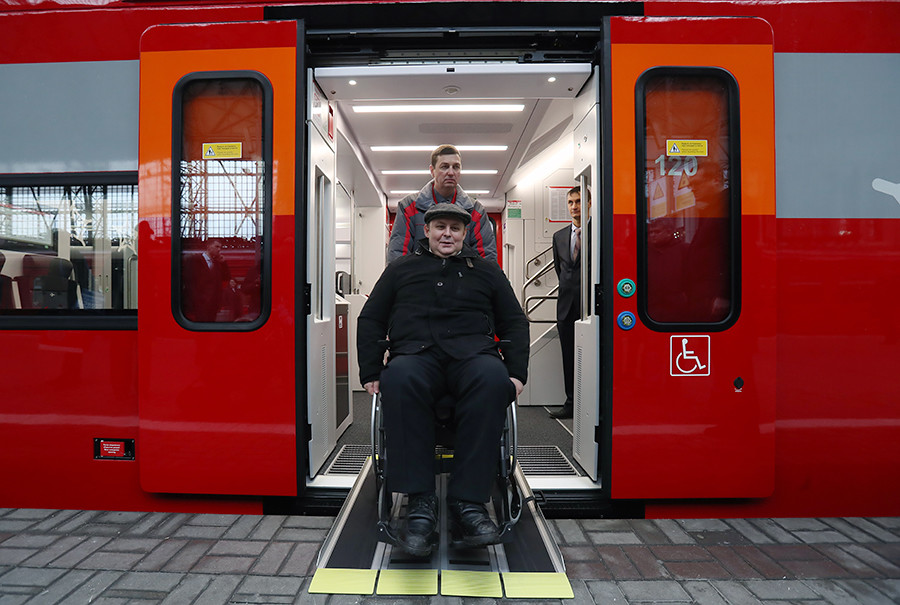 Aeroexpress train
Vyacheslav Prokofyev/TASS
The easiest way to get to Moscow from Vnukovo, Domodedovo, and Sheremetyevo is the Aeroexpress, a train that sets off from the airport and arrives in the city center 30-45 minutes (depends on the airport) later. You can request a personal assistant on their website. "All the trains are equipped with special carriages, adapted for physically challenged passengers in wheelchairs," the website says.
Zhukovsky Airport has no Aeroexpress as of yet, so the best way is to order a taxi (read below). The airport's employees will help you to get to where the taxi pulls up. At the moment there aren't very many flights to Zhukovsky so it's unlikely you'll need this info.
All the buses traveling between St. Petersburg's Pulkovo Airport and the city are equipped with special ramps to help people in wheelchairs get on and off.
Is it possible to use the Metro? I've heard it's beautiful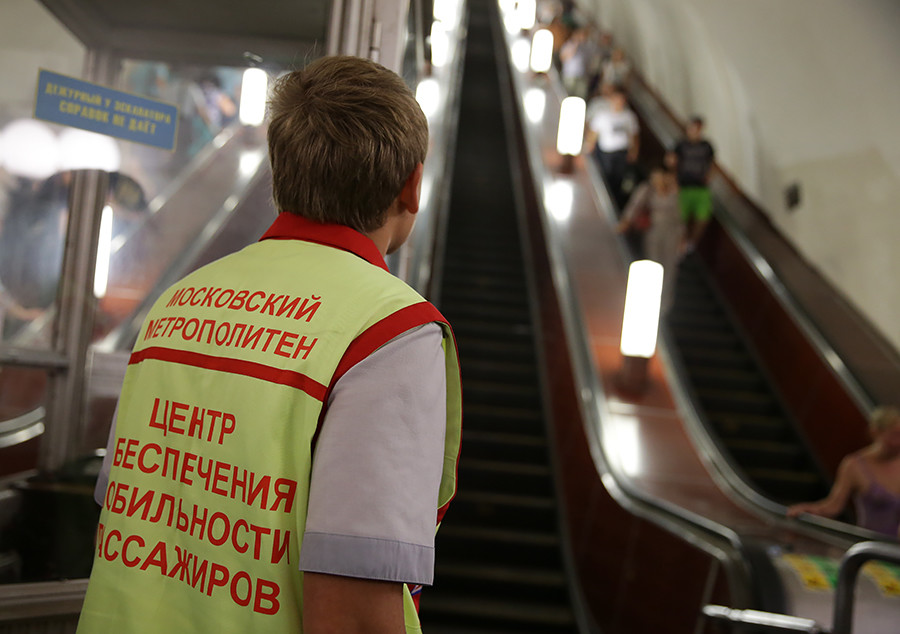 Passenger Mobility Centre staff
Sergey Savostyanov/TASS
Yes, the Metro is frequently called an underground museum and it's also quite a friendly place for disabled people. New stations (that are mainly on the outskirts) are equipped with special lifts. But in the center where most stations were built from the 1930s to 1950s it can be a bit challenging getting around in a wheelchair or on crutches.
But there is a service (that's not very well known): It can help you get into the Metro, explain how to buy tickets, plan your journey, etc. If you speak Russian you can make an online application on the website or via its mobile app. If you only speak English, dial these numbers for free +7 495 622-73-41 or +7 800 250-73-41.
All the stations of St. Petersburg's Metro are equipped with special lifts for the less able bodied. There is also a special escort service that can be booked for free via phone on +7 800 350-11-55. For more information and photos of the equipment, visit the St. Petersburg Metro's website.
What about other public transport?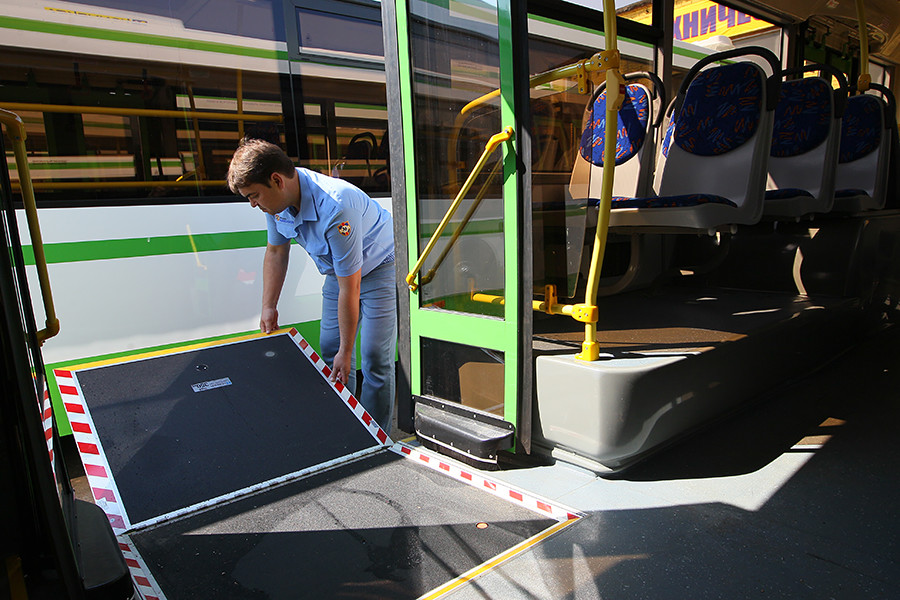 A driver checks the operation of a wheelchair ramp
Ruslan Krivobok/Sputnik
Not all overground public transport is adapted for people with special needs. Yes, there are now lots of new city buses equipped with ramps, but still not everywhere. While the most popular forms of transport in the center are trolleybuses and trams, some of them have no ramps. In this case the driver should assist people with special needs. But we can't guarantee this.
Can I get a taxi?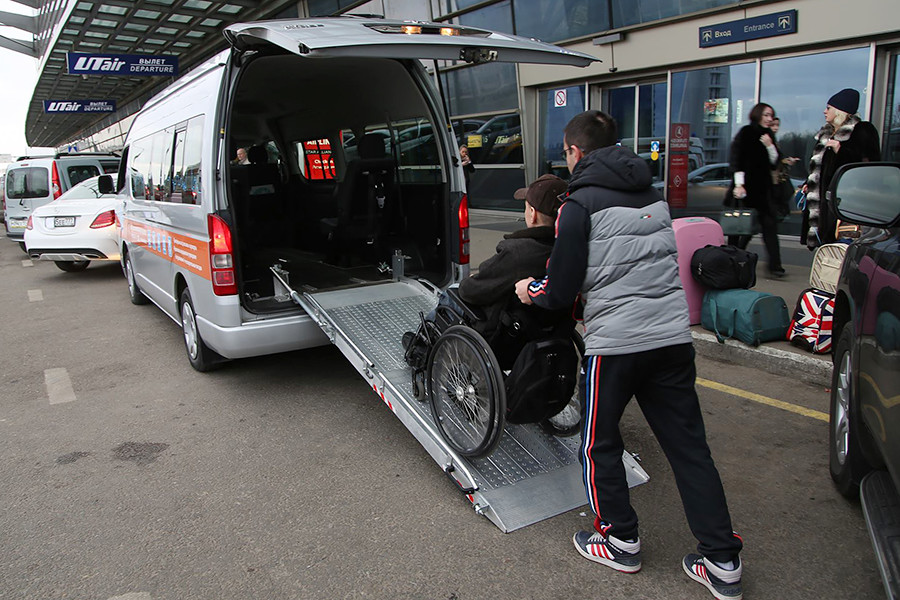 Most taxi services arrange not only transfers but also guided tours
Invataxi
Sure!
Most services offer door-to-door escort, climbing and descending stairs, including in houses without elevators, though some taxi companies can ask for extra payment in some cases. It's always better to order these taxis in advance (ideally several hours before your journey).
In Moscow there's a city's social taxi (link in Russian) service – you can email zakaz.ssp@mosgortrans.ru or call +7 495 951-77-68. It's even available for a group of people with limited mobility.
There's also the Invataxis service that even provides a wheelchair free of charge. You can order online or call +7 495 580-60-64 or +7 495 504-39-90 (available for English speakers). Invataxi also arranges guided tours in English for disabled people (both for groups and individuals). The price is flexible depending on the circumstances, transfers from the airport costs 4,000 rubles ($70).
In St. Petersburg there are also several taxi services for people on wheels and groups with disabilities. By the way Invataxis is available in St. Petersburg too.
Taxovichkof taxi service has a website in English, so you can easily book online or call +7 812 330-00-02, there is a range of services drivers offer. The price starts from 1,200 rubles ($21).
There is another taxi operator, Glavtaxi (website in Russian), you can book online, download the app, or call +7 812 338-82-12. You can also ask for an English-speaking driver. The price starts from 1,300 rubles ($23).
Is it possible to travel around the streets on my wheels?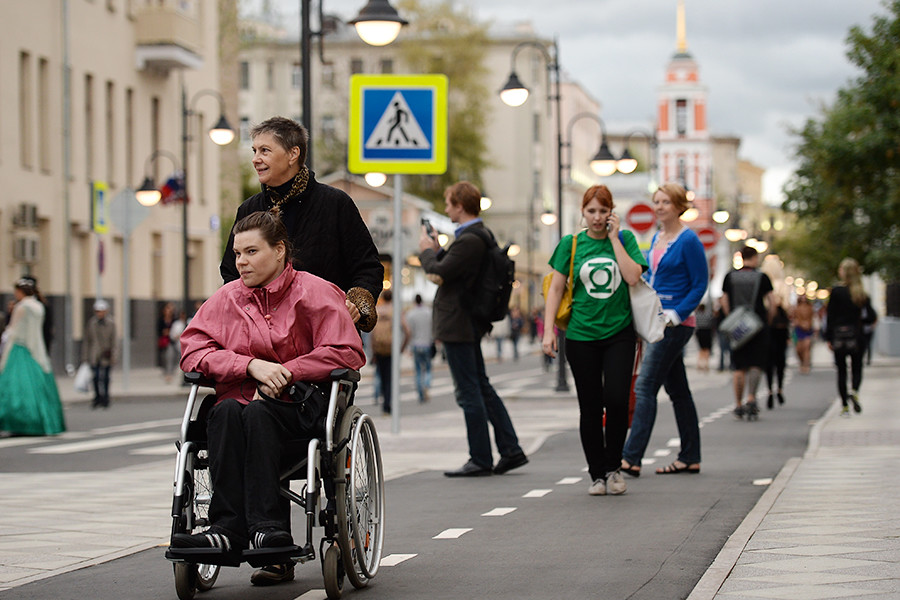 Both Moscow and St. Petersburg have many pedestrian zones
Ramil Sitdikov/Sputnik
There are many pedestrian zones in both cities. There is a website offering a map of Moscow's barrier-free streets, restaurants, cultural sights, public toilets, and more. Unfortunately for now it's only in Russian, but anyone in the street will usually be happy to point on the map where you need to go.
St. Petersburg offers special guided tours for low mobility tourists. While the whole of Nevsky Prospect is a wheelchair friendly zone.
Are there museums I can visit without problems?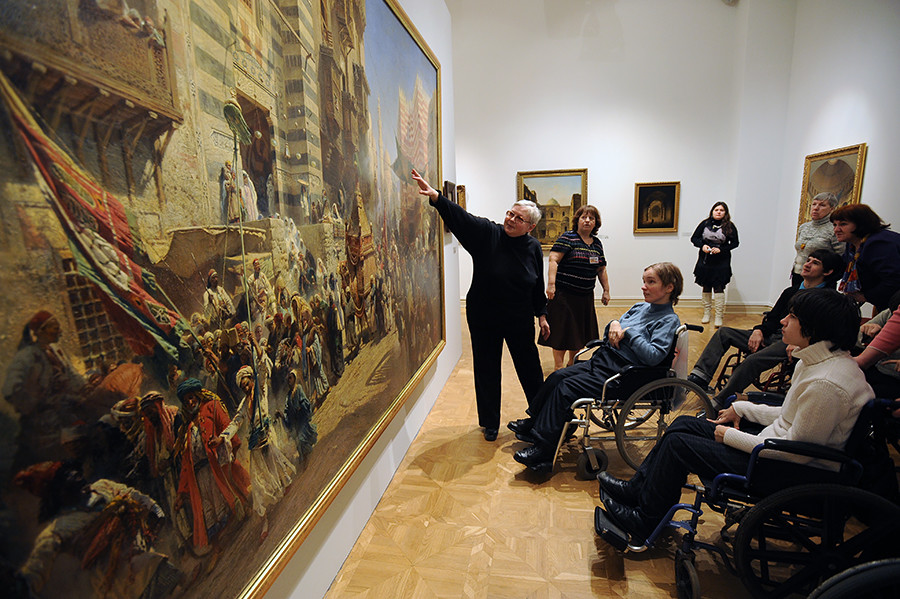 A charitable guided tour hosted by the State Russian Museum on the Day of Disabled Persons
Ruslan Shamukov/TASS
All the main museums are equipped with everything a wheelchair needs to get around easily.
In Moscow you can visit the Tretyakov Gallery (both the old building on Lavrushinsky Lane and the new building housing 20th century art on Krymsky Val). By the way read our article about 10 must-see paintings exhibited in the gallery if you are short on time.
The Museum of Moscow, Jewish Museum and Tolerance Center, Planetarium, Bulgakov Museum, and others are well equipped for wheelchair users.
St. Petersburg's Hermitage Museum, State Russian Museum, and Faberge Museum are also decked out with ramps and elevators.
Ok, good news about the museums. But what else can I do?
Lots of theaters, cinemas, and restaurants are disabled-friendly
Getty Images
Thousands of disabled tourists visit Moscow and St. Petersburg each year, and the cities are becoming more and more wheelchair friendly. Most cultural institutions and tourist facilities are trying to install the necessary equipment for people with special needs.
So it's now possible to visit lots of theaters, cinemas, and restaurants. If you want your tour to be comfortable and hassle free it's always better to plan in detail and contact the organizations you want to visit in advance, making sure they have everything needed to give you a warm welcome.
Looking for something original and unique to bring home from your trip to Russia? Here are 10 souvenir ideas for those tired of matryoshka dolls.
If using any of Russia Beyond's content, partly or in full, always provide an active hyperlink to the original material.