Who built the Russian 'Devil's Town'?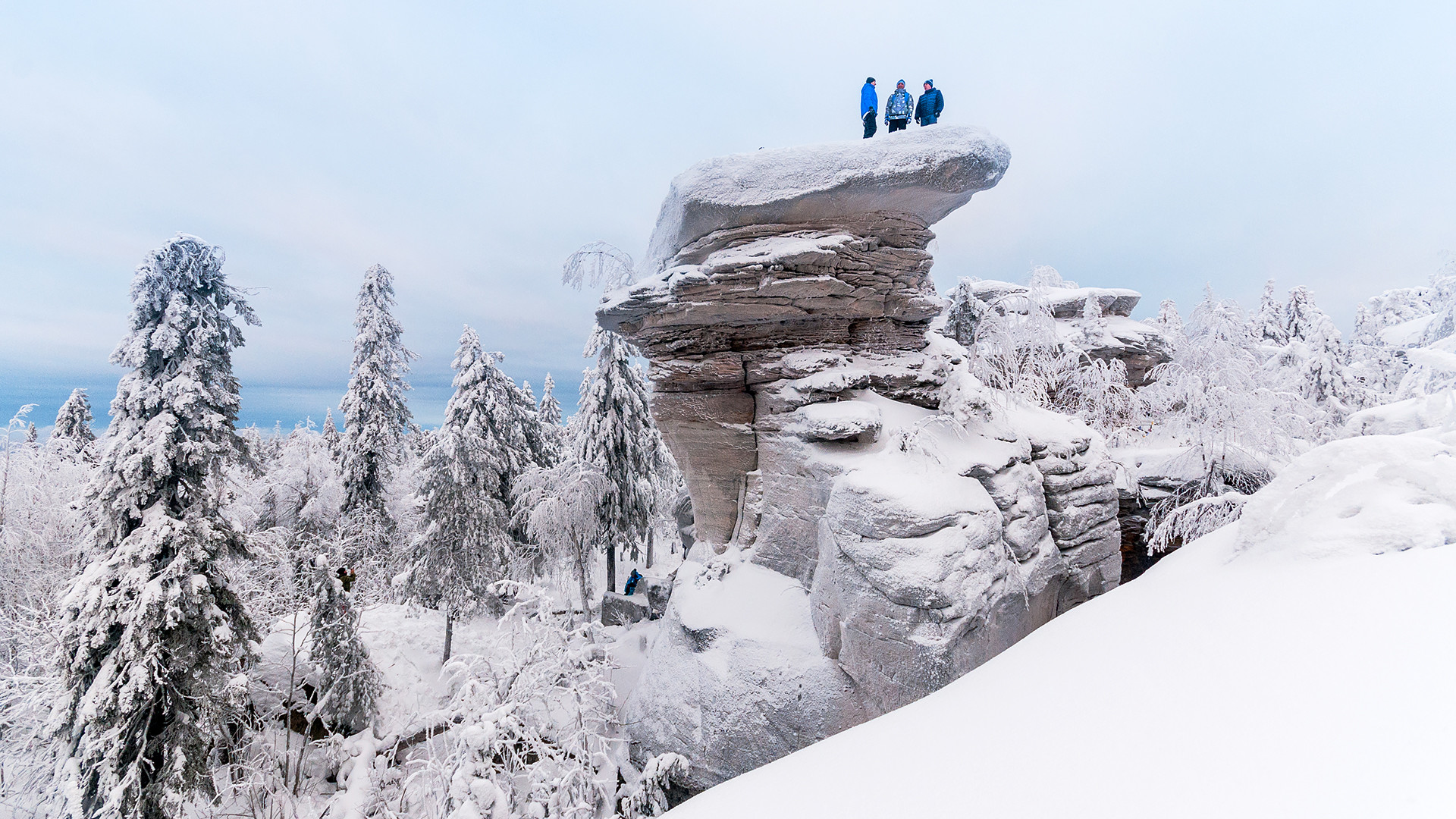 Despite its name, "Devil's Town" was built by neither demons nor even people. It is all the work of nature, and today it is considered as one of the main attractions in the Urals region.
There is one unique town in Russia's Perm Krai (Region) in the western Urals with narrow streets and wide avenues, a square and a gate. The thing is, it wasn't built by people. This complex of huge stones with clefts in the rocks that looks like a real town is in fact a creation of Mother Nature.
There are several legends about the birth of this so-called Stone Town. One of them says that in ancient times a big, beautiful town stood in its place. All inhabitants adored it, except for the king's daughter, who couldn't see it since she was blind. An evil and insidious sorcerer promised the king to heal the princess. But the moment he did, he turned the whole town and its people into stones. The princess could finally enjoy the beautiful, but alas, stone town.
Stone Town is also known under its ancient name "Devil's Town". Another legend tells about the devil, who bet with a nobleman that he would build a town during one night. But suddenly a rooster crows long before dawn. Frightened, the devil runs away, leaving the town unbuilt. For years locals believed that such place could have been created only by demons and tried to avoid it.
In reality, the town was created by the river and wind, which millions years ago polished these perfectly straight "streets" and "avenues" in the rocks. The "houses" are on average 8-12 meters high. Some of them are so close to each other that one can jump between them; others are spanned by small bridges.
Stone Town has two "districts": Big Town and Small Town, 150 meters apart. It takes hours to walk all the way around both of them. Stone Town is a real labyrinth and one can easily get lost there. Unfortunately, no town maps have ever been published.
Stone Town isn't deserted. Among its inhabitants are "Big turtle," "Small turtle," "Rat," and "Seal." Such names were given by the locals to rocks shaped like these animals. Once a traveler enters the "gates," he finds a local guard known as "Idol."
Besides Stone Town being a major tourist attraction, it hosts several summer events: annual rock climbing competitions and the "Mysteries of the Krestovaya Mountain" theater festival. Surrounded by natural scenery, the actors perform right there on the rocks.
The "roofs" of Stone Town offer incredible views of the local Ural taiga. Tourists say the best seasons to visit "Devil's Town" are autumn and winter, when it is especially beautiful.
Paradoxically, Stone Town, once carved by water, is practically waterless nowadays. Two small sources near the town's main "square" and in its most distant part can't satisfy the needs of the numerous tourists who camp there — they should bring water with them.
To reach Stone Town, one should first take a bus from Perm to the town of Chusovoy, and then switch transport to the village of Usva, from where it is a 2 km walk.
Perm is the closest major city to Stone Town. It is both an industrial powerhouse and one of Russia's major cultural centers. Read how to spend a perfect weekend there.
If using any of Russia Beyond's content, partly or in full, always provide an active hyperlink to the original material.