1. Paratunka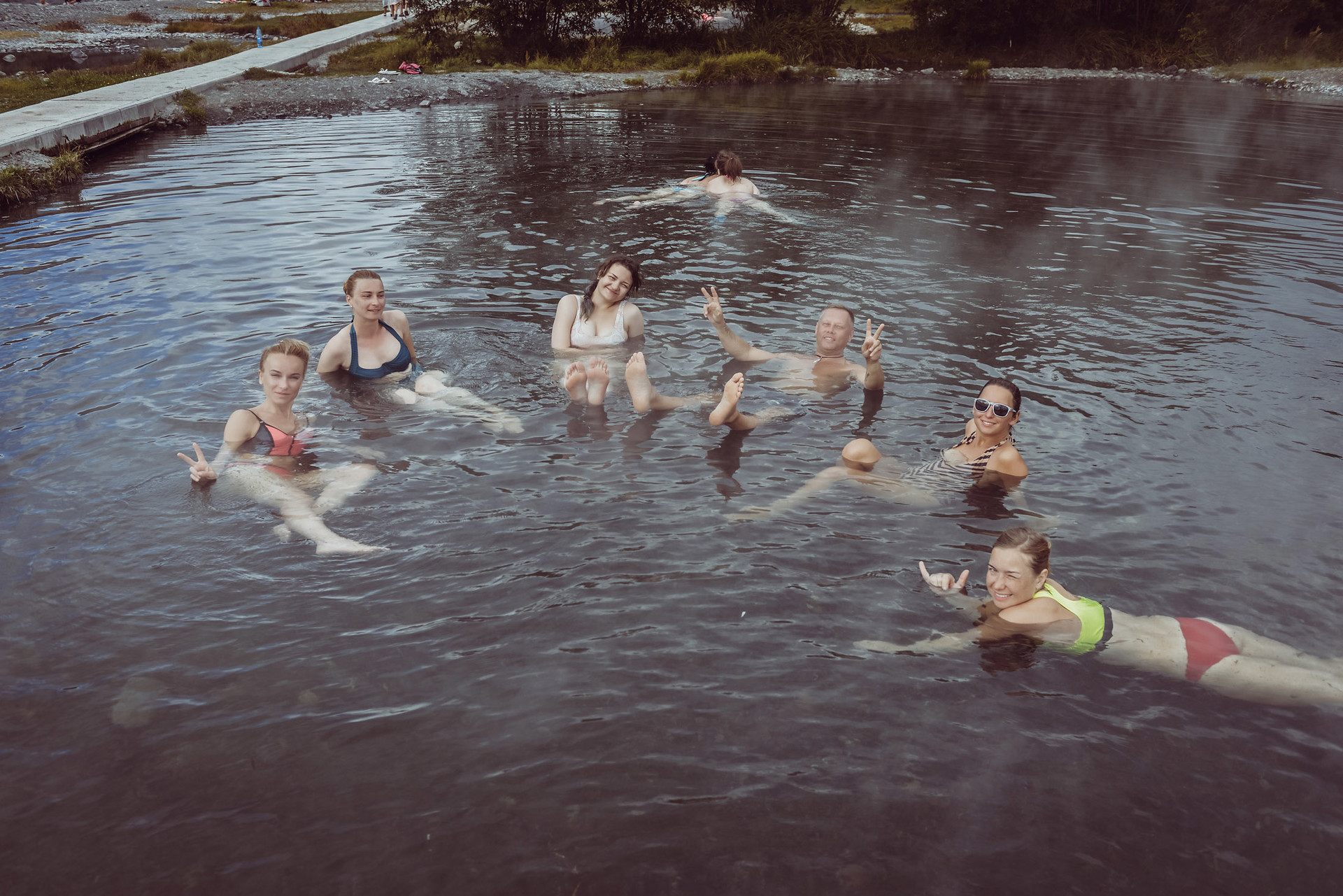 After a day of surfing or any activity for that matter, letting your poor muscles relax in hot thermal springs is exactly what the doctor (or rather physiotherapist) ordered. The resort of Paratunka is a true oasis hidden among the mountains; it gets its name from the nearby river and village (about 70 km from Petropavlovsk-Kamchatsky). Many guest houses and tourist bases are sprinkled all around the area, ranging from cheap ($5 to use the thermal baths) to insanely expensive (about $6,000 a day to have the entire high-end tour base to yourself). But all of them include a pool filled with hot thermal water, so you can come here and relax any time of the year, even when the snow is three meters deep!
Paratunka's waters are naturally heated underground, which is the secret to the hot springs. The water flows out at a temperature of 90°C but once it reaches the pools it's usually around the 36-40°C mark so don't worry, you won't become soup.
2. Rafting and fishing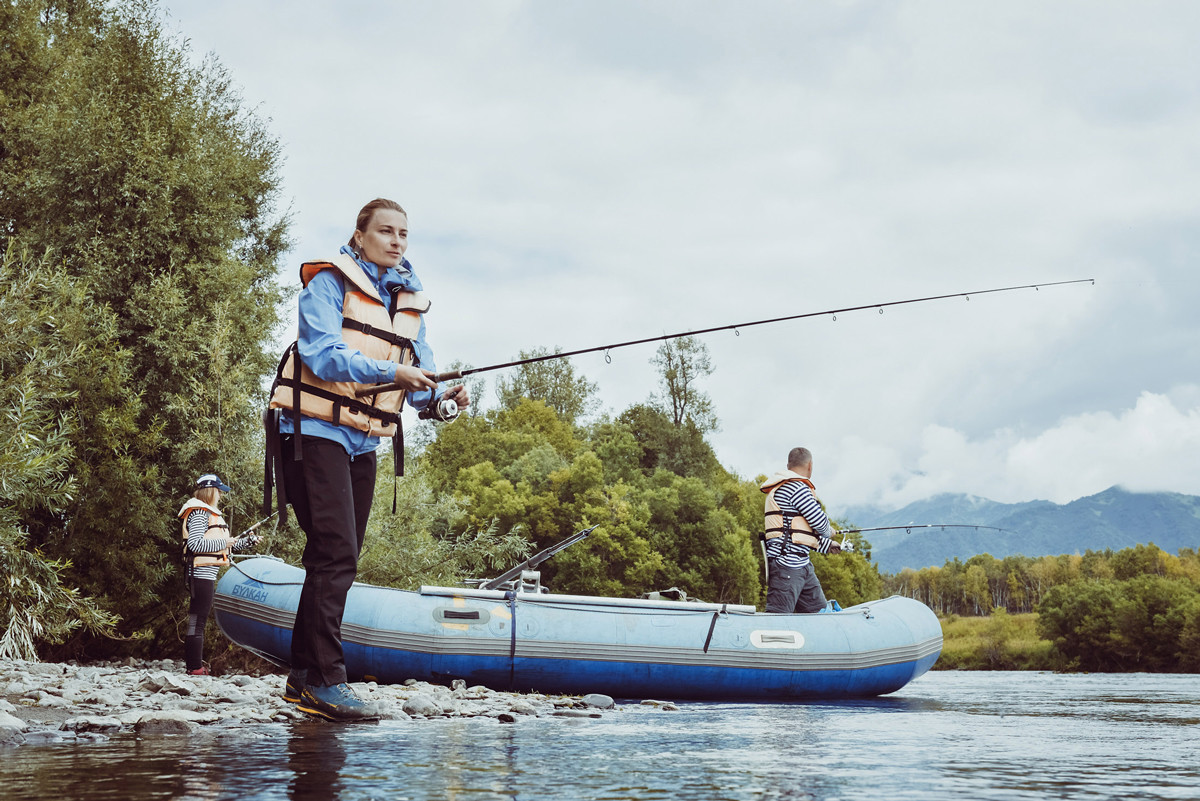 Timofey Timofeenko
One of the more popular rafting and fishing spots is the Bystraya River thanks to its proximity to Petropavlovsk-Kamchatsky. The drive there takes about 2-2.5 hours on surprisingly good roads almost all the way to the rafting camp. When you get to the camp you'll be given a life vest, a foam bum pad to sit on, and a fishing rod. Following the safety briefing you'll hop into your raft and start the tour.
Contrary to its name, the Bystraya River ("bystraya" means fast in Russian) is actually not fast or rough at all. It's a good introductory river if you want to get into rafting and go on one of the multi-day rafting tours that involve camping out in the woods, being dropped off by a helicopter, and so on. The intro tour takes about 3.5 hours and you get to stop at several spots and to fish, take in some spectacular mountain and forest views as your guide rows you gently downstream, and if you're lucky, spot a brown bear fishing.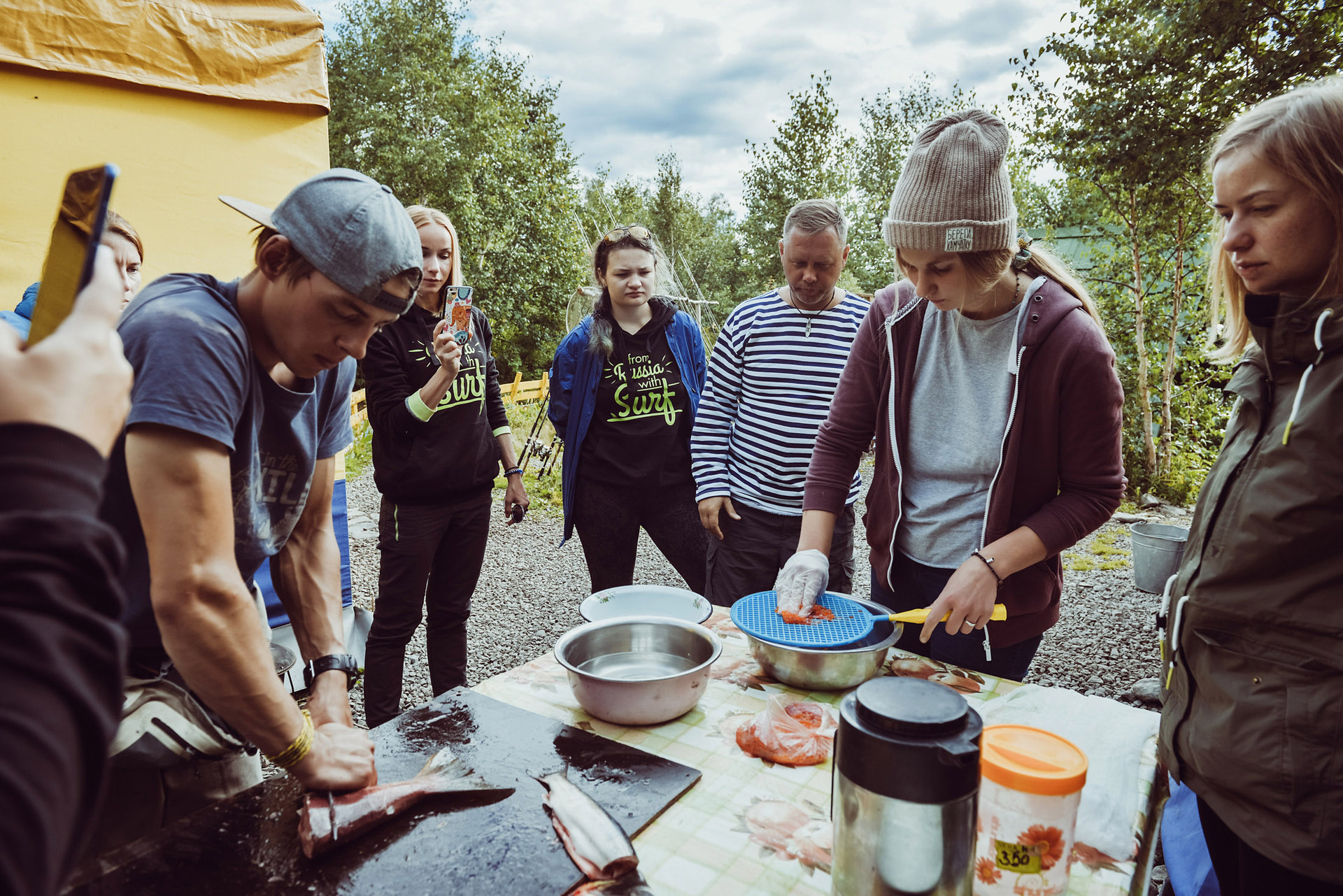 Timofey Timofeenko
Once you get back to base, there's a hearty ukha (traditional Russian fish soup) waiting for you and the catch of the day as a main. If you managed to catch a fish with caviar inside, you can pay the kitchen staff a couple of hundred rubles to make pyatiminutka caviar. This is the freshest form of red caviar: it's soaked in hot salty water for five minutes and allowed to cool before being served.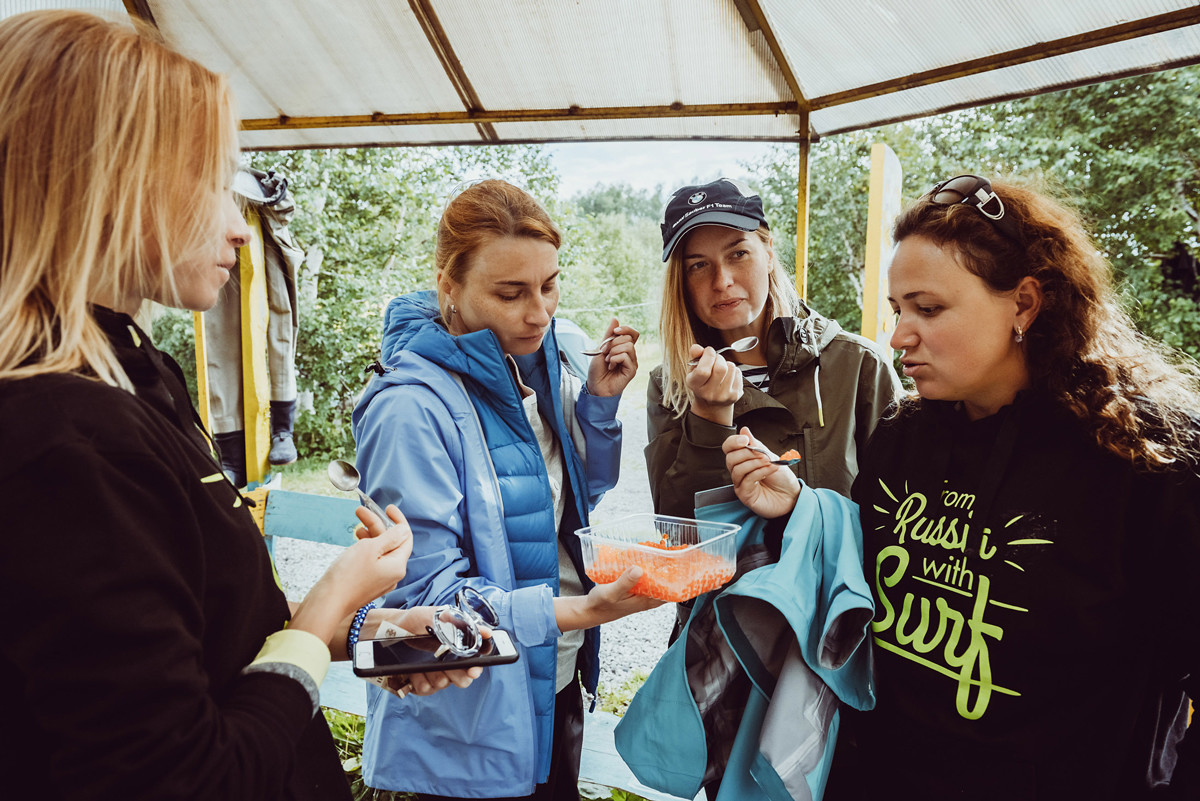 Timofey Timofeenko
On the way back to town, you also have the option off stopping by a luzha (puddle), which really is one huge puddle of hot thermal water. Although it's not quite as sophisticated as Paratunka in terms of infrastructure and amenities, it is quite a relaxing way to finish the day.
3. Ascending the Avachinsky Volcano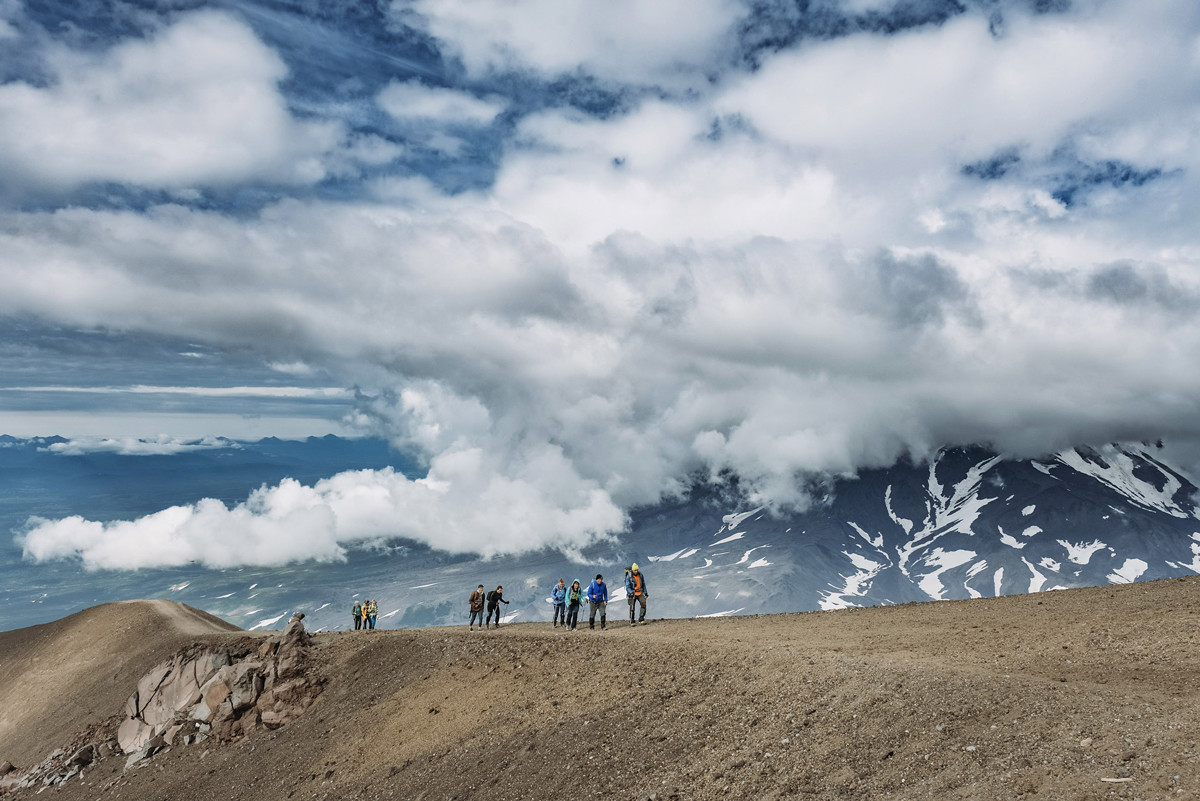 Timofey Timofeenko
The Avachinsky Volcano (2,751 meters above sea level) is one of the most active volcanoes in Kamchatka, often called "Home Volcano" by the locals. Tours begin at 890 meters above sea level from the Kamchatintour base camp (about 50 km from Petropavlovsk-Kamchatsky). Locals like to say that the ascent is not very difficult, but many people actually find it rather gruelling – both physically and emotionally. Also, it is very time-consuming. Going up all and coming back can take nine hours and often longer, depending on your fitness level and the number of stops for rests, snacks, and photos.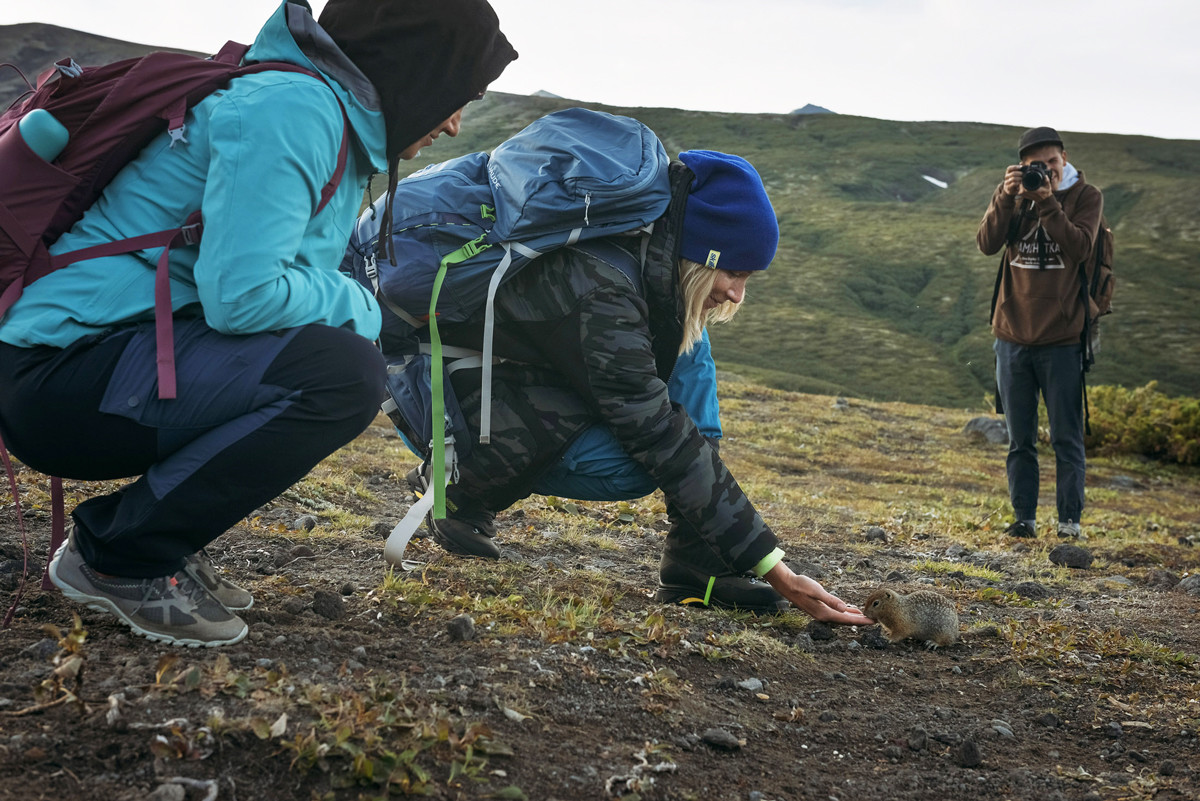 Timofey Timofeenko
The views are breathtaking but as always is the case in Kamchatka, a lot depends on the weather. Because the elevation is quite high and the cloud cover can often be quite low, if it's a cloudy day you might not be able to go all the way up because a part of the volcano could be covered by cloud, thus impeding visibility.
One tip: if you're in a group, go with two guides in case someone finds the trek too challenging so they can go back with one of the guides instead of making everyone turn back.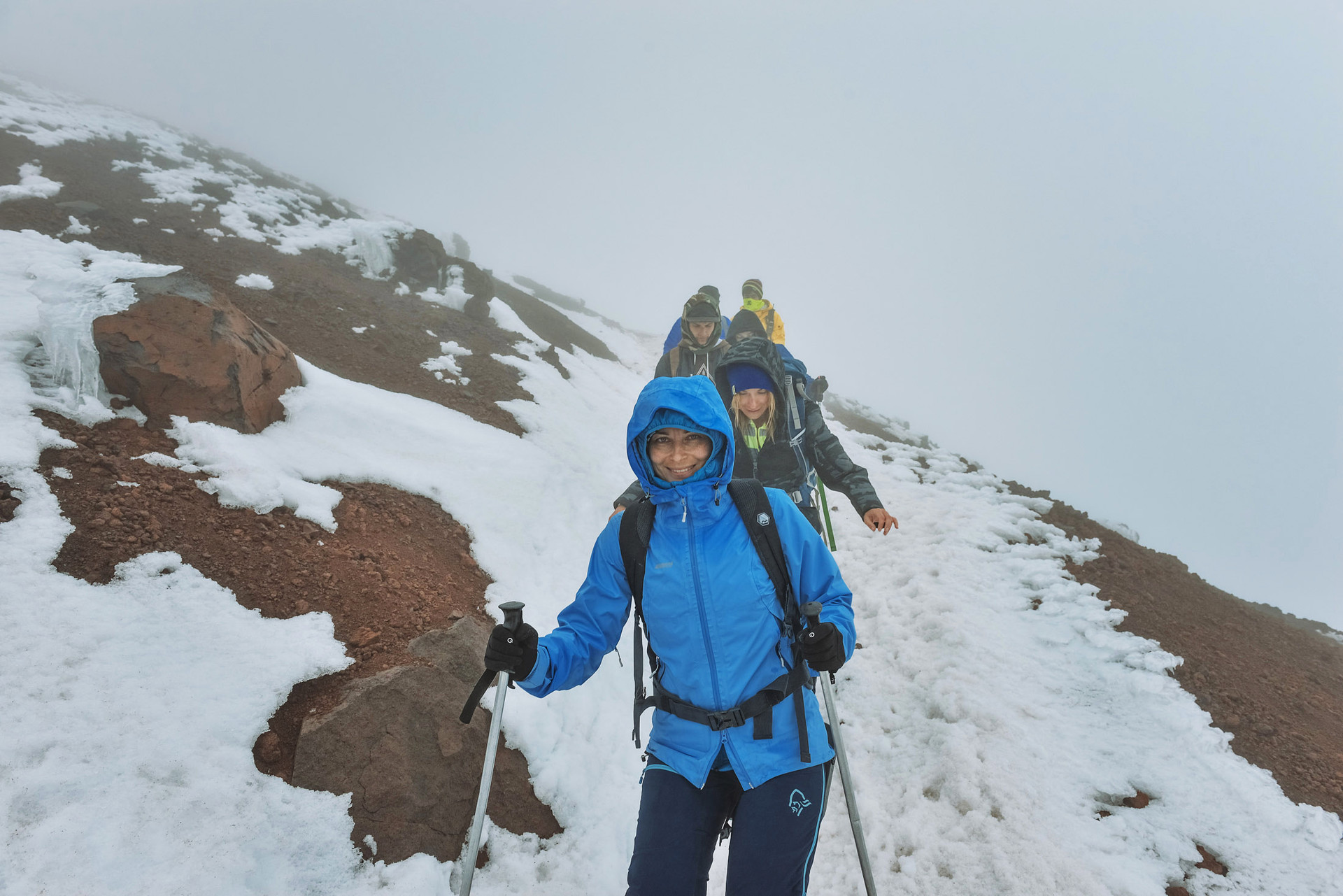 Timofey Timofeenko
4. SUP in Avacha Bay and beyond
Stand-up paddle boarding is all the rage these days and it's a hit Kamchatka as well. The guys at SUP Kamchatka organize a wide range of tours around Avacha Bay and beyond.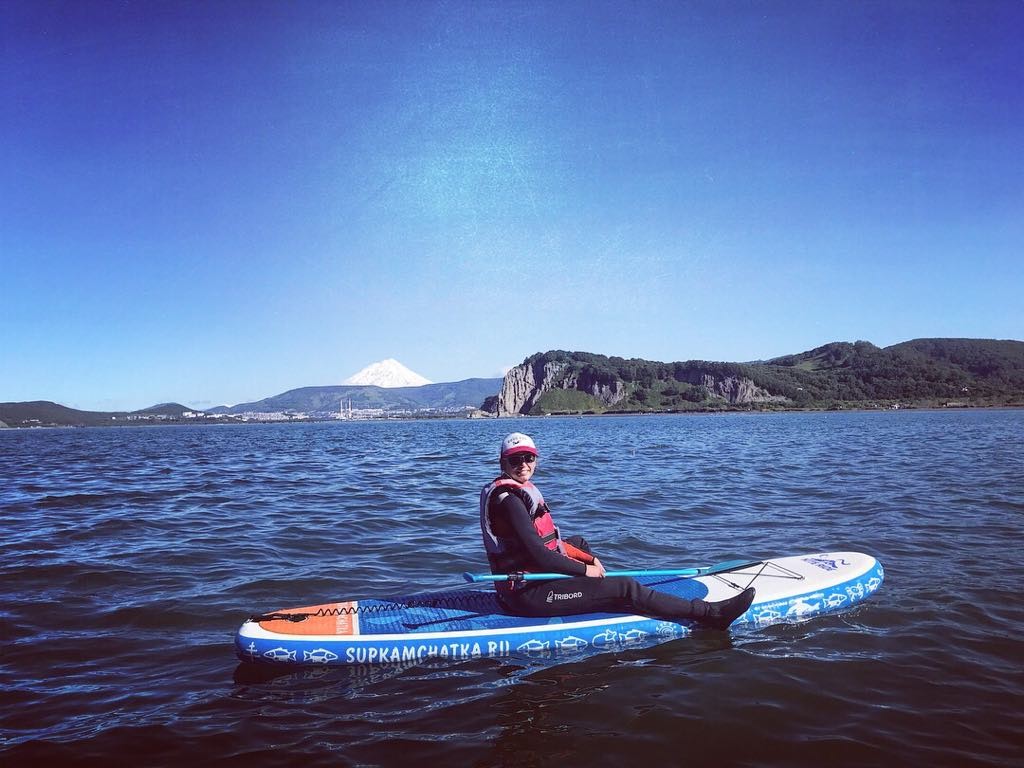 SUP Kamchatka
In the evenings you can opt for a tour around the ship cemetery and enjoy the eerie, almost post-apocalyptic scenery of abandoned, half-sunken military ships from the 1970s and 1980s. When it's low tide you can even see the seals chilling on one of the rusty old piers.
Alternatively, start the day at 9am with the tour to "Chertov Palets" ("Devil's Finger"), which includes SUP surfing and breakfast on a tiny little beach wedged between dramatic rugged cliffs (a spot that you wouldn't be able to get to otherwise) just a short distance from the iconic "Three Brothers." During the four-hour SUP tour you'll see seals and Stellar sea lions.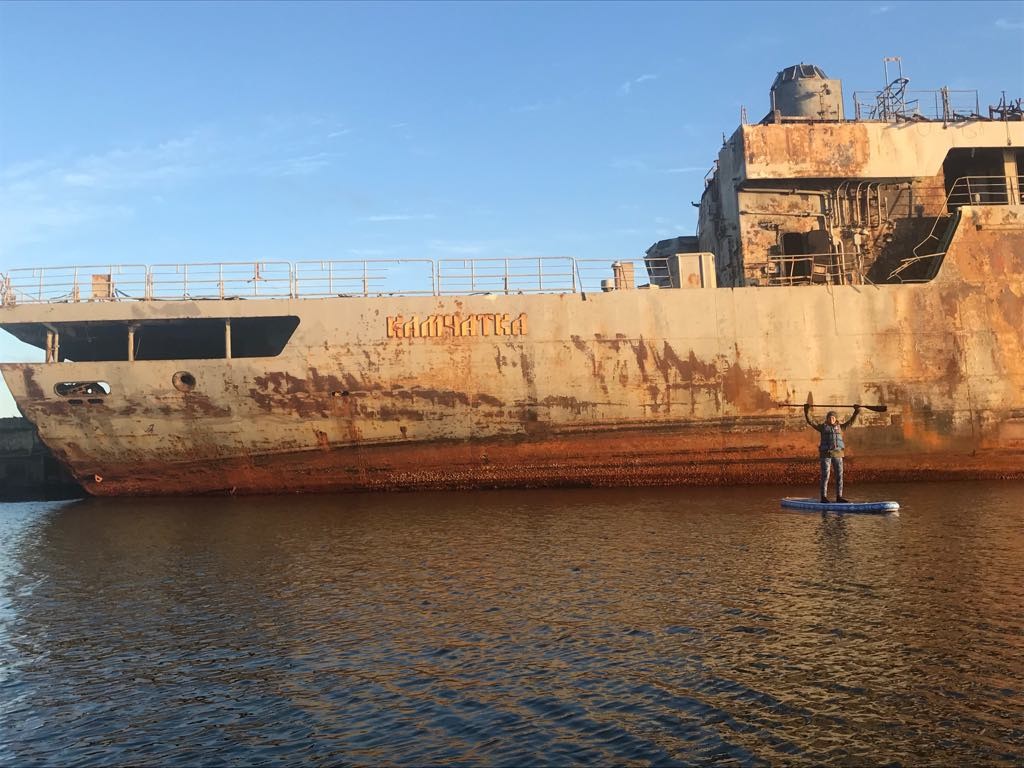 SUP Kamchatka
5. Boat tour to Russkaya Bay
The incredibly picturesque Avacha Bay is Russia's eastern gateway, one of the most beautiful symbols of Kamchatka and the second biggest bay in the world after Rio De Janeiro's Guanabara Bay.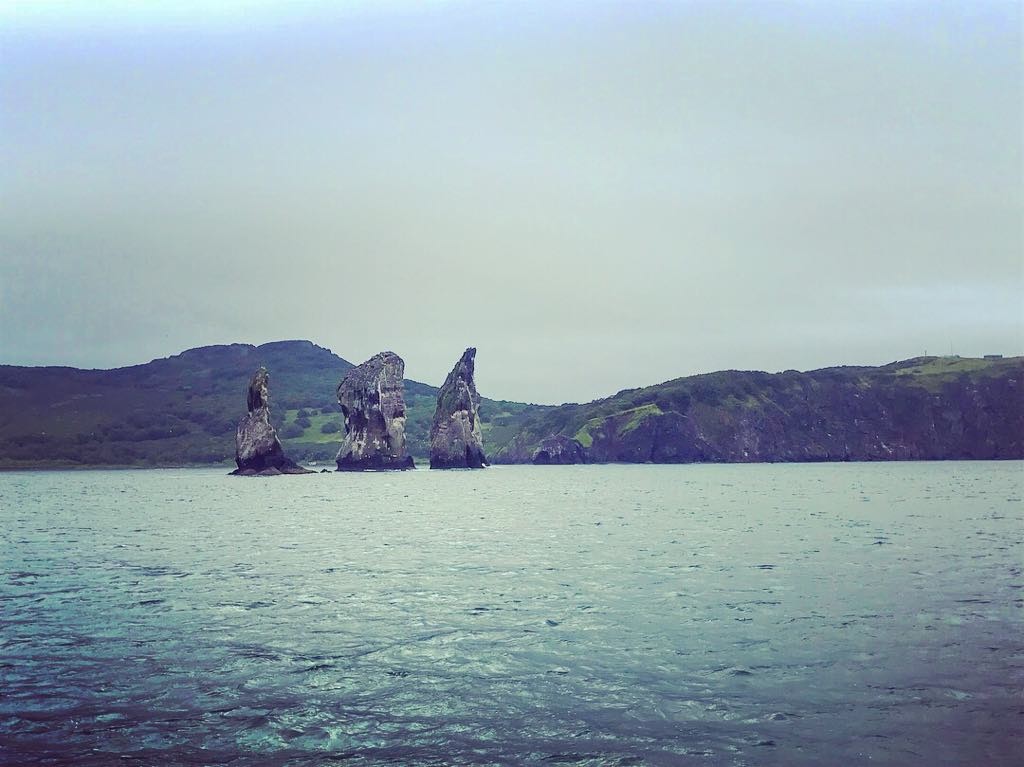 Maria Stambler
A day trip to Russkaya Bay takes you through the bay and past the "Three Brothers," a rock formation which features on many postcards of Kamchatka. Legend has it that three Koryak brothers tried to protect the land against a storm. The storm lasted for several days and the brothers froze and turned into the rock statues that protect the port and the city from the waves to this day. The "Three Brothers" are to Petropavlovsk-Kamchatsky what the Kremlin is to Moscow or the Statue of Liberty to New York.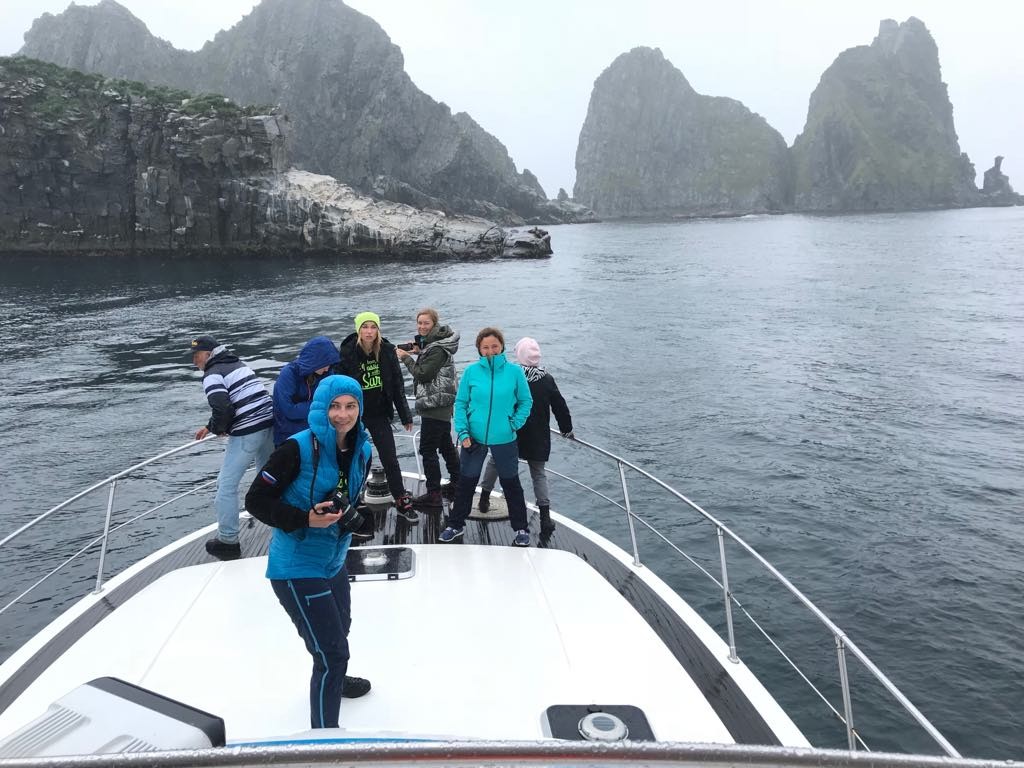 Maria Stambler
The boat trip to, around, and from Russkaya Bay takes about nine to ten hours. During this time you'll see dramatic cliffs, observe lots of birds on Starichkov Island (there are more than 40 nestling colonies of 10 kinds of colonial seabirds on the island), enjoy home-cooked fish soup, Kamchatka crab, and many other local ocean specialties, do some fishing and look at Stellar sea lions in their natural habitat. If you're lucky you'll even see some orcas!
6. Miniature Valley of Geysers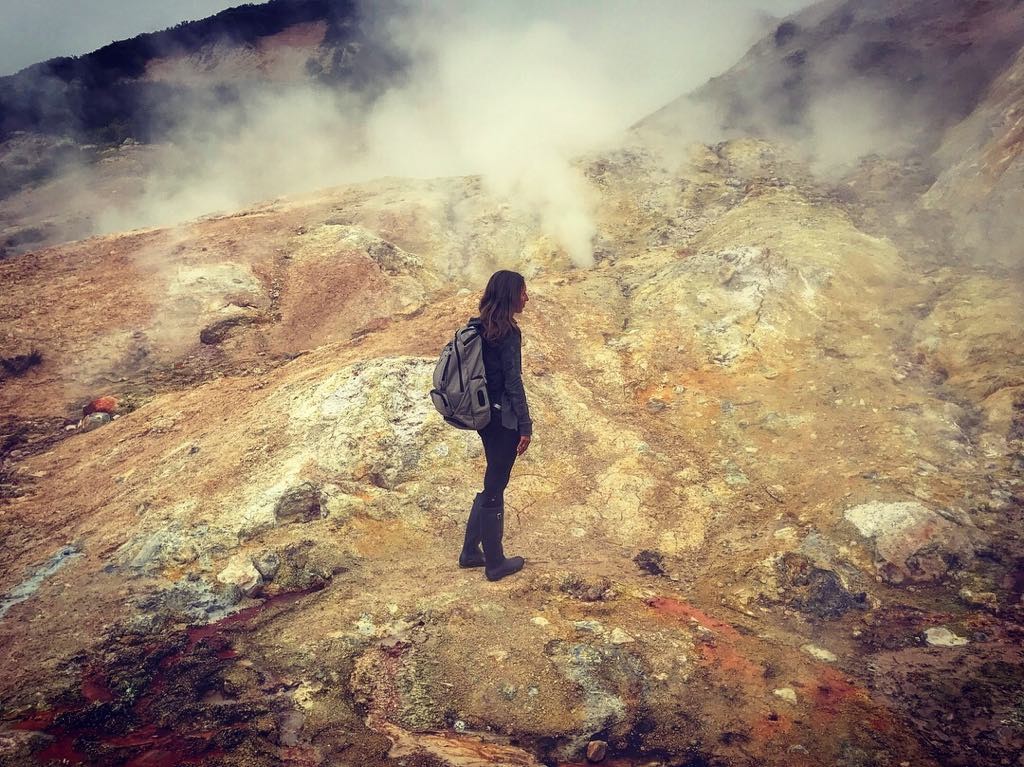 Maria Stambler
Because a trip to the majestic Valley of the Geysers more often than not involves a helicopter ride, making it all the way there is too expensive for many tourists. The next best thing, however, are the Dachnye Hot Springs, a.k.a. the Miniature Valley of the Geysers. They are situated in the foothill of Mutnovsky Volcano on the south-east foothill of Skalistaya Hill, about a three to four hour drive from Petropavlovsk-Kamchatsky.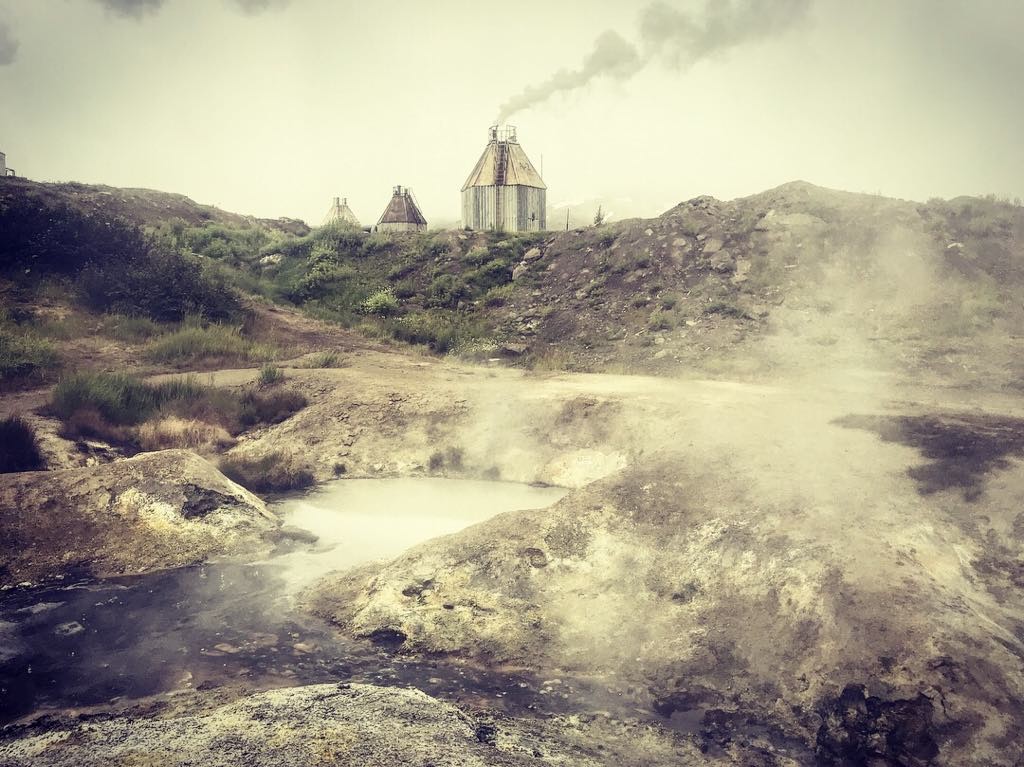 Maria Stambler
Once you get there, you'll need to overcome steep slopes and ravines to get to the hot fields with steam jets and boiling mud pools. Compared to going up the Avacha, this trek is very easy but be prepared to get your shoes and possibly clothes a little dirty.
Rest assured, though, that what you will see there will be completely worth it: ice caves, perfectly still lakes mirroring the snow-capped mountains, tall snow glaciers that don't melt even in the summer, steam coming from every which way, a scorched landscape that resembles Mars…basically, what you'll see is the real "land of fire and ice." Don't forget your swimming costume because at the end of it all you'll have a chance to soak off in a little natural pool with hot thermal water. This is a full day tour.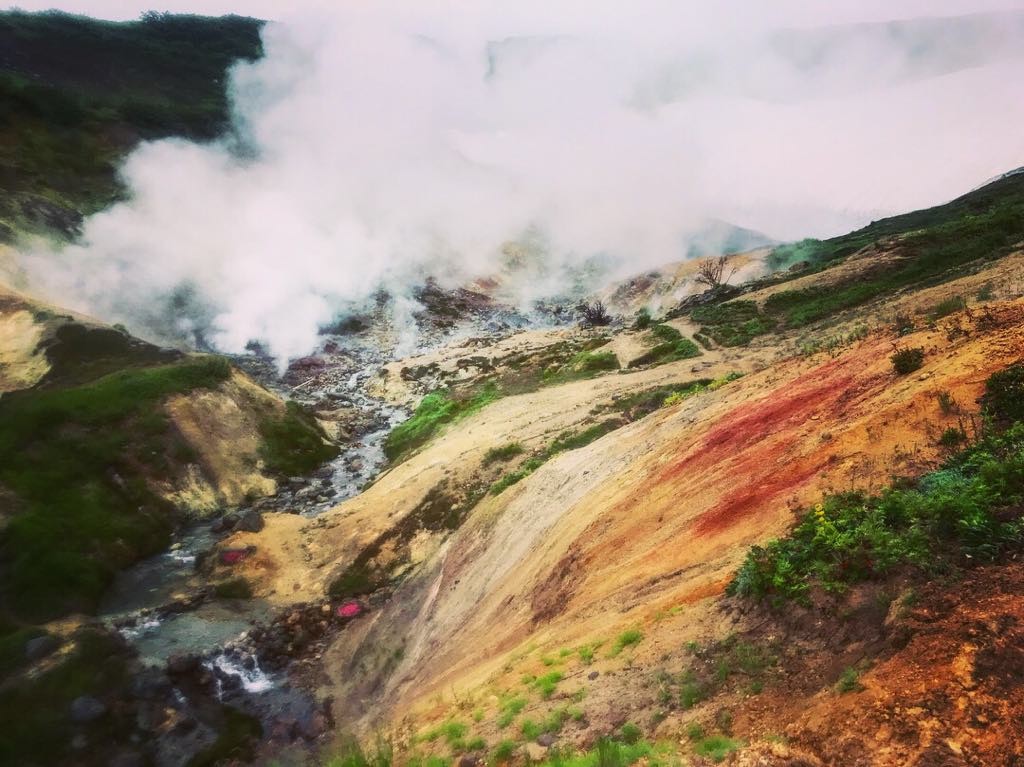 Maria Stambler
Ofcourse we've only scratched the surface with these activities. Everything revolves around Kamchatka's unique nature and if you have the time/money, you can reach truly inaccessible places like the Valley of Geysers or Kurilskoye Lake by helicopter while flying over active volcanoes, go on a several-day fishing tour, explore the terrain on quads and much much more.
And winter is a whole other story with heli-skiing, snowmobiling, regular snowboarding/skiing and more. Kamchatka is a never-ending playground for those who are looking for some thrills or to be one with nature.
If using any of Russia Beyond's content, partly or in full, always provide an active hyperlink to the original material.