Click on the map to check out our guide
Hello! My name is Pierre and I'm a French bulldog living in the Russian capital. I was born in Moscow in the summer of 2012 and over the past 5 years I've managed to explore many places with my human in my hometown. Some places are extremely nice to four-legged furballs like myself, while others are still quite unwelcoming.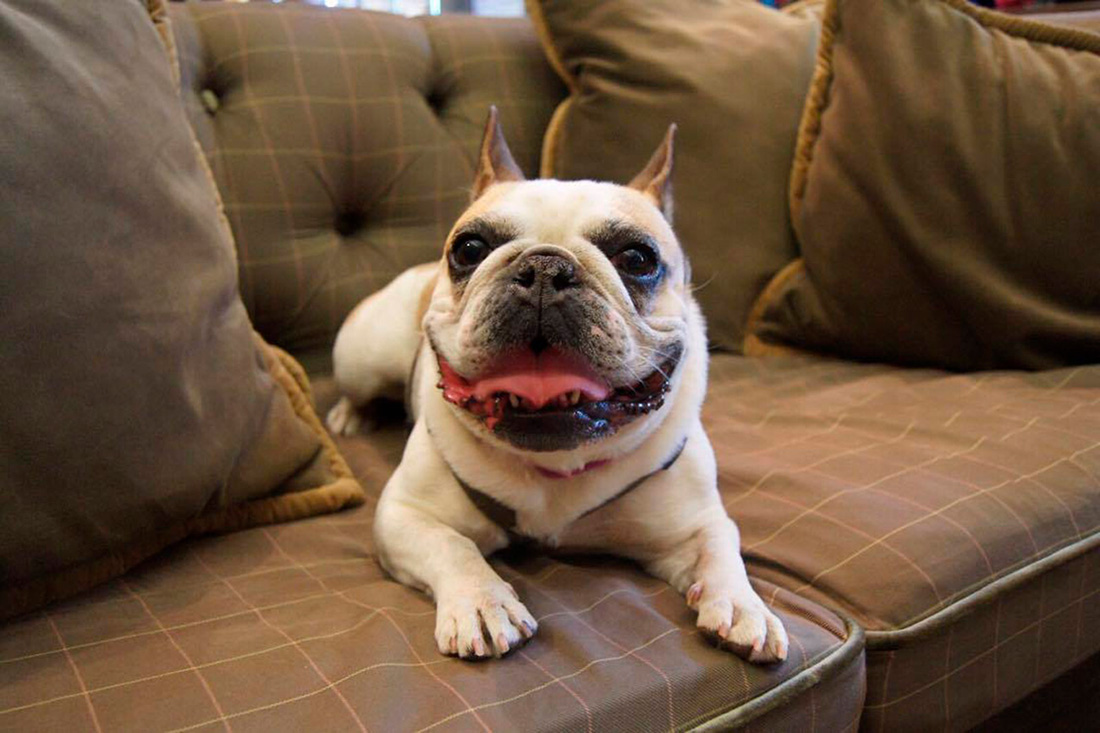 Photo credit: Maria Stambler

Walking
In general, most places in the central part of the city are suitable for guys and gals like me - but we must be leashed at all times. The boulevards of the Boulevard Ring have some great green and leafy spaces for dogs of all shapes and sizes.
"Patriki" (Patriarch's Ponds) is a super trendy area where some hipsters won't show their faces without a small or medium dog like myself. But my favorite has to be Muzeon/Park Gorkogo. There's so much space to run around and so many other dogs for me to make friends with!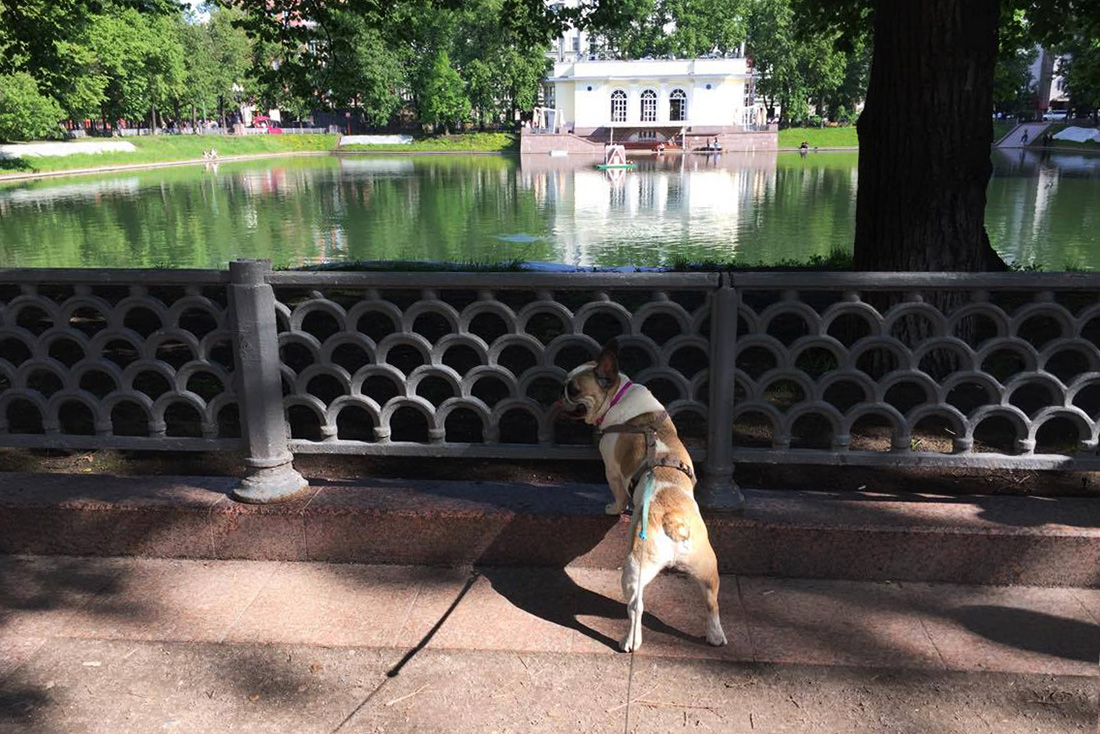 Photo credit: Maria Stambler
VDNKh and Sokolniki are also cool spots for furry hangouts. A bit away from the center of town, these parks also let me frolic and play: Severnoye Tushino, Lianozovsky, Perovsky and I've even been to Kolomenskoye a couple of times (but not recently, so it's worth checking beforehand if canine companions are allowed).
Most neighborhoods have specially designated dog parks but the majority of them aren't in great shape. My friends down in Khamovniki (Frunzenskaya metro), however, tell me that the dog park in Usad'ba Trubetskikh is pretty decent.
As for places where I'm not welcome for some reason: Tsaritsyno Park, Hermitage Gardens, Kuzminki Park, Fili Park and Babushkinsky Park.

Getting around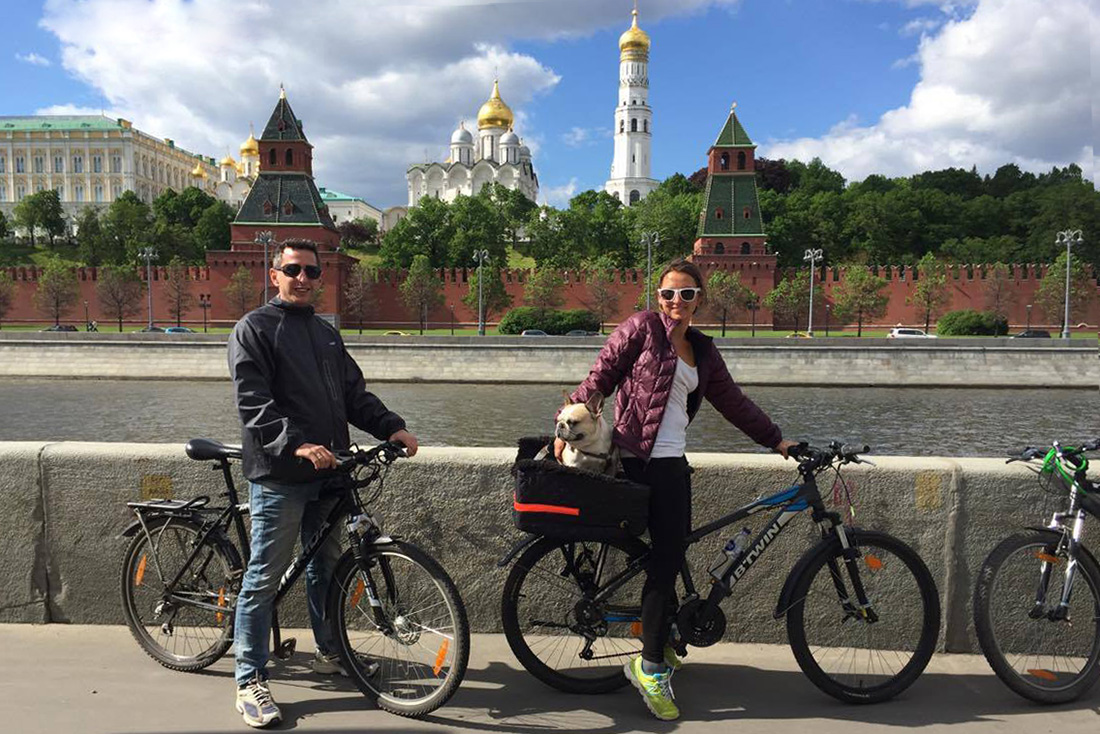 Photo courtesy: Maria Stambler
Although my human prefers to take me around on her bicycle, sometimes we do need to take public transport. In my experience, I've never had any problems on the metro or the suburban train - although that's probably because I'm way too cute! One of my other, bigger woof buddies did have problems, though.
The official Moscow Metro website states that we have to ride in cages but that was never the case for me, so it sometimes does just come down to the mood of whoever's checking or how cute you are. As for taxis, it's pretty much the same thing: It depends on the driver. I've been in an Uber car a few times and felt pretty welcome there.

Eating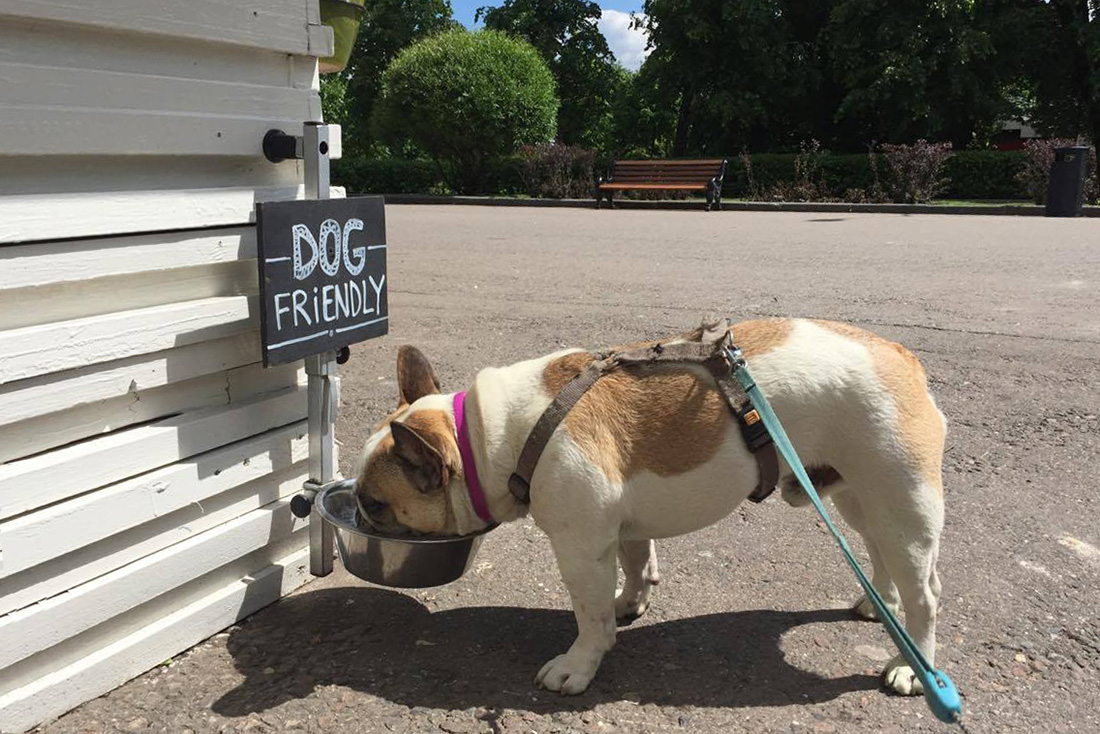 Photo credit: Maria Stambler
When I see that my human is tired and starting to get a little hangry, I need to take her somewhere to recharge her batteries. We haven't been to all the cafes and restaurants in Moscow so the following list is by no means exhaustive. When we're feeling fancy and want breakfast, lunch or dinner in true style and with a spectacular view of the Red Square, we go to Grand Cafe Dr. Zhivago (but only small and medium dogs are allowed).
If we happen to be in the trendy "Patriki" area, most cafes and restaurants there are happy to see me. I personally like Calicano restaurant because I can just spread out in front of the floor-to-ceiling window and make sure everything's under control outside. Georgian restaurant Patara has a spacious terrace in the summer months and Pekarnya Mishelya (Michelle's bakery) has a cozy feel with delightful bakery aromas drifting through the air.
Because my human and I spend a lot of time in Park Gorkogo, we've tried out most of the places there. Our favorites have to be La Boule - I can really get back to my French roots there with a game of petanque, - Olivkovy Plyazh (Olive Beach), the Italian café Mercato, a restaurant called Fresh with a designated "dog bar" and Shardam in Muzeon with a big lawn for me to roll around on while my human feeds.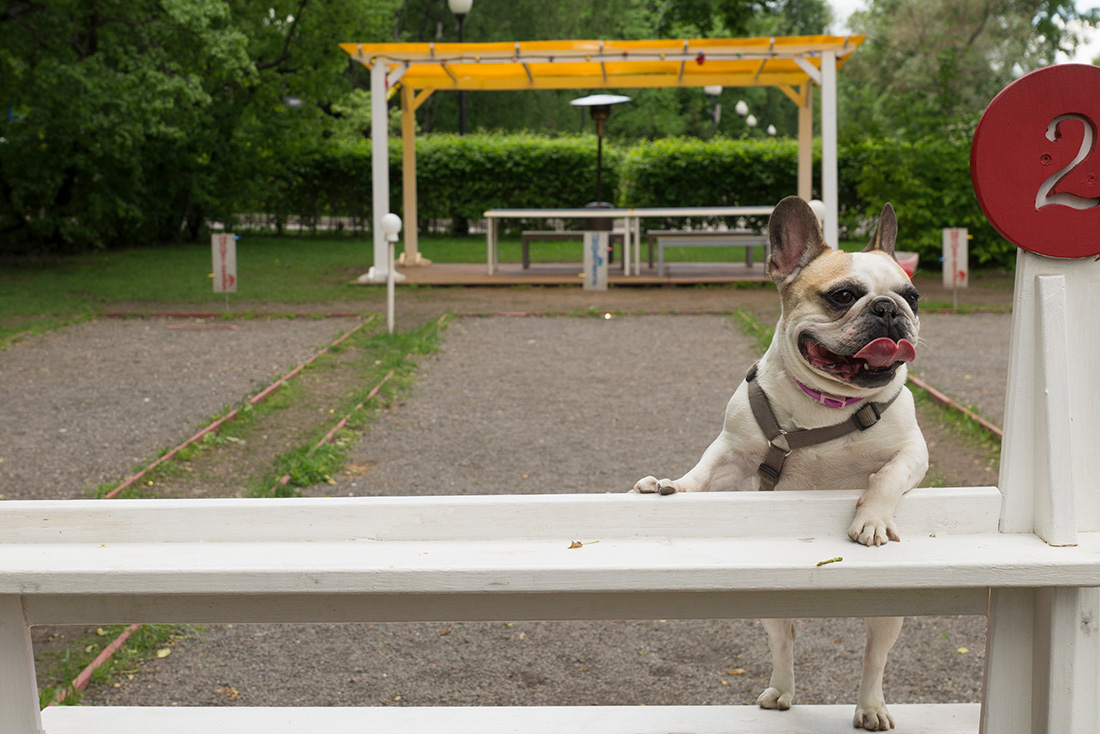 Photo credit: La Boule
But like I said, this park is pretty used to dogs, so it's a safe assumption that any cafe will be accommodating towards humans with dogs. And if not, then there are about 30 other places to choose from: Shaggy dog, a restaurant/bar near Park Kultury metro station lives up to its name. Sort of. First of all, you shouldn't be too shaggy. Second, this place used to have a very laissez-faire doggy policy before, which meant that there could be an unlimited number of dogs in the restaurant. But when we're excited, we're excited and that can lead to quite a bit of commotion, I do confess. So now they allow only two dogs at a time, which means that sometimes we have to wait - but at the end of the day it guarantees a relaxing time for both ourselves and the humans in the restaurant. Here you also find out who the good boy is because the attentive staff keeps the goodies coming.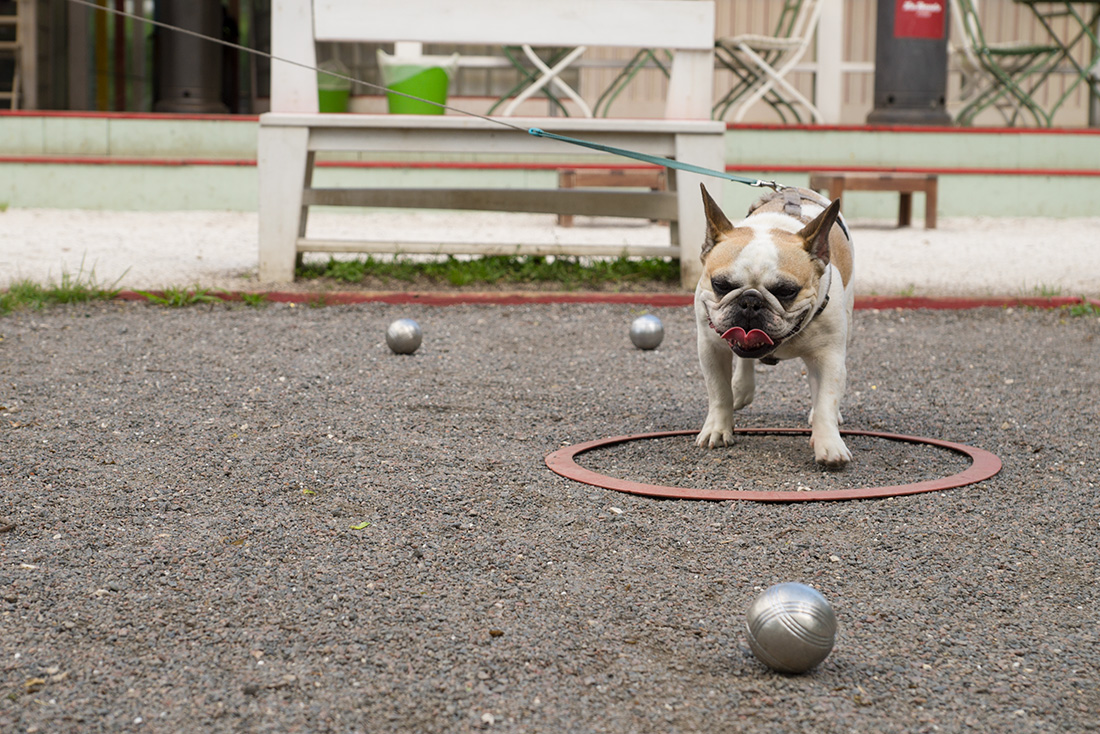 Photo credit: La Boule
Pamper time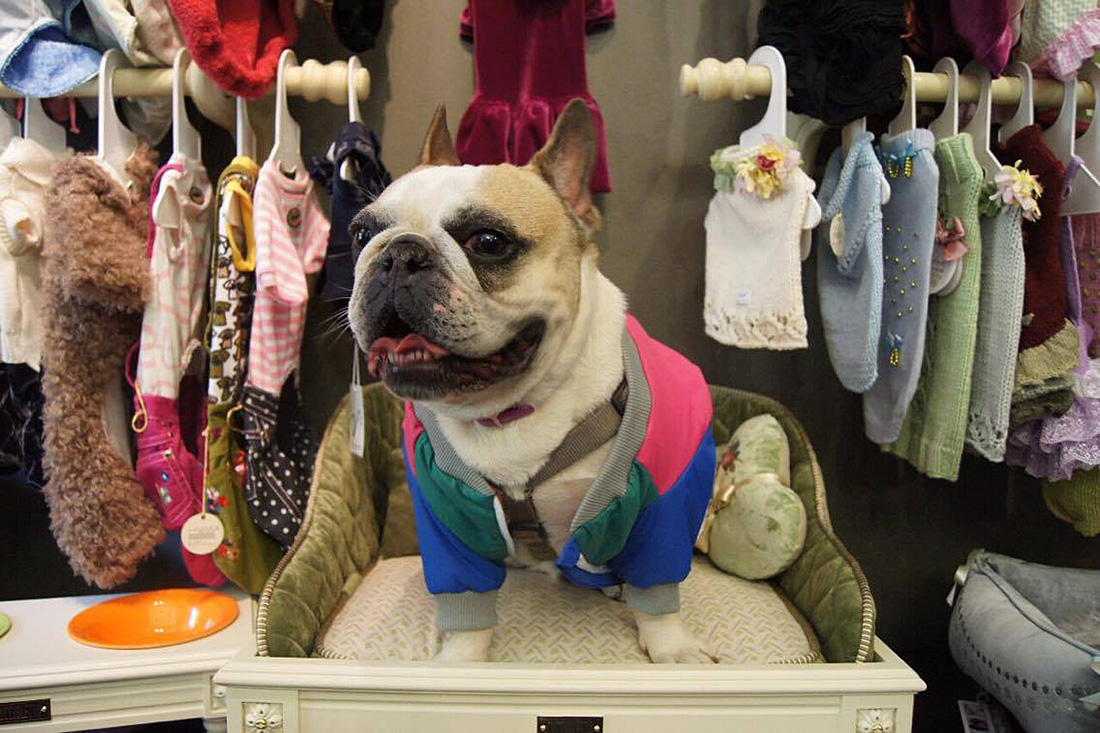 Photo credit: Maria Stambler
After a long day of walking my human I like to unwind - and what better way to do this than with a little shopping and beautifying? There are a few doggy boutiques and salons around Moscow but the one that I've tried and can really vouch for is Groom Room on Petrovsky Boulevard. Name the service and they've got it. Starting with washing, grooming and dental care and finishing with massages, moisturizing body masks, oxygen therapy baths and professional trims and coat procedures for dog shows.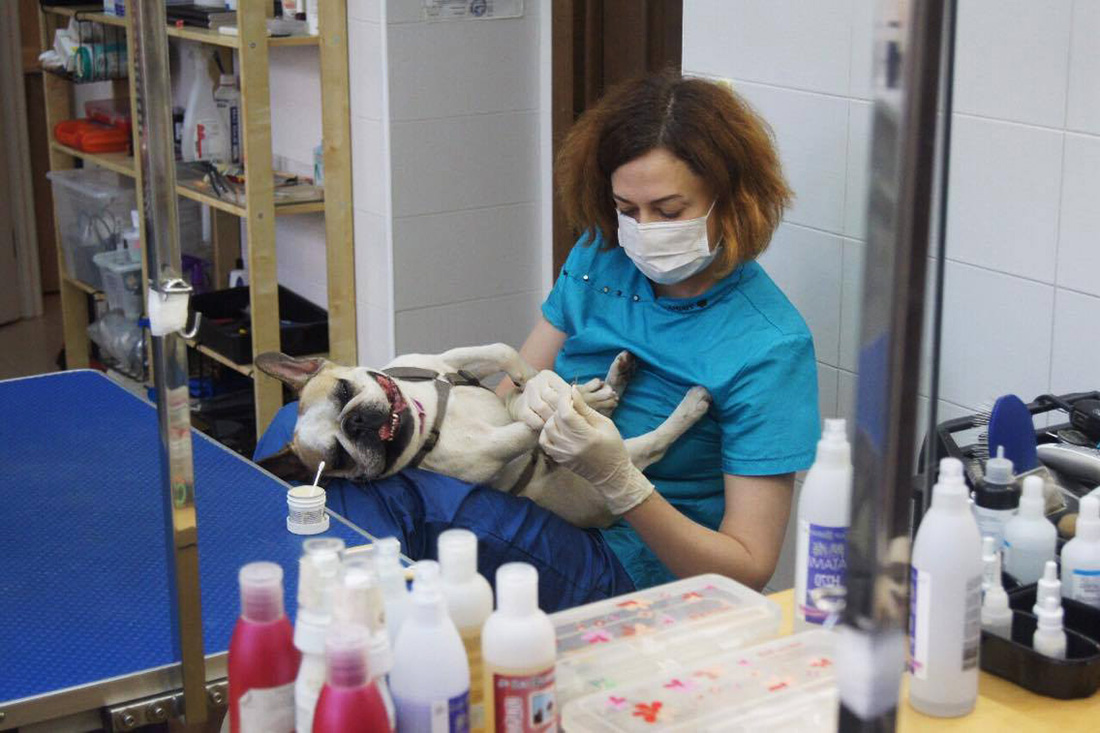 Photo credit: Maria Stambler
They've also got a wide range of luxury clothes and accessories for all seasons, as well as a doggy hotel, cafe, training services, a canine photographer and even a specialized doggy taxi in case my human isn't able to get me to my appointment on time. Overall it's a great place to run around and get spoiled even without an appointment. The professionalism and love for us woofsters there is just unreal.
If using any of Russia Beyond's content, partly or in full, always provide an active hyperlink to the original material.