Click on the coffee cups to check out our guide
Over the last few years the coffee map of Moscow has changed a great deal: If you haven't been to Moscow in a while then you probably won't find half the coffee shops you visited on your last trip. However, there are plenty of new spots for you to discover. We have compiled a coffee map that responds to the needs of every modern traveler.
Business meetings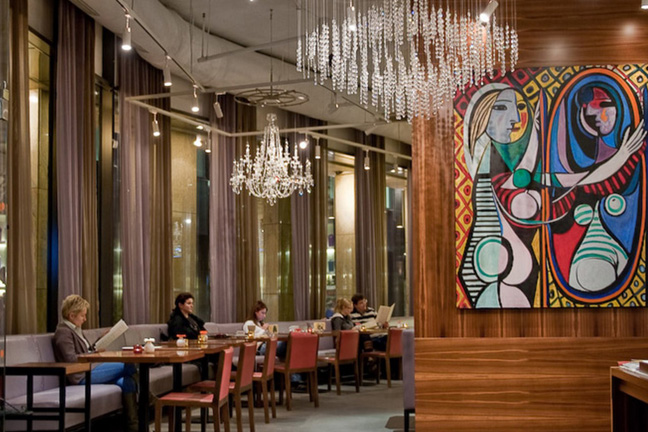 Source: Kofemania press photo
Kofemania near Belorusskaya Metro station (5 Lesnaya ul.)
Kofemania at Belorusskaya Metro station is a coffee and breakfast spot frequented by top executives. This coffee shop, which also has its own roasting facilities, is located in the business cluster surrounding Belaya Square, which is the headquarters of major Russian and international investment companies. The interior is austere and carefully designed so as not to distract you or your business partner from your negotiations. It is also a perfect choice for lunch. Kofemania is a chain, so you can find its coffee shops scattered all over Moscow.
What to order: signature espresso
Red Café near Barrikadnaya Metro station (1А Sadovaya-Kudrinskaya ul.)
This coffee shop became known to Moscow's business community under its previous name, Red Espresso Bar, and has a reputation for being a good venue for business meetings. The subdued colors of its interiors create an energetic urban ambiance.
What to order: Raf coffee (steamed milk with espresso) with homemade syrups
Informal rendezvouz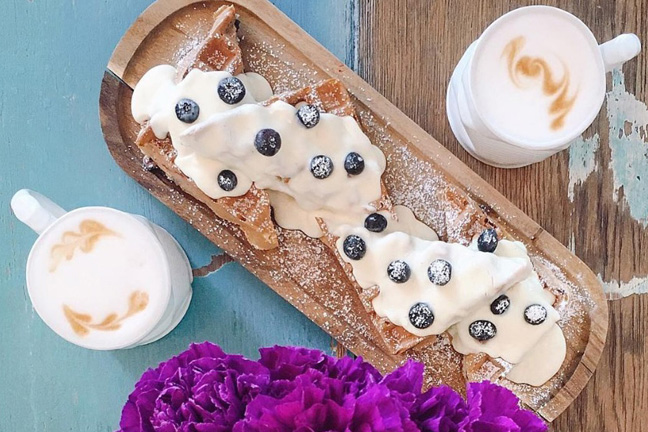 Source: I Love Cake instagram
Double B (12/10 Krivokolenny pereulok)
Krivokolenny pereulok (alley) in Chistye Prudy has been a popular location for friendly get togethers and informal meetings since the early 2000s. The Double B coffee shop is worth a visit not only because of its superb coffee, but also because you can take a glimpse at the world passing by on Myasnitskaya ul., which is filled with offbeat restaurants and shops.
What to order: Flat white coffee, Creme Brulee Raf, Strawberry Raf
I Love Cake (4 Bolshoy Patriarshy pereulok)
The district of Patriarshy Prudy (Patriarch Ponds) is sometimes known as the Moscow Soho, Piccadilly or Greenwich Village. This local confectionery with windows overlooking the pond is quite popular with women, as it offers a choice of 100 cakes.
What to order: Bubblegum-flavored "funny latte," Green King Latte with pistachios and strawberries
Romantic dates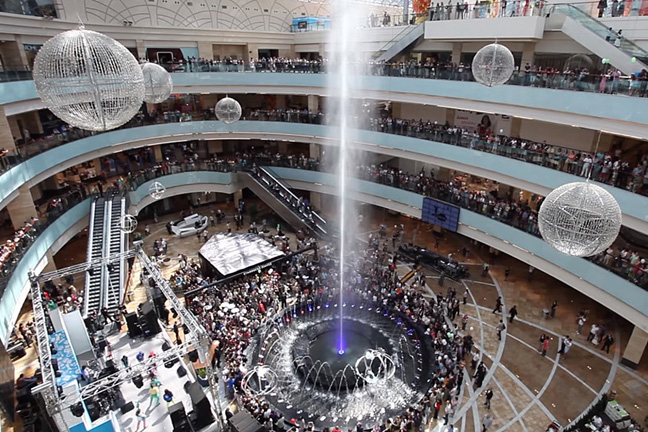 Source: YouTube/Borond Fountains
Kofein at Belorusskaya (3 Lesnaya ul.)
Despite the fact that this coffee shop is frequented by white-collar workers from the neighboring business cluster in Belaya Square, Koffeinaya at Belorusskaya features a romantic atmosphere, with much of the warmth coming from the extra-sweet variations of popular coffee drinks. Kofein is a chain, so you can find its coffee shops scattered all over Moscow.
What to order: Piccholo coffee
Starbucks in Sokolniki (37 Rusakovskaya ul.) and in Moscow City (2 Presnenskaya naberezhnaya)
Although the American chain enjoys its image as a daytime habitat for freelancers with Mac Books or office workers who come to grab coffees for their entire team, the capital has a few locations that could be a suitable choice for a romantic evening.
The Starbucks outside the Sokolniki Metro station is situated on the second floor of a business center with panoramic windows. While the Starbucks inside the Afimall City shopping center does not have windows or even walls, it is located at the foot of a colored water organ fountain, which jumps 32 meters up beneath a glass dome with a view of the skyscrapers of Moscow City.
What to order: seasonal roasted coffee and a summer desert with fresh berries
Remote work
Source: Bulka coffee shop press photo
Bulka (19 Pokrovka ul.)
Apart from delicious food, this coffee shop offers a stable Wi-Fi connection, friendly staff and a fairly quiet atmosphere, providing guests with a good ambience to spend a few hours working on your laptop. Bulka is a chain, so you can find its coffee shops scattered all over Moscow.
What to order: coffee with halva and pastries
Les (10/7 Rozhdestvensky Boulevard)
This is the perfect remote office facility. The Les coffee shop has partnered up with a co-working space on the second floor. Most importantly, guests can use the printer here.
What to order: espresso, ristretto
Coffee to go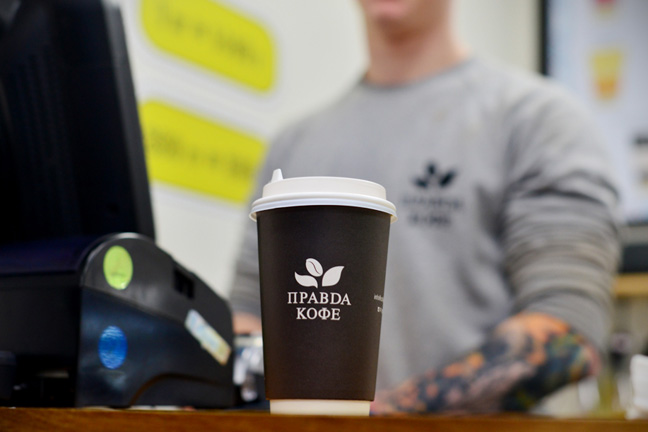 Photo credit: Nikolai Korolev
Double B
We have already mentioned one of the chain's coffee shops, but the general focus of the chain is coffee to go. Double B coffee shops are located along the main pedestrian routes in the city center.
Pravda Coffee
This project kicked off as a small coffee counter on ul. Pravdy a few years back. Today it is a successful franchise with very reasonably priced, but high-quality coffee.
What to order: a small cappuccino for 50 rubles
David B. Café
Named for music legend David Bowie, this coffee shop with a separate to-go counter is located at Patriarshy Prudy, which we mentioned above.
What to order: espresso, cappuccino
Les on Krymskaya Naberezhnaya
Unlike the Les in Rozhdestvensky Boulevard, this coffee chop is more of a to-go spot. Located on one of the nicest pedestrian embankments of the city, it overlooks Gorky Park on the left and the Muzeon Park of Arts on the right.
Baton (74 Mytnaya ul.)
This coffee shop is located inside the Danilovsky Market. If you go there for a cup of coffee, be prepared to face sweet temptation, as they offer mouthwatering delicacies from various regions of Russia and the world.
What to order: Indian coffee and a rum cake
All rights reserved by Rossiyskaya Gazeta.