The seven-decade experiment that was the USSR brought about drastic changes to the traditional way of life of the indigenous nations of northern Siberia. Today, modern descendants of the nomads live in cities and settlements, but they remain people of the tundra deep in their hearts.
Alexei Chunanchar is a member of the Nganasan nation, one of the oldest ethnicities of the Eurasian North. The Nganasan population in Russia today doesn't exceed 1,000 people, around 100 of whom live in the tundra and engage in hunting. In Dudinka, Chunanchar works as a bone-carver at the House of Folk Arts, carving big and small sculptures from buckhorn. Although Chunanchar studied in an art college in Norilsk and lives in an apartment with his two children, he loves the tundra and reveres his knowledge of northern folklore and Nganasan culture.
Summer doesn't begin in the north of Siberia until late June. Melting snow is still visible at the foot of low hills, your hands freeze without gloves and the road to Dudinka, which is 90 kilometers away from Norilsk is framed by nothing but cotton grass, which is eaten by deer.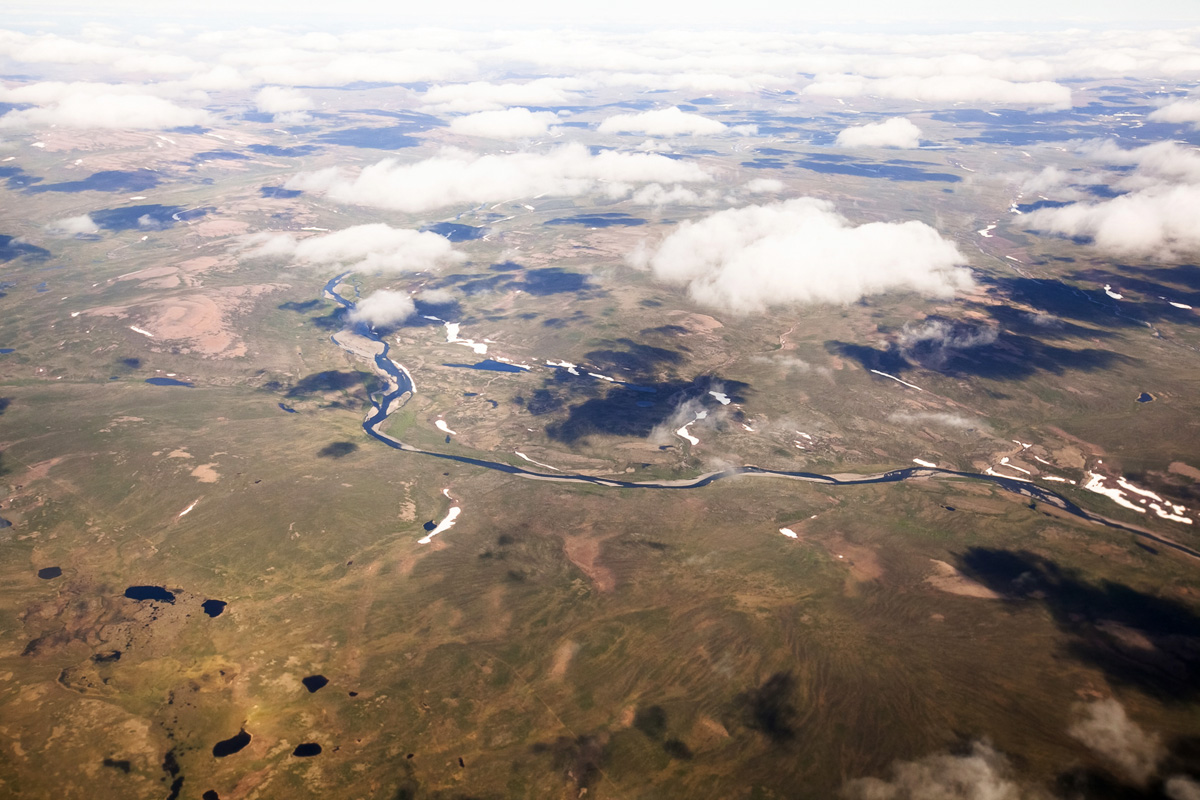 Photo credit: Anton Petrov
The town of Dudinka has a population of 22,000, including Russians, but also representatives of local indigenous nations: Dolgans, Nganasans, Evenkis, the Nenets and Enets. They struggle to preserve their culture, customs and traditional cuisine against the incursions of civilization.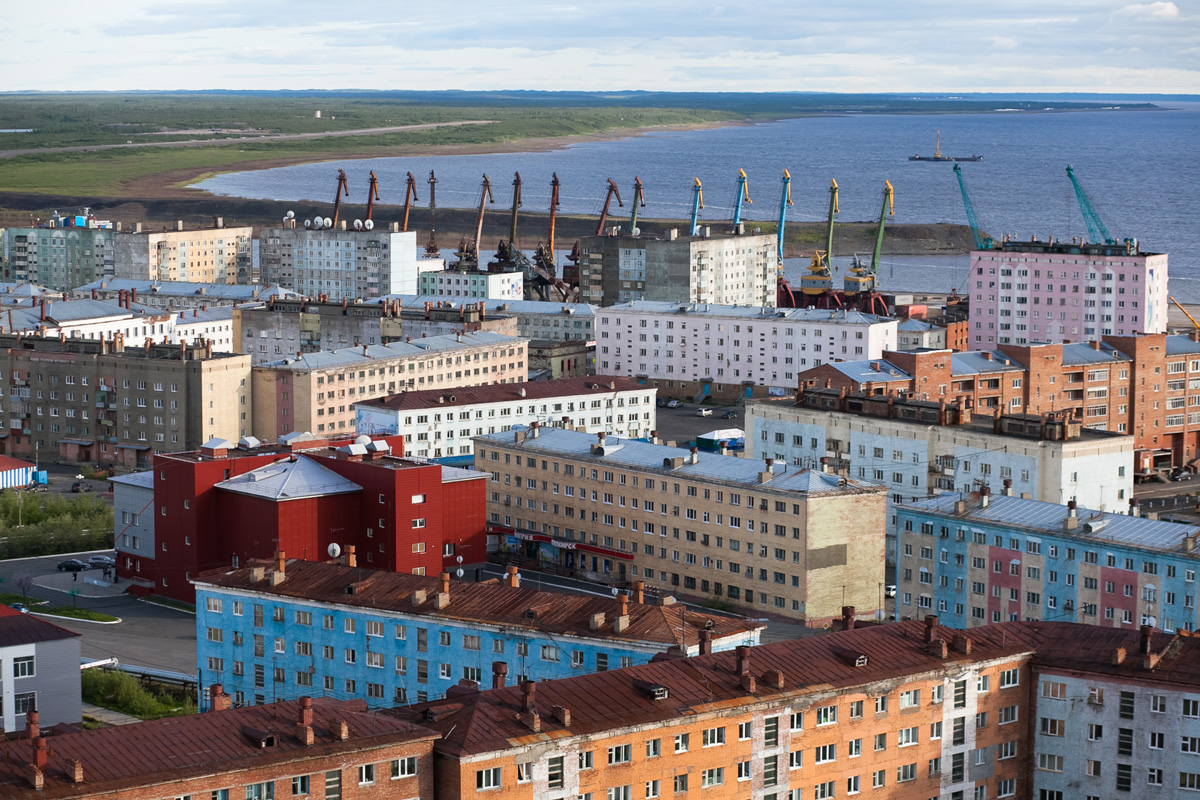 Photo credit: Anton Petrov
A bone-carver's workshop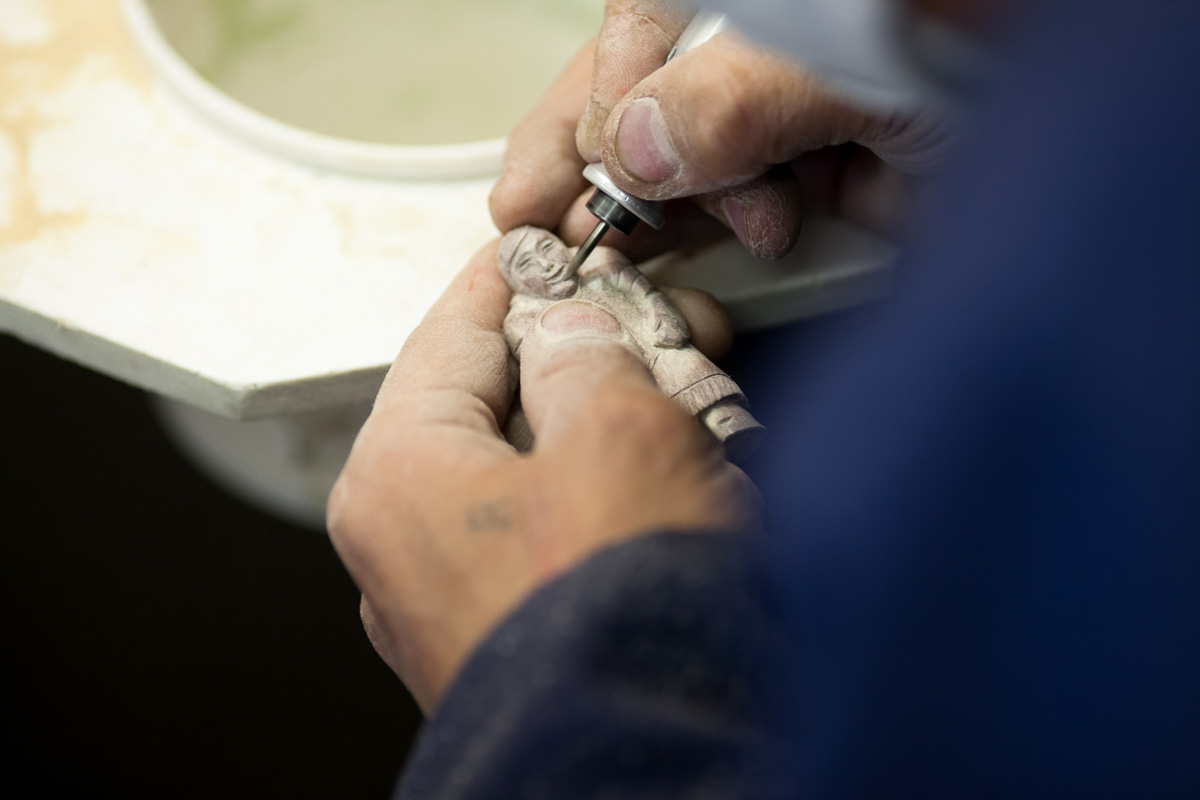 Photo credit: Anton Petrov
As soon as the drilling machine touches a small piece of buckhorn, a cloud of dust rises in the air, covering the tools, the table and our clothes – all the surrounding objects – like snow. In a few minutes the rectangular piece becomes round and 10 minutes later expert bone-carver Chunanchar is holding a small human figure in traditional Nganasan attire.
"Such figures are popular now," laughs Chunanchar, finishing his work and brushing buckhorn dust off his jacket. "Drivers carry them around in their cars as a talisman against meeting a traffic inspector."
At work and in the city, everyone calls the craftsman Alexei, but his Nganasan name is Alyu, which translates as "small stone." "Historically, Nganasans didn't name babies right away," explains Chunanchar. "Parents waited for the child to show himself, to demonstrate his personality or a special feature, and only then would they choose a name."
At home, Chunanchar shows us a childhood photo of him dressed in a traditional costume and Nganasan clothes for children, which they wear on special occasions or for performances.
Photo credit: Anton Petrov
Chunanchar is a member of Dentedie, a Nganasan folk ensemble. He is a gifted throat singer and plays the khomus. Traveling around Russia and the world, he also manages to find time for his two children.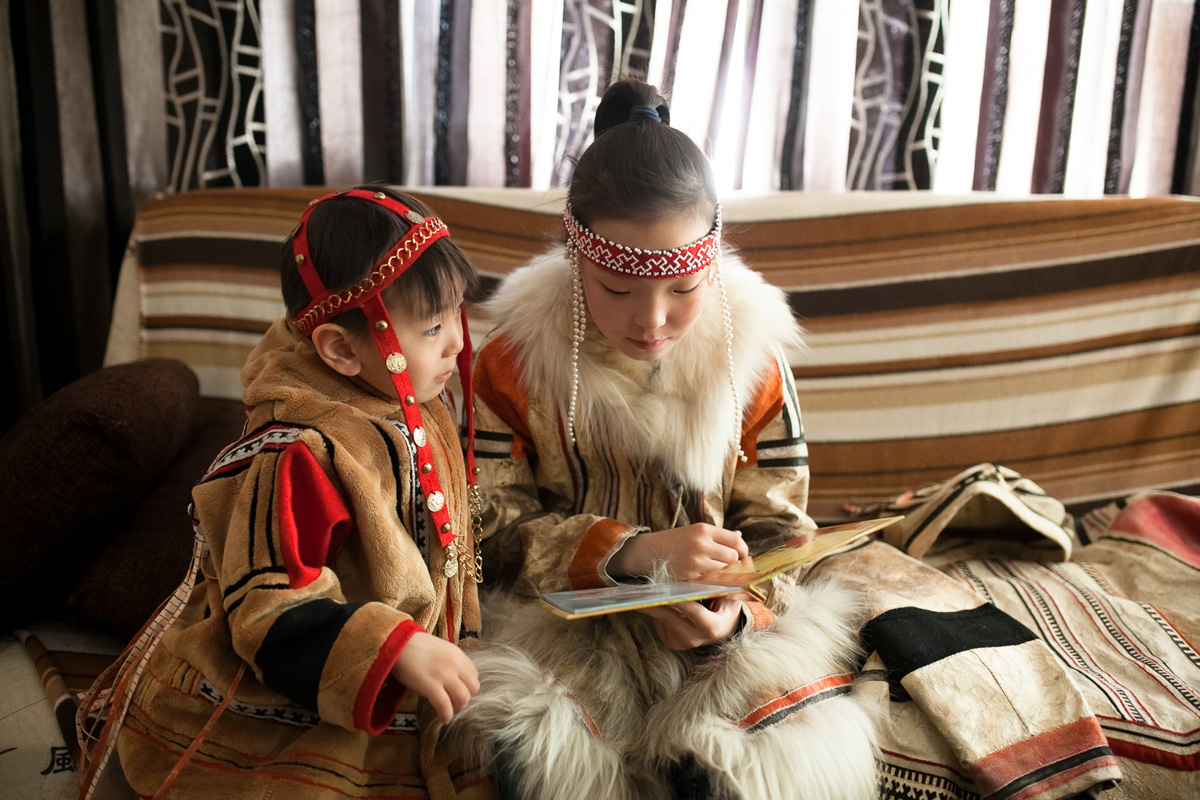 Photo credit: Anton Petrov
"When there were collective farms in the North, my father herded deer and carved out sledges and small figures, making dog-sledges," recalls Chunanchar. "As a child, I'd accompany him when he went hunting and fishing; at the age of 10 I had to learn to kill a deer on my own. Mom usually stayed at home, in a balka – a rack-framed house on a Nganasan sledge called narty, covered with buckskins and canvas. She'd embroider clothes, cook and wait for us to return. When the collective farm was dissolved, all the deer were slaughtered. Now my parents live in the settlement of Volochanka and do nothing but fish.
Fishing on the banks of the Yenisei River
Just like his parents, Chunanchar often goes fishing, especially in summer. We had to spend a few days in Dudinka until the weather was good enough for us to go fishing and cook suguday – a favorite delicacy of northern indigenous peoples. The wind raised huge waves on the river and it was too dangerous to take a boat out. When the northern gods tempered justice with mercy, the sun looked out on the town and the river didn't look menacing anymore. Chunanchar and his friend took fishing rods, fuel and wellington boots from the garage, set their motor boat out into the water and took us for a ride on the "Big Water," an old Evenki name of the Yenisei. I bent over the board to catch some icy splashes with my hand.
"The Yenisei is morose. It knows everything and you shouldn't mess around with it – waves can rise in no time. Water is sacred for the Nganasan," Chunanchar warned me.
On the shore, our companions started to untangle a huge net with amazing deftness.
"It's a net for small vendace. We're going to catch it right next to the shore. My grandfather went fishing on a long hand-carved wooden boat instead of a motorboat. And the sinkers for nets were also wooden," clarified Chunanchar.
Indeed, half an hour later around a dozen silvery fish were already flopping about in our boat. Chunanchar took a fish and swiftly disemboweled it, rinsed it with water, chopped it into large chunks, salted it, added some pepper and leeks and offered us a plate of raw suguday fish, which traditionally was served without spices.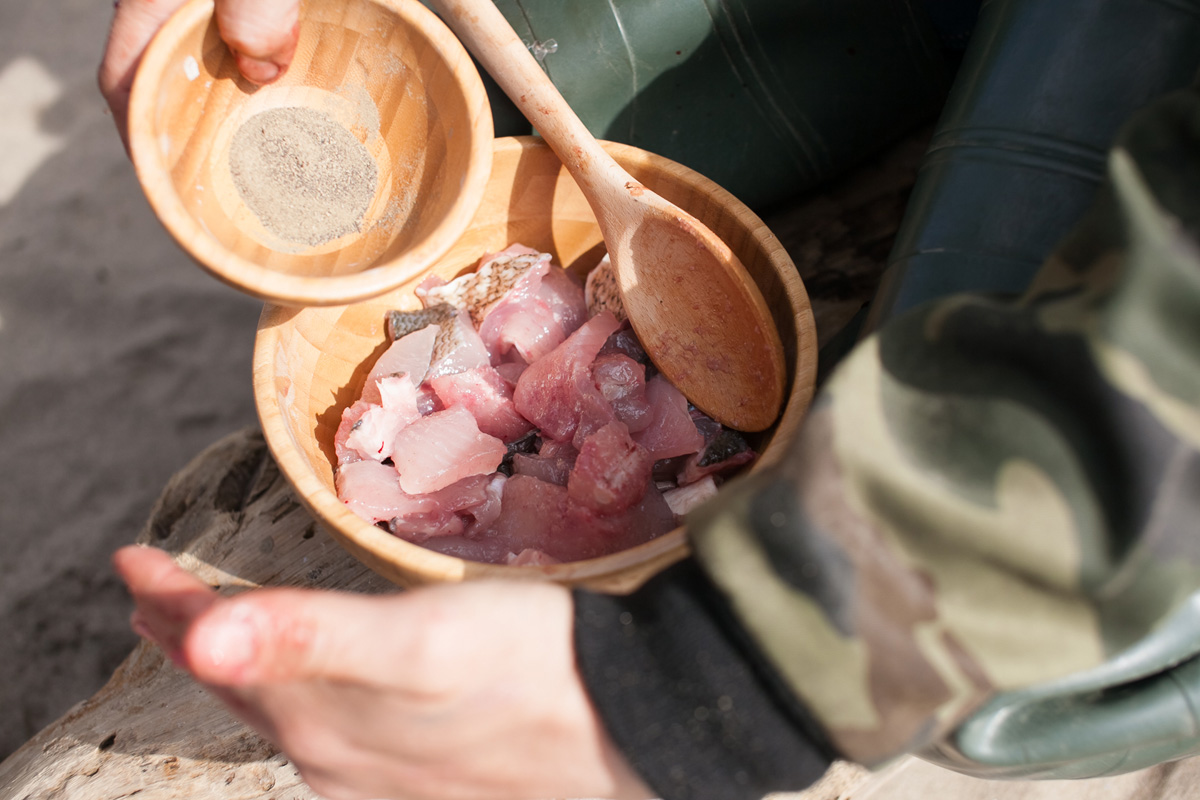 Photo credit: Anton Petrov
Before we got down to eating a true Nganasan meal, the fisherman "fed" our fire by throwing a chunk of fish into the flames. This is how northern people pay their respect to fire, which is considered to be sacred, just like water.
"Of course, you get used to the city little by little: To the conveniences, to having everything at hand. But I still view myself as a man of the tundra," added Chunanchar at the end of our day.
Before we headed back along the river, he tied a piece of rope to a tree, as a sign of gratitude to the spirits of nature for the good weather and fishing.
All rights reserved by Rossiyskaya Gazeta.