An election Sunday in Siberia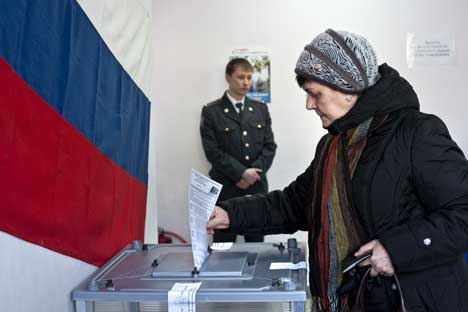 Tymen citizens voted with their heart. Source: Arnaud Finistre
Voters in the city of Tyumen were happy to go to the polls, despite the overwhelming feeling that the end result of the election was pre-determined.
In the Siberian city of Tyumen, Russians turned out in droves to vote in the presidential election on March 4. The day was cold, but sunny and festive music and a raffle at polling stations gave the day a festive atmosphere despite the feeling of many citizens that voting was simply a pro forma exercise.
"I am well aware that my vote is pointless," said Yevgeny, 24. The student had no illusions about the result of this election, but he hoped that the new political activism in the country would encourage Mikhail Prokhorov to create his own political party. When the Russian billionaire declared that he would run for president late last year, Yevgeny decided to give him his vote. For one thing, "because he's new," Yevgeny said. No doubt, this is an important factor in the younger generation's enthusiasm for the businessman. Igor, another young Prokhorov supporter, explained his support for Prokhorov in much the same way. According to Igor, "not only is he new to politics, but he listens to people. And then I don't want to vote for any of the other candidates, they are too corrupt." Igor admits that two weeks before the election he hadn't heard anything said about Prokhorov's platform but now he knows it well. "I voted with my heart," Igor said, smiling.
Prokhorov supporters were busy in Tuymen on March 4. The Prokhorov campaign fielded a number of mobile observation teams whose job was to visit each of the polling stations in turn and identify any irregularities. According to them, such irregularities are numerous. Anyway, that is the claim made by Pierre-Yves, a young Russian-speaking French student who is on a university exchange in Tyumen for the current year.
"You'd think you were back in the days of the Spanish Inquisition!" Pierre-Yves said. "I'm not a member of any NGO, I was simply invited by a local party to become an international observer. I can say that even though I have the necessary documentation for being an observer, some of the polling station officials are giving me a hard time. They don't hesitate to doubt the validity of our papers … It took very little for them to refuse me access to the polling station."
Pierre-Yves was accompanied by Sergei, 25, who explained how those in charge of the polling stations prevented observers from filming scenes of voting, something that the observers are permitted to do. Furthermore, he was on the lookout for groups of voters going around voting at multiple polling places. Accoridng to Sergei, during the Dec. 4 State Duma elections, "A bus containing about 40 people drove from one polling station to another. Their passports were marked with a special symbol that enabled them to vote several times, so it's to be expected."
The fact that the ballot boxes were not particularly well supervised in Tyumen did little to contradict the accusations of fraud, but ordinary voters came out to cast their ballots anyway.
Ivan, 45, leaving a polling place inside a local school declared: "I voted for [Communist Party Leader Gennady] Zyuganov. It's a protest vote against Putin. Even though, of course, Putin is going to win. And we'll be out on the streets again."
But Valentina, despite professing nostalgia for the Soviet, didn't throw her support to the Communist. She characterized him as too old. "Putin is the strong man we need. He is in excellent shape"
All rights reserved by Rossiyskaya Gazeta.