Is Russia's Far East overcrowded by Chinese immigrants?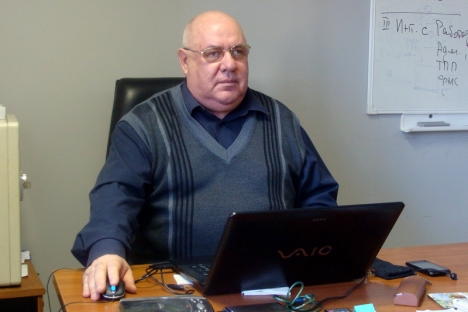 Sergei Pushkarev, the head of the Vladivostok regional branch of the Federal Migration Service from 1993 until 2003. Source: Press Photo
One of the most common myths in Moscow is that Russia's Far East is overrun with Chinese immigrants. Sergei Pushkarev was the head of the Vladivostok regional branch of the Federal Migration Service from 1993 until 2003. He talked to RBTH about why this myth persists and what the demographic situation really looks like in the Far East.
RBTH: Are Russian fears that the Chinese are taking over Russia's Far East justified?
Sergei Pushkarev: Somebody has to take care of the territory and our own population is leaving the area in catastrophic numbers. Those replacing them are not Chinese, but citizens of Central Asian countries.
Investment from China is practically zero due to a lack of mechanisms to protect them from official abuse and criminals. The Chinese are happy to host joint businesses on their side of the border, taking advantage of our technological know-how and attracting our entrepreneurs.
In the mid-1990s when we first opened up Vladivostok – and China was less economically developed – we had lots of Chinese in border bazaars and sleeping in train wagons. Nowadays you have to pay around a thousand dollars monthly to attract a specialist from China.
God gave us a peaceful, hard-working neighbor eager to engage in mutually beneficial economic activity…and we live in fear of China.
RBTH:How many migrants from China are there?
S. P.: The number is in the thousands. Unlike Central Asians, Chinese citizens need a visa to cross into Russia. We have clear numbers on how many are here and what they're doing.
Chinese, Korean, Philippine and other immigrants from faraway countries are the most controlled in Russia because all of those people need visas to enter Russia. They are easy to deport if they break the law. When the head of the Federal Migration Service talks about nine to ten million illegal immigrants in Russia, he's referring mostly to Central Asians (who don't need a visa).
They arrive in Russia without an invitation, without an employer and without a stated purpose or timeframe for being here. But they are granted three months to become legally employed, which is usually not enough because of bureaucratic barriers.
RBTH: Where does the myth that there are of millions of Chinese in the Far East come from?
S.P.: There are 14 border crossings, most of them on the border with China. Approximately 750 thousand border crossings are made by Chinese citizens each year. Most of these people – they include tourists headed for other regions of Russia, businesspeople, workers –eventually leave the country. One citizen from China who entered Russia 10 times over the course of the year would count as ten. Then the journalists and academics use this figure to say that 750 thousand Chinese citizens moved into the Far East in a single year. Then the nationalist politicians in Moscow pick up this number.
Most of the Chinese people don't assimilate and don't remain here permanently. They've even set up special training centers on their own territory to prepare Chinese citizens for working in foreign countries, including Russia. And we're only talking about setting up these centers for foreigners coming to work here.
A lot of people don't know that the Chinese government is having problems keeping its population from moving South. They are actually having the same problems of people leaving their Northern territories as we are having with the Far East.
Sergei Pushkarev headed the Federal Migration Service's (roughly equivalent to the Immigration and Naturalization Service in the United States) office in Vladivostok from 1993 until it was made subordinate to the Ministry of Internal Affairs in 2003. He has since set up a nongovernmental organization that assists immigrants and their employers.
All rights reserved by Rossiyskaya Gazeta.