Putin's new team brings no changes?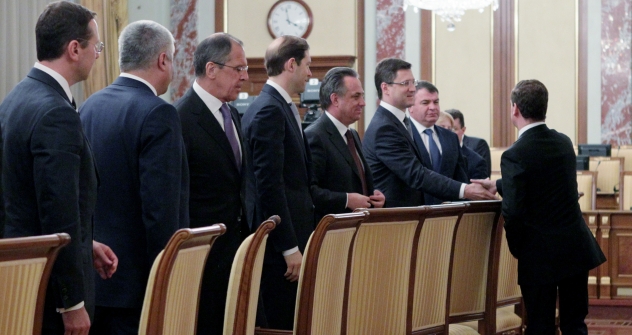 It remains to be seen whether Vladimir Putin's new administration will bring any changes in Russia's politics. Source: ITAR-TASS
Russia's experts make guesses of whether Vladimir Putin's new administration will shift all power back to the Kremlin.
President Vladimir Putin on Tuesday appointed a slew of former ministers to the presidential administration, reinforcing expectations that there will be no significant policy changes for a Kremlin packed with familiar loyalists. Experts say the result is a triumph of personal politics over the formal constitutional rules of the game.
Read Dmitry Babich's opinion:
While Putin had made some sacrifices in cabinet appointments, which resulted in a considerably renewed government, his new administration features an array of loyalists who some experts say may overshadow the novelty of a somewhat fresh Dmitry Medvedev-led cabinet.


Among the key figures in the new Kremlin administration are former Economic Development Minister Elvira Nabiullina and former Health and Social Services Minister Tatyana Golikova, both of whom will serve as advisors. Key Putin loyalist and former Defense Minister Sergei Ivanov will remain as presidential chief of staff, while Dmitry Peskov, the president's longtime and outspoken press attaché, will become a deputy chief of staff.


Sergei Prikhodko, the Kremlin's longtime foreign policy advisor, left the Kremlin for Medvedev's cabinet as a deputy chief of staff. Meanwhile, former Russian Ambassador to the United States Yuri Ushakov, who served as Putin's foreign policy advisor during his premiership, is taking Prikhodko's place as the president's key foreign policy aide. Because foreign policy has traditionally been the domain of the Russian president, Ushakov's role as foreign policy advisor in the White House reflected Putin's unusually privileged position during the past four years.

Taken together, the job swaps have left observers wondering how the balance of power between Putin and Medvedev will play out, especially as Putin – who served as Russia's most influential prime minister – brings a significant portion of his old team to the Kremlin, while the Medvedev government is stocked in large part with lesser-known technocrats.


Experts say the news reflects a greater shift of power back toward the Kremlin, where for four years Medvedev had failed to muster any serious clout and Putin-centric politics had remained the order of the day. "When Medvedev was president, his administration was far less important than Putin's team, and there are few people who doubt that," said political expert Dmitry Oreshkin. "The point is not about constitutional norms or the politics of a presidential republic – it's about the rules of the game. And the rules of the game are simple: Putin is always right."
Yevgeny Minchenko, head of the International Institute of Political Expertise, agrees that the wholesale transfer of Putin's former colleagues from the government to the Kremlin sends signals that the key power constituencies remain based on personal loyalty rather than formal office. "The logic of the system holds that while people can go from one post to another – or they can begin to create groups of influence around themselves – the basic format of the Putin 'politburo' will not change much," he said.
However, according to Pavel Danilin, the Kremlin-friendly editor in chief of the Kreml.org news portal, the advisory posts within the presidential administration are either decorative roles or transitional jobs given to bureaucrats who are slated to move on elsewhere within the system.
The retention of figures such as former Interior Minister Rashid Nurgaliyev and Peskov may be prime examples, since both, though under fire for their recent actions – Nurgaliyev for the recent wave of rampant police abuse and Peskov for his harsh comments against the anti-Kremlin protesters – remain Putin's close allies and incorporated into key decision-making procedures.
First published in Russia Profile.
All rights reserved by Rossiyskaya Gazeta.