Russians assess the country's new government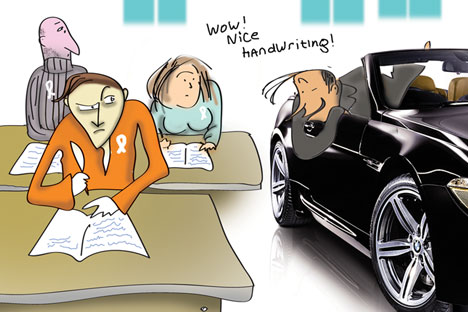 While the Western press was busy counting the number of Putin's and Medvedev's men in the new Russian government, the Russian people view developments in the cabinet of ministers from a whole different angle.
The idea of the new minister of education, Dmitry Livanov, to cut by 50 percent the number of students who get a higher education at the state's expense unleashed a real storm in popular press. But it went almost unnoticed by the major international news networks and by the Russian liberal press, especially by its burgeoning business segment. Both were too busy determining the degree of "liberalism" of the new government, its openness to Western ideas etc. Saying "welcome" to what is now called global news' angle in Russia most often means saying goodbye to popular interest.
The idea of minister Livanov, a newcomer with unclear political affiliation from a "global" point of view, unfortunately, matched 100 percent the popular Russian stereotype of top-notch economic liberalism. 22 years of reform have taught an average Russian: if a boss speaks about making a certain sphere more "competitive," he means slashing jobs, introducing payment for previously publicly accessible services - in short, about making life harder and more expensive.
Was Livanov's suggestion indeed a liberal one? From an economic point of view, yes. Business has long been complaining about Russian education being too detached from real life and too "encyclopedic," requiring too much tax payers' money for something business has no use for - teaching young people good taste in art, for example.
From a pragmatic point of view, Livanov probably chose the right moment for his statement - the country is in post-electoral cycle. Now that the vote is over and Vladimir Putin is safely returned to the Kremlin by more than 60 percent of the ballots cast, one can safely start slashing the so called "budget slots" for students in colleges and universities. Interestingly, this kind of reform had long been advocated by the experts from the Higher School of Economics (HSE) - a powerful breeding ground for Russia's economic reformers, whose representatives one can see at the same time in the government, in the Kremlin and among the people speaking at anti-Putin rallies. Livanov was in fact echoing HSE's big wigs, when he said the reform was needed in order to raise salaries for university professors - strangely, one of the most dispossessed professional groups in Russia. A similar reform had been conducted by the Georgian president Mikheil Saakashvili - and modern Georgia is often being suggested as a model for Russia by Western and Russian academics with a penchant for radical market solutions. Positive effects on all sides!
Here is the rub, although: Livanov's reform is the exact opposite of what Putin's voters cast their votes for during the presidential election. In one of his campaign articles, Putin promised to raise the students' monthly allowances to a minimum subsistence level. Arkady Dvorkovich, the new government's vice-premier responsible for fuel and energy issues, grbbed headlines a year ago, suggesting not to pay unversity students any allowance at all. "The main problem of modern Russian politics is that Putin's electorate is moderately left, it consists of socially conservative groups," says Boris Kagarlitsky, the director of the Moscow-based Institute for Globalization Studies. "However, this electorate continuously gets from Putin liberal, center-right governments with tight-fisted financial policies, requiring from society change at all costs."
Only a great connoisseur of Russian national psyche can explain this strange coexistence in Russia of a leftist voter and a center-right elite. Part of this paradox can be explained by Putin's long-groomed image of a "strict disciplinarian" who can be tough even on oligarchs of Mikhail Khodorkovsky's type. Part of it may come from a lack of alternative. The aging communist leader Gennady Zyuganov or the "social-democratic" frontman of the Just Russia party Sergei Mironov, with their unrealistic promises of a return to Soviet free-of-charge social guarantees, are not seen by the majority as serious alternatives.
It was not Putin who won the last election, it was the "budget saving" likes of Livanov who lost it. But it does not mean the "budget cutters" lost the sympathies of Putin and Medvedev, who are in fact both just trivial center-right politicians of an "emerging market" named Russia. Putin in fact acknowledges his old ministers' efforts. It is not a coincidence that the most unpopular ministers of the previous cabinet - social development minister Tatyana Golikova and education minister Sergei Fursenko - were both taken into Putin's administration as advisers in their respective fields. Hence, part of the popular discontent is automatically passed on to Putin, since he is the main "talking head" on television, trying to explain the chronically unpopular reforms.
So, the "global angle" of the Western observers of Russian politics often plays an evil joke on them, since they have to fit this complicated picture into the simplified matrix of "bad conservatives against nice reformers." There are lots of cases in history when people required stability, not change, and could not get it. And the old issues of KGB affiliations or attitude to Soviet history do not play nearly as big a role with Russian voters as with Western observers. But the mainstream global press just does not want to know this.
Dmitry Babich is a political analyst of the Voice of Russia radio station
All rights reserved by Rossiyskaya Gazeta.