U.S. and Russia work together to assist Russians with disabilities find employment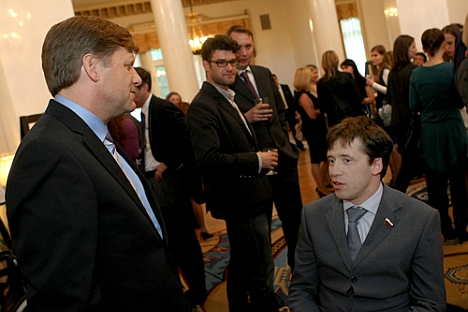 U.S. Ambassador in Russia Mikhail McFaul talking with Mikhail Terentyev, the champion of the paralympic games and a deputy of Russia's State Duma. Source: Press Photo / m-mcfaul.livejournal.com
It was a great pleasure to welcome many distinguished guests to Spaso House last night to help kick off an important forum on inclusive employment for people with disabilities.
Lori Golden and the U.S. Business Leadership Network have shown impressive leadership on this issue through programs that help people with disabilities find meaningful employment. USAID has also done a fantastic job in partnership with the Russian NGO Perspektiva to bring Russian society and business together to identify creative solutions to this pressing problem.


Since 1997, Perspektiva has assisted people with disabilities in more than 26 Russian cities, and it reaches an additional 10 cities through the use of web-based technologies. Perspektiva helps disabled people to acquire new skills so they can live independently and become fully participating members of society.


USAID has provided funding to help Perspektiva advocate for the rights of disabled people, provide services for disabled youths, organize youth community service activities, and raise awareness in the community about disability issues. Perspektiva also advocated strongly for Russia's adoption of the U.N. Convention on the Rights of Persons with Disabilities, which was signed into law earlier this month.


Through the Americans for Disabilities Act, passed two decades ago, the U.S. Congress mandated reasonable accommodation for the disabled. Equally as important, the U.S. government has worked together with the U.S. business community to change attitudes towards a once stigmatized community.


In the Russian Federation today, nearly one in ten citizens lives with a disability. They are our family members and friends, neighbors and colleagues, and business and civic leaders.


In Russia and in the United States, people with disabilities have the same employment rights as others, and businesses and societies as a whole benefit when disabled people have the same opportunity to contribute as employees.


It is inspiring to see government, business and civil society working together to create a more inclusive workplace and a more tolerant society.
First published in Michael Mcfaul's LiveJournal blog. Read the original.
All rights reserved by Rossiyskaya Gazeta.