Russian women rule the court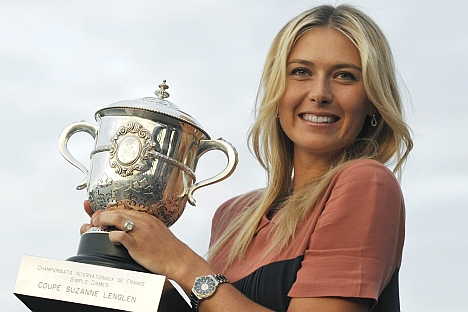 Maria Sharapova. Source: RIA Novosti / Alexey Kudenko
Russia dominates the WTA women's tennis ranking with 11 players in the top 100, including new world number 1, Maria Sharapova.
With her win in the 2012 French Open, Maria Sharapova has climbed back to the number 1 spot in the World Tennis Association rankings. With her victory at Roland Garros, she became only one of 10 women ever to complete a grand slam – winning Wimbledon and the French, Australian and U.S. Opens. Her achievement is both a personal triumph, and an indication that Russia will continue to dominate women's tennis tour.
The sport barely existed in the Soviet Union; no Russian player won any major tournament until the 1990s. Russia's first president, Boris Yeltsin, was a tennis fan and his election resulted in new support for the sport. The success in the Yeltsin years of Anastasia Myskina and Yelena Dementieva on the WTA tour contributed to the popularity of tennis, and more and more young Russian girls picked up rackets. Russian women have won Grand Slam titles seven times in the past 15 years.
Although Russian women dominated the tour in the late 1990s and early 2000s, many of the big-name players, such as Myskina, Yelena Dementieva and Dina Safina have retired in the past five years. Nevertheless, the general health of Russian tennis remains strong. Russia has the most players – 11 – of any country in the WTA rankings; the Czech Republic and the United States have eight each. However, Sharapova is the only one in the top 10 and the only real contender for major tournament titles. The Russian national team has some young talents, such as Anastasia Pavlyuchenkova, Maria Kirilenko and Ekaterina Makarova, but they have yet to really shine. Russia won four FedCup titles in the past decade (2004, 2005, 2007 and 2008), but has had little success since.
Much of Russia's up-and-coming tennis talent is currently abroad. Maria Sharapova was only eight when her parents sent her to the famous Bollettieri Tennis Academy in Florida. There she received an intense education both in tennis and the American lifestyle. Since then Sharapova, although always proud of her Russian roots in public statements, visits her homeland only a few weeks a year. Her story is common among Russian players of this generation, who fled Russia's extreme weather conditions, lack of tennis modern infrastructure and tough Soviet training methods. Like Sharapova, Anna Kournikova and Vera Zvonareva both trained in Florida while Svetlana Kuznetsova, Dina Safina and Maria Kirilenko prefer Spain. This kind of adventure, of course, is available only to those with deep pockets. The 10-month academic year at Sánchez Casal School in Barcelona costs $56,000. Emilio Sanchez Vicario, an Olympic medalists in the 1988 Seoul Games and the current director of the academy said: "The average Russian student arrives with good technical and physical skills, but tactical failure: they are impatient, often understand tennis from a destructive pint of view."

This new generation of players trained abroad has changed the perception of Russian tennis stars – for better or worse. They appear in the Sports Illustrated swimsuit edition, on the cover of Vogue or in the tabloids. They all speak fluent English, have celebrity boyfriends (mostly athletes) and camera loves them. If today an elite athlete is a trademark indeed, a marketing product, beauty adds value to the brand. Anna Kournikova was perhaps the earliest example of this – although her success on the court was limited, her success as a brand can almost not be overstated.
Unlike Kournikova, however, Sharapova's success lies both in her athleticism and ability to successfully manage her cover-girl, role-model status. According to Forbes, she is the world's 15th world's richest athlete overall, and the wealthiest female athlete. She earned $ 26 million between May 2011 and 2012, of which $9 million came from her contract with Nike and $4 million from tournament winnings.
---
RUSSIAN PLAYERS AMONG WTA RANKING TOP-100

Maria Sharapova - 1
Vera Zvonareva - 13
Maria Kirilenko - 19
Nadia Petrova - 23
Svetlana Kuznetsova - 33
Anastasia Pavlyuchenkova - 34
Ekaterina Makarova - 53
Alexandra Panova - 73
Elena Vesnina - 82
Nina Bratchikova - 88
Vera Dushevina - 93
All rights reserved by Rossiyskaya Gazeta.