Kazan has outpaced Moscow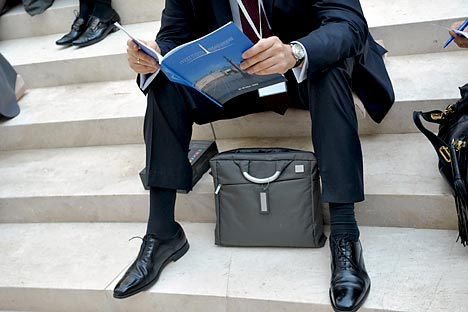 The ranking of Russia's cities in terms of ease of doing business has been compiled for the second time and the number of cities ranked has increased from 10 to 30.
In the latest World Bank Doing Business rankings, which look into the way state regulation affects small and medium-sized businesses, Russia was ranked 120th out of 183 economies, between Cape Verde and Costa Rica. The rating led to President Vladimir Putin's decision to focus on improving Russia's ranking to 20th by 2018.
Now the ranking of Russia's cities in terms of ease of doing business has been compiled for the second time; the number of cities ranked has increased from 10 to 30. Kazan, which was the leader in 2009, has dropped to fifth, which Tver has fallen from second to 18th. Moscow hasn't moved from its place at the very bottom. The ranking is based on four criteria selected from among the original 10 subindices of the Doing Business index: the ease of starting a business (registering a business), the ease of registering property (owning commercial real estate), the ease of receiving construction permits and the ease of setting up utilities. Augusto Lopez-Claros, Director of Global Indicators and Analysis at the World Bank Group, says that Russian cities have major problems with the last category; Russia is one of the world's most difficult countries for setting up electricity services.
In the global rankings, countries are represented by the cities making the biggest contributions to their GDP – normally, these are capital cities, and this is the case in Russia as well. However, if Russia were represented by a city other than Moscow, the country would rank much higher. For instance, if the ease of getting electricity were measured in Saransk, Russia would find itself in 154th position, ahead of Canada. Russia ranks 178th in terms of obtaining construction permits: Moscow's 47 procedures take 392 days to complete and cost 171.5 percent of income per capita. Surgut could bring Russia 82 places up the table, with its 17 procedures completed within 150 days. "If the capital were moved to Ulyanovsk, we would already accomplish the president's goal," said Economic Development Minister Andrei Belousov.
Moscow Deputy Mayor Andrei Sharonov believes there are objective reasons for the capital's poor ranking: "It is a metropolis; everything is more complicated here; Mexico City is also at the bottom of the list in Mexico," he said. According to the Doing Business standards, the site for a construction project must be empty but, in Moscow, any empty site, if one is available at all, has a complex geological map, with pipelines and power cables. Builders may start digging and hit the subway, Sharonov said. Since 2011, when the domestic report was compiled, the Moscow authorities have formed a team to protect the interests and rights of entrepreneurs and have achieved some progress in this: getting electricity for moveable retail facilities now takes 15 days, whereas previously it took up to six months, and the timeframe for obtaining construction permits has been cut by 33 percent.
No Russian city leads in all four categories. St. Petersburg offers the easiest procedures for starting a business, but registering property is expensive and complicated. Getting a construction permit in Surgut takes the same amount of time as in an OECD country, but it is the worst place in Russia for starting a business. And Ulyanovsk, the leading city in the most recent report, did not rank first in any category, but was consistently high in all. "I'll have a government session to decide where to improve in order to take the lead in each category," said Ulyanovsk Region Governor Sergei Morozov.
The Ulyanovsk regional authorities launched a campaign to improve the business environment 10 years ago, creating the position of business rights commissioner. In the early 2000s, the region was on the verge of economic collapse. "We had to make a choice – either we pursue a competitive market economy or merge with more powerful neighbors – the Samara Region or Tatarstan," Morozov said. The three focus areas are: improving business legislation, offering support where both the region and businesses benefit and, most importantly, cutting taxes. By cutting the simplified tax rate to 5 percent, the region facilitated the creation of 4,000 new companies and secured a 25 percent rise in revenues from small business. In 2011, capital investment in the region (private business accounting for 90 percent of the total) were double the region's budget. "If this ideology permeates the work of the authorities at all levels, we will succeed," Morozov said. Businesses indeed face fewer problems in the region, said Ruslan Fazlyev, owner of the Creative Development IT business; however, starting a business in Ulyanovsk is not as easy as it may seem. "We bought an unfinished building, then completed it, but we cannot register our ownership of this property – they turn down our application, saying that we are not the same family as my business partner," Fazlyev said.
Businessman Gennady Budarin, a member of the Ulyanovsk City Duma, is surprised at the high ranking: "They must have missed something," he said. Budarin agrees that it is easy to open a business in Ulyanovsk, but the problem is how to develop it. "You have to invest money but few can do this in Ulyanovsk – there is not much money in the city." A businessman starting out can get a 300,000-ruble ($9,000) grant, but that is not enough to open a production unit, whereas loans are too expensive. "The only thing left is to buy something outside the city and then sell here."
First published in Vedomosti.ru.
All rights reserved by Rossiyskaya Gazeta.