eBay faces new challenges in Russian market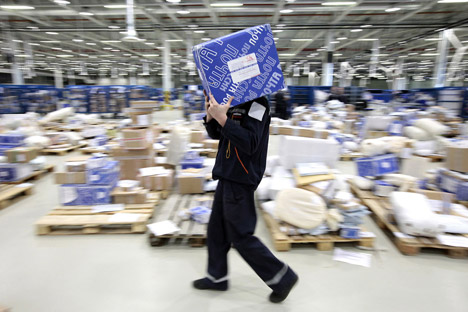 Customs fees and postal delays could create some obstacles for eBay to expend its presence in Russia. Source: RIA Novosti / Ruslan Krivobok
eBay hopes to expand its presence in Russia, but customs fees and postal delays could prove difficult to overcome.
When eBay rolled out its Russian-language website in February 2010, it ramped up expectations that this was only the first step towards a full-scale Russian operation of the world's most popular online auction site. But these expectations were never fulfilled. Now, with the opening of a Russian office with a director well-versed in Russian online commerce, it seems that the online auction giant is turning again to the Russian audience, which has become too big to ignore. According to comScore, two years ago, the Russian market for e-commerce was estimated at $8 billion. In 2011, the number increased to $10 billion and it is expected to increase to $18 billion by 2015. Although this is a drop in the bucket compared to the giant $200 billion U.S. e-commerce market, but it is quite impressive for Russia, where credit and debit cards are still not widely used.
Last December, these statistics were discussed at the Moscow TechCrunch IT conference. PayPal Vice President Lauren Le Mole said that his company – and this might as well mean eBay, which owns PayPal – "has ambitious plans for the Russian market, one of the most dynamic markets globally." In the spring, PayPal applied to the Russian Central Bank to open a nonbank credit institution in Russia. At TechCrunch, Le Mole said that the Russian e-commerce market had "clear and understandable rules of the game" and that PayPal "knows what it should do." He also said that the payment system was in talks with some Russian organizations that could become partners of both PayPal and eBay in the future. Russian Post is one of them. The postal service will be selling prepaid PayPal cards at its 40,000 units all over Russia.
However, as long as PayPal remains unable to transfer money to Russian accounts, the online auction site will not be fully operational in the country. The situation will remain much as it has been since 2006 – Russian Internet users can buy goods on eBay, but they cannot sell. Customers of Russian commercial banks are entitled to receive and cash money from other users mostly as refunds for undelivered goods.
The Russian eBay project has thus become a mirror image of the global auction with a limited capacity. Many of the site's sellers will not send their goods to Russia. This is not a conspiracy; it is just that the rules of the auction state that merchandise must be delivered to the buyer within 30 days of the payment date, otherwise the seller's account will be blocked. Furthermore, the buyer gets his money back even if the package is delivered later.
In late June, Harvard economics professor Andrei Shleifer presented results of an experiment in postal efficiency he conducted. Shleifer and his colleagues They sent two letters to the five biggest cities in 159 countries between December 2010 and February 2011. Under international agreements, national postal services are to deliver letters with addresses written in the Latin alphabet and return them to the sender if the address is written incorrectly. The economists sent letters with false addresses, waiting for them to be returned. Letters from the United States were returned in 16 days, but it took 18 months from Russia. This does not bode well for eBay.
Staying close to home
Many intermediaries that help Russians buy from foreign Internet stores hope that eBay will not even try to solve the problem. Bay.ru, one of the largest of these intermediaries saw its turnover expand six-fold in 2011, to 1.2 billion rubles ($ million). It has 200,000 registered users and 45,000 unique visits per day. The average purchase is 12,000 rubles ($400). Other services do not reveal their financials but make no secret of the user base. The biggest Russian intermediary, eBay Today, has more than 700,000 users. eBay's global audience in February numbered 237.3 million unique users, an increase of 12 percent year-on-year, according to comScore. In Russia, eBay's audience shrank by 8% to 3.19 million unique visitors over the last year as many buyers opt for intermediaries.
The Russian eBay audience is almost equal to that of the biggest auction site on the Runet, Molotok.ru, but Molotok.ru CEO Igor Tarasenko isn't worried about the increased competition. "The more services you have, the sooner you achieve something," Tarasenko said. "The consolidation of the American e-commerce market is estimated at 60-70 percent, whereas all of Russia's bigger auctions account for less than 10 percent of the market. The rest is occupied by more than 30,000 online stores. So any big new player would act as an incentive. Nothing is possible without competition – this is what business is all about."
Tarasenko admits that some of the Russian sellers on Molotok.ru, particularly in the electronics and clothing segments will not be able to compete in a more globalized marketplace. "If I auction an iPhone, I won't be able to compete with a guy from New Mexico, who is ready to sell at a 30 percent discount," Tarasenko said. "At the same time, collectors and antiques traders won't ever leave us, for the simple reason that it is illegal for them to export their merchandise."
Others working in the industry think that local Russian sites don't have much to worry about because the PayPal model will not work in Russia. "PayPal once laid the foundations for American e-commerce, suggesting covering buyer's risks from commissions paid by the seller," said Alexander Kulebyakin, marketing director at East European payment system PayU. "This model will hardly be popular on the Russian market. Our sellers like passing the transaction fee on to the buyer. Admittedly, if PayPal offers the same business model here and the buyers adopt it, this might indicate a turning point for the entire market.
The article is abridged and first published in Russian in Kommersant-Dengi.
All rights reserved by Rossiyskaya Gazeta.