Russia's video game market to top $1.5 billion by 2015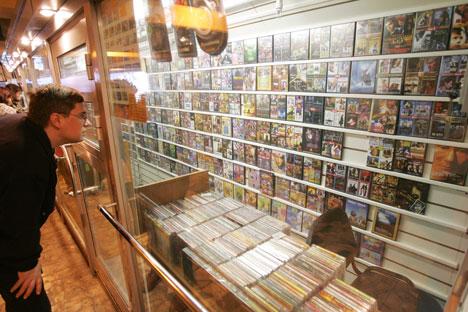 The Russian video game market will expand in the next three years, experts predict. Source: ITAR-TASS
Growth in online gaming expected to drive the expansion of the sector, according to a number of experts.
The Russian game market is predicted to nearly double over the next three years – from $850 million to over $1.5 billion, according to projections from Electronic Arts. Although it is already the biggest video game market in Central and Eastern Europe, Russia is still far behind the global leader, the United States. According to the NPD Group, the U.S. video game market turnover reached $21.6 billion last year; global turnover totaled $74 billion.
Tony Watkins, head of Electronic Arts Russia, said that over the next three years, the Russian video game market will expand mainly by virtue of free-to-play games – applications that allow their authors to make money from players buying various bonuses and artifacts to move their characters through the games faster. Social networking games are also expected to provide a major source of growth. "When I became head of EA Russia [in 2007], the market for computer and console games amounted to $250 million, while that for online games stood at a mere $50 million. Now, in 2011, we see the market for PC and console games unchanged, while online games have surged to $600 million," Watkins said. He expects that by 2015, PC and console games will account for a modest $350 million of the predicted $1.5 billion total while social network games, free2play and cell phone apps will bring in the remaining $1.2bn.
PricewaterhouseCoopers named Russia's video game market the biggest in Central and Eastern Europe in 2011, with sales reaching $1 billion. PwC expects sales to reach $1.7 billion by 2015. PwC also predicts that growth will be driven primarily by online games, with sales predicted at no less than $1.1 billion in the segment over the next two years.
Said EA's Watkins: "We believe that Russia's PC and console game market will expand largely through release of new game consoles, but the online game market will definitely become the main growth driver, which is why we would like to combine the two markets, taking advantage of the opportunity to share results between different game platforms. We intend to release several game products that can be played on both smartphones and computers, with the option of continuing playing the game on a different device, starting exactly where you stopped playing on the first platform."
Alexei Pastushenko, head of the PR department at 1C-SoftClub, described the main market trend as a reduction in computer games and growth driven by console games. "In both Russia and western countries, PlayStation 3 and Xbox 360 consoles are demonstrating sound results, followed by Nintendo Wii, with a somewhat weaker showing. Furthermore, the consumption model has now changed: a console used to be a gaming device only, whereas today it is increasingly used as a multimedia centre with movie streaming, web surfing and other options," Pastushenko said.
First published in RBC Daily.
All rights reserved by Rossiyskaya Gazeta.