Mail.ru Group to pay record dividends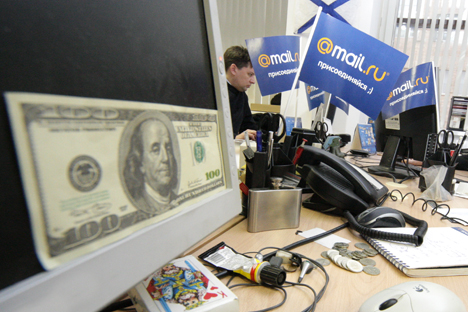 Mail.ru Group, one of Russia's biggest IT companies, received about $850 million for its share in the American social network - Facebook. Source: ITAR-TASS
Company is sharing the wealth of its sale of Facebook assets in that company's May IPO.
Mail.ru Group, one of Russia's biggest IT companies, will pay $800 million in dividends – mostly as a result of the sale of shares of Facebook. In May, Mail.ru received approximately $850 million for its share in the American social network.
This is the first time in its history that Mail.ru has paid dividends, and they are a record for recent payouts in the IT sector. The closest figures are $250 million for shareholders of Yahoo! Japan, and $180 million to shareholders of China's Tencent Holdings Equity. Based on Mail.ru Group shareholders' stakes as of April 26, 2012, South African media holding Naspers will receive about $230 million, billionaire Alisher Usmanov – $201 million, Tencent – $62 million, and Mail.ru founders – $61 million. The remaining dividends will be paid out among the other shareholders and the 200 company workers who are participants in an optional program.
Mail.ru Group earned a net profit of $208.6 million in 2011 according its IFRS figures. It also sold 19.6 million Facebook shares for $38 per share in that company's May IPO, bringing in $855 million.
VTB Capital analyst Anastasia Obukhova said of the payout: "From our viewpoint, the announcement about paying dividends largely removes the fear of ineffectively spending money – for example, Mail.ru can increase its stake in Vkontakte.ru, the largest Russian social network, to a controlling stake."
Uralsib analyst Konstantin Belov said: "When a company has a large amount, they are tempted to expand and build an empire." However, Belov said that there aren't very many interesting investment opporunities for Mail.ru at the moment, so the decision to pay dividends is a good one.
Theoretically, Russia's largest Internet company, Yandex, could pay out high dividends; the company has $741.7 million on itsbooks according to recently published quarterly reports. However, company representative Ochir Manzhikov said that this is not likely.
The original Russian version of this article can be found in Vedomosti.ru.
All rights reserved by Rossiyskaya Gazeta.