Pussy Riot case resonates beyond Russia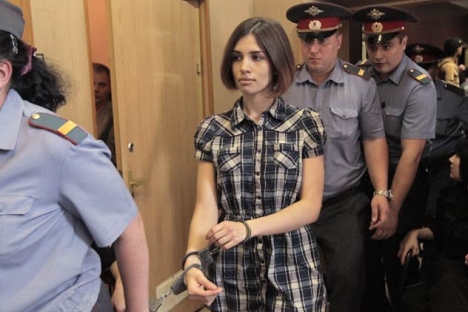 Nadezhda Tolokonnikova, a member of female punk band, "Pussy Riot", in the Moscow Khamovnichesky Court. Source: RIA Novosti / Andrey Stenin
The case of Pussy Riot has attracted comments from celebrities around the world. The night before a verdict is expected in the case, a group of artists and performers gathered in New York to read statements from the band and explain what the case means to them.
On the evening of Aug. 16, the day before verdicts were expected in the Pussy Riot case, a host of well-known actors, writers and musicians gathered in New York for a public reading of band members' closing statements and letters from prison. The reading, which was co-sponsored by Amnesty International, took place in the Liberty Hall of Manhattan's Ace Hotel. The event was standing-room-only, and attracted a full house, with many attendees dressed in bright tights and costumes a-la Pussy Riot.
One of those who volunteered to read the English translations of the detained women's statements and the written observations from courtroom attendees was actress, former model and fashion designer Chloë Sevigny, known for her roles in various movies and shows, from controversial "Kids" and "American Psycho" to Lars Von Trier's "Dogville" and HBO "Big Love."
Sevigny did a bit of reading and then only was available for a very short comment. "I am here because these three women are in jail. They are innocent. They should be released," she said.
One of Sevigny's fellow readers was Eileen Myles, renowned American poet and writer, who was one of the driving forces behind the the cult club CBGB and St. Mark's Poetry Project. An activist of East Village queer art scene and a performer with a post-punk female performance troupe Sister Spit, Myles did a big part of the reading, mostly statements and letters from prison.
Explaining why she felt compelled to participate in the event, Myles said: "It could have been me, it could have been any poet, artists, performers I know if we lived in a country where the façade of freedom didn't exist like it does in America. As much as I scorn my own government, I realized that even a façade is better than being incarcerated for freedom of speech." Myles went on to describe what might have happened to the band, if their "Punk-Prayer" had taken place in the U.S. "They'd be hauled into court and been slapped with huge legal fees, there'd be much fundraising and events like the one tonight and they'd get off finally with community service and some notoriety for a short period of time," she said. "It would help one of them get a teaching job, possibly a publishing contract. They'd be on Saturday Night Live. This might sound great but it's how we invisibilize protest here."
Justin Vivian Bond, a transgender singer-songwriter, performance artist and a Tony-nominee, known as Kiki DuRayne, part of the drag cabaret act Kiki and Herb, read out opening and closing statements of the band's members.
"The oppression of women and queer people doesn't stay within the walls of the church. The vicious, damaging policies of patriarchal, organized religions make their way into the bedrooms, bodies and psyches of people throughout the world," Bond said after stepping down from the stage. According to the artist, the persecution of the punk band may be motivated by chauvinism and homophobia. "In the U.S and many countries and religions throughout the world so-called 'spiritual' leaders are constantly fanning the flames of homophobia and misogyny to raise money and influence elections inciting violence against women and gender variant people which sometimes ends in vicious, brutal killings. I love that Pussy Riot had the courage to begin a conversation in the belly of the beast, as it were, and that they have the intelligence and the ability to articulate their arguments in such a way that it has shaken people out of their complacency worldwide."
Rob Lieber of Freepussyriot.org said that what attracted him to the cause were the mental pictures of children with their mothers being taken away, as well as knowledge and appreciation for performance art.
Amnesty International's Thenjiwe McHarris also explained her organization's interest in the case. "Amnesty International is calling for immediate and unconditional release of the three women of Pussy Riot. What's happening with these three women reflects a larger issue within Russia, which is the issue of freedom of expression. We also call for president and his administration to stand firm on human rights, to respect freedom of expression for all people within Russia."
Daphne, 33, who attended the event, said that in her opinion, Westerners are so excited about this case because the band represents a very clear idea of artists' innocence, and have a very powerful anti-totalitarian message, like the infamous anti-Communist Czech band Plastic People of the Universe. "It's probably something that a lot of people wished that they had articulated," Daphne said.
K8 Hardy, a New York artists and an active member of LTTR, the queer feminist journal and artist collective who also read at the event, felt a personal connection to Pussy Riot. "I am personally attracted by the renegade form of expression and the need to take a platform for their work," Hardy said. "It's an homage to the Russian people. Perhaps, to some it seems a sacrilege. It is a really generous punk statement for the people of Russia to open things up. You have to have artists that will push the edges to make room for more dialogue."
Another reader, Johanna Fateman of the post-punk rock band Le Tigre said, that her main connection with Pussy Riot was their affection for punk. "This case is so important for me because the women have been doing radical punk performance. Also the fact that they said that they took inspiration from the Riot Grrrl movement caught my attention and I wanted to see what that legacy meant to them, in their totally different political context."
In an attempt to explain not only the reason behind the reading but also the impressive turnout, one of the organizers, feminist artist and activist J.D. Samson said: "We asked a bunch of readers that we knew would embody the women beautifully."
All rights reserved by Rossiyskaya Gazeta.