Federal officials drag out privatization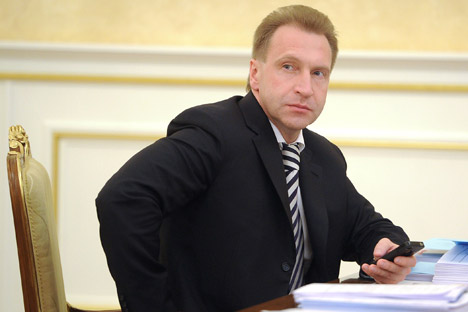 First Deputy Prime Minister Igor Shuvalov. Source: ITAR-TASS.
Ministries and agencies ignore orders to speed up the reorganization of state-owned companies.
The Ministry of Economic Development has submitted to First Deputy Prime Minister Igor Shuvalov its report on the accelerated reorganization of state and municipal unitary enterprises into business entities and public enterprises. While many federal agencies have developed recommendations for improving the privatization process, others have offered no suggestions at all and others have stated that a reorganization at this time would be inexpedient.
Olga Dergunova, deputy minister of economic development and head of the Federal Agency for State Property Management believes that the process can be accelerated by lifting the restrictions that exist in privatization of specific types of state property, and some agencies have already submitted their ideas for that purpose. For example, the Ministry of Industry and Trade has suggested selling advanced training institutes of certain branch ministries and agencies to private buyers; the Federal Customs Service has suggested that provisions prohibiting privatization of service's facilities should be lifted; and the Federal Agency on Subsoil Use considers it reasonable to lift certain restrictions on privatization of property. In the first quarter of 2013, the Ministry of Economic Development will submit to the government a draft executive order incorporating these suggestions.
The Ministry of Economic Development has demanded that ministries and agencies should prepare schedules for the registration of property and land rights within a month. They will also have to submit quarterly progress reports to the Federal Agency for State Property Management. The Ministry of Economic Development will present quarterly progress reports to the government. If directors of government-owned enterprises miss their deadlines, Dergunova suggests that they should be dismissed.
Said Dmitry Gordeev, the legal adviser of the Institute of the City Economy fund, "The Ministry of Economic Development is taking the right measures to accelerate the reorganization process. It's a good decision to start with the lesser – to first identify the enterprises that must not be privatized. They should include enterprises dealing with classified information. But there is nothing standing in the way of privatization of training centers."
Gordeev explains federal agency's skepticism about privatization was to be expected – up to this point, the businesses were theirs to manage however the wanted. "In essence, they operate state property as though it was private. If these enterprises are privatized, ministries and agencies will have to transfer them to new owners, which the officials, understandably, do not want to do," Gordeev said.
But he believes that progress must be made in the privatization of state property. "Branch ministries keep finding an array of reasons to delay reorganization," Gordeev said, before backpedaling slightly: "although it's obvious that sale of state property cannot be rushed either."
The article is abridged and first published in Izvestia newspaper.
All rights reserved by Rossiyskaya Gazeta.