Golden Gherkins and Vodka-watermelon Lollipops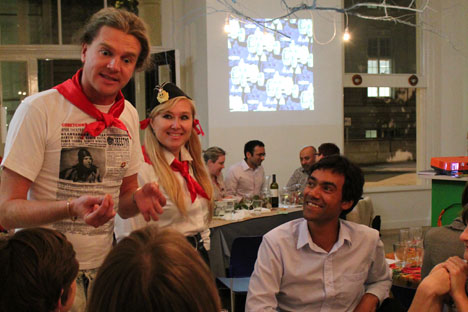 Two young cooks give Russian and Soviet cuisine a chic, new twist.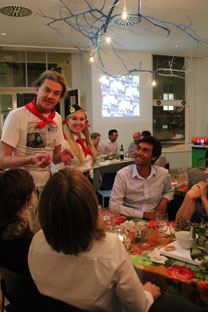 "Supperclub Summit" in the refurbished
Goethe Institute in Kensington.
Source: Nataliya Nestman
As soon as I walk into the Russian Revels "supperclub," I know it will be a great night. The small forest of glasses on the table bodes well, while the Soviet posters on the walls nod towards the theme of "ostalgie" and the authentic tins on the table are like something from the 2003 film sensation "Goodbye, Lenin."
The organizers set the tone, with long red dresses, military jackets or a traditional Russian shawl.

Food anthropologist Katrina Kollegaeva and author Karina Baldry have teamed up to form "Russian Revels". Together they have been providing a series of quirky culinary events that have gathered a cult following over the last few months. Kollegaeva and Baldry describe themselves as "two Russians revolutionizing the image of Eastern European food, by serving light, luscious and sexy Slavic dishes at characterful venues across London." They "forage though pre-revolutionary cookbooks, re-invent Russian classics and create radical interpretations of recipes from across the ex-USSR."

Baldry and Kollegaeva's sporting suppers kicked off with an "Olympicnic" in July, featuring vodka cocktails, sour cream and caramelized rye bread. They represented Russia at the "Global Feast", a three-week international event in Stratford's old town hall near the Olympic stadium. Kollegaeva says their nights at the feast involved: "golden gherkins, pink eggs, drunken cherries and a girl on the table, the tallest table in the world."
I finally caught up with the duo in August at the "Supperclub Summit" in the refurbished Goethe Institute in Kensington, organized by a group called Edible Experiences. Again, Russian Revels was part of a series of international meals and aimed to "showcase the glamour of Russo-Soviet dining."
It was a brave and seemingly oxymoronic aim, but this team can harness the power of zakuski (tapas-style Russian entrees) and ice-cold vodka to charm the most skeptical guests. They describe the food as inspired by their own memories of "the topsy-turvy world of the USSR," a humorous 21st century twist on "food from behind the 'Iron Curtain.'"
Last time I joined Russian Revels was for a Maslenitsa feast back in February. The combination of buckwheat pancakes and liver-filled "manly pies," with lashings of herb and garlic vodka to celebrate Defenders of the Fatherland Day, was pungent and potent. In the intervening six months, they have lost none of their magic. The food for the Supperclub was light and sophisticated; Russian Revels may be updating the presentation, but they celebrate many traditional textures and flavors that challenge western tastes. Baldry recently published an intimate recipe book "Russia on a Plate" while Kollegaeva's fabulous food-blog, Gastronomical Me makes unappetizing offerings like salo (pork lard) or offal seem cutting edge.
Russian Revels' trademark pickles have won fans among London's nostalgic eastern Europeans. The "borsch-inspired tartlets" are typical of their ability to re-make old favorites in a new form.
"We wanted to show the world that Russian food can be sexy, unexpected, beautiful," Kollegaeva said. Describing the menu for the Global Feast, she continued: "We started with a trio of (vegetarian!) caviars – wild mushrooms, aubergine and sweet-and-sour beetroot and dates; then hot pickled peppers and tiny yellow squashes served in a boat of rye bread table alongside flowers of cabbages and Russian bubliki" (bread rings).
Alcohol is a recurrent theme in several dishes like the vodka-watermelon ices or the Bloody Mary thirty-day-aged beef. Rustic culinary techniques go beyond bottling and pickling. There are potatoes baked in hay and homemade curd cheese, but also reminders of country life like the "edible allotments" of baby vegetables or the blackberries served on their fresh, leafy bramble branches to go with the slices of chocolate cake.
A thematic slideshow, music from mid-twentieth century Russia and a dance floor complete the atmosphere; the waiters are overgrown pioneers with red neckerchiefs. The entertainment is a crucial part of the Russian Revels' brand. They encourage the guests to dress up and their dinners feature pop art, poetry readings, black-and-white spy films or kitschy cabarets. These two innovative chefs are worth looking out for as they plan new ways to feed and entertain.
All rights reserved by Rossiyskaya Gazeta.