Quiznos fast-food chain enters Russian market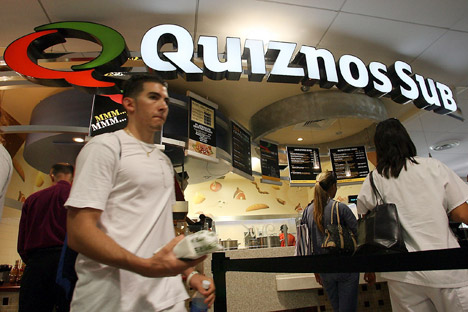 Today the Quiznos Sub network includes over 4,500 restaurants in the U.S. and 25 other countries. Source: Alamy / Legion Media.
U.S. sub chain plans to open up to 20 restaurants in Russia by 2014.
The American fast-food restaurant chain Quiznos will invest about $4 million in the development of its network in Russia. QRL Chairman Darrin Stock says that the first Russian Quiznos will open in St. Petersburg by the end of the year. Its location has not yet been chosen; the company is looking for a 1,500 sq. ft. space with room for 30—60 seats. Experts say that if the format proves to be successful in the Northern Capital, the company should have no difficulties with market entry in Moscow.
QSR Russia Ltd, an international management company founded by a team of American businessmen, became the master franchisee to Quiznos Corporation in 2011. Today the Quiznos Sub network includes over 4,500 restaurants in the U.S. and 25 other countries. Its menu features about 30 types of hot sandwiches made in special toasters, and soups, salads and grilled flatbread.
Stock estimates that each new restaurant in Russia will require an investment of $200,000, and that the launch of 20 restaurants will cost about $4 million. Each restaurant will employ between three and 10 people. Daily consumer traffic is expected to be about 350 people, and the average purchase size will be 300—350 rubles ($10-12). Stock emphasizes that the company is planning to purchase most of its products from local manufacturers. The average fast-food purchase size is 170—350 rubles ($6-$12), but the total depends on the location, marketing policy and the specific offer, says a representative of Subway, where customers make purchases for an average of 200 rubles ($8) in St. Petersburg.
Quiznos will be developing its network in other regions of Russia primarily by means of sub-franchising – according to Stock, QSR Russia Ltd will start selling franchises in 2013. Conditions will depend on the size of the region where the potential sub-franchisee is going to work. "Our goal is to open hundreds of Quiznos restaurants across Russia in 10 years," said Stock.
The high level of loyalty that St. Petersburg customers show to Western fast-food brands has been demonstrated by a number of Western chains, and judging from what is known about their development plans, the market is growing, marginal and welcoming to new players, says Daniil Somov, managing partner of publishing house Retailer. Ivan Fedyakov, Director General of INFOline, explains Quiznos' decision to start its development from the Northwest by the fact that the break-even point is difficult to reach in Moscow.
"Moreover, the chains that do well in St. Petersburg can later successfully work in any other region of Russia – some of the examples are Stolle, Eurasia and many more," Fedyakov said. He says that the company could find it difficult to find an appropriate floor space: In 2008-2009, many retail shops gave up their spaces to restaurants, but this process is now over. Lyudmila Reva, director of ASTERA consulting had another suggestion. "It would be a logical choice for them to develop within large shopping malls – when entering the Russian market, fast-food operators choose to rent spaces in food courts to be able to forecast their customer flow," Reva said.
The original Russian version of this article can be read at RBC Daily website.
All rights reserved by Rossiyskaya Gazeta.