Divers contribute to scientific understanding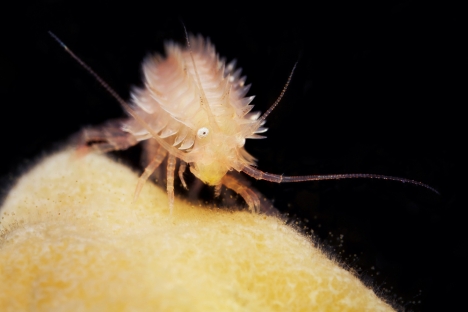 A marine biologist, photographer and head of the White Sea Biological Station deep-sea diving team Alexander Semyonov, 25, is sharing his stunning photographs of arctic sea creatures with the global online community. Source: Alexander Semyonov
Aleksander Semyonov comes from a family of biologists; he is a graduate of Moscow State University's Biology Department and author of a popular Runet photoblog and website on marine invertebrates. After five years of research in the cold seas, he now dreams of publishing a series of popular science books on sea creatures and organizing a permanent biological expedition.
Photoblogs are very common on the Internet, but you can count the number of high quality popular science journals on one hand. One of them is shilovpope.livejournal.com, a blog written by a young Russian scientist who studies the fauna of cold seas.
"I have no specific research area, because modern science requires colossal investments, as far as modern research methods are concerned - statistics, molecular biology and things like that," Semyonov said. "I work as a natural scientist; I simply study all of the flora and fauna that I can get hold of. I have my camera, I'm willing to study and watch these things, but the main thing is that I have a chance to dive into the same place every day for six months straight. Working this way, I have accumulated knowledge and pictures that illustrate this knowledge. It's modern naturalism - popular biology rather than articles for academic journals."
After graduating in 2007, Aleksander got a job at the Moscow State University White Sea Biological Station. He is head of the divers' team at the station and cannot think of a better job to have: during the summer season (May through late September), he enjoys virtually unlimited access to the sea and equipment. "If it were my hobby, I'd never have enough money for underwater photography. As a young professional, a graduate of the biology department who specialised in invertebrate zoology, I can't make the kind of money needed to buy professional equipment to work underwater. But we managed to win a grant as a research facility and bought everything that we needed," Semyonov said.
Apart from being an art and a way to create nice images, photography is a scientific method that can be applied to many research areas.
"Underwater close-up photography enables you to see what you can never see with the naked eye. If you take a picture of a 1x1.5-inch area of the sea bed - that's the camera matrix format - you'll be able to have a 100 percent zoom of the image and watch microscopic creatures that live in that area on a giant screen. There could be tiny crustaceans, worms and hydroid polyps that grow in the sand - there's no other way to see them, because some are too small, and some are transparent. Photography enables us to scale up a small area of the sea bottom and explore its details. If you have a thousand pictures, you'll develop an image of the entire microfauna that inhabits the sea bottom," the young scientist said enthusiastically.
Another benefit of underwater scientific photography is the chance to observe and record in conditions that cannot be simulated in a lab. Researchers that grow invertebrates in fish tanks to study their eating habits and reproduction peculiarities are unable to reconstruct the natural environment.
"Underwater, you can see discrepancies between the real behavior of an animal and that which is described in biology books. You can see it underwater purely by accident," Aleksander said. Such observations, corroborated by video, become serious additions to research articles, textbooks and manuals.
"I try to take pictures not only of nice-looking animals, but of animals that perform some kind of function - catch food, eat, spawn or lays eggs," said Aleksander. His pictures have been used by educational and research organizations for years, but his dream is to share his knowledge and collection of images not only with researchers but also with the general public. The shilovpope.livejournal.com blog has reports about the creatures living in northern seas and enjoys a regular audience of about 5,000 readers. Semyonov's page at behance.net/mumrik has already generated hundreds of thousands of views and gained tens of thousands of likes on picture galleries.
Many would envy Aleksander's lifestyle and job ‒ the romance of the North, untouched areas of the planet and the pristine sea, as well as underwater photography. Semyonov admits that he's a lucky man.
"These are unique conditions. For instance, you have to go underwater and take pictures of ten more animals or set yourself a new task and cover the entire life cycle of a jellyfish. A single trip to the White Sea is enough for me to record their whole life - from a tiny ephyra in May to a mature jellyfish with a 2-foot-long bell and fifty-foot tentacles in August," said Semyonov.
The information and images accumulated on the White Sea will soon be put into a popular science book in both Russian and English. "I hope to put everything I know about these animals into this book, using a simple language to make it comprehensible to children and adults alike. But I will keep it scientifically accurate," Semyonov said.
But Aleksander has even more ambitious science plans to popularize science: he wants to find a good sponsor, charter a ship, bring together a team of sea-biology enthusiasts to go on an expedition to various exciting locations and invite researchers that need to get to specific regions.
"We could have up to five researchers on a competitive basis to carry out their research and for us to assist them dive and take pictures. Such a ship on a free voyage across the seas and oceans, with high-definition broadcasting for blogs and sites, will be a modern version of the Jacques Cousteau travels. Incidentally, Philippe Cousteau has contacted us and may come to our station next year with his CNN team - I hope we'll be on the same wavelength," Aleksander said.
All rights reserved by Rossiyskaya Gazeta.