Russia seeks to revive film industry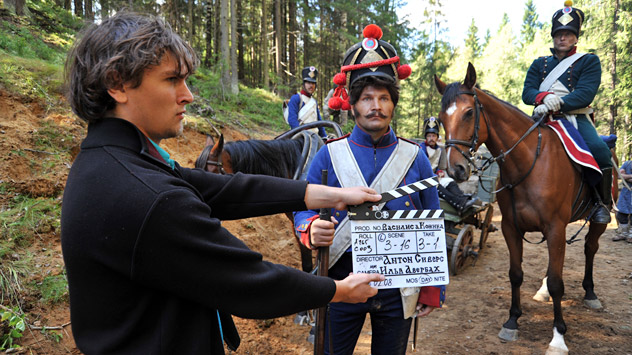 Pictured: The production of the "Vasilisa Kozhina" movie dedicated the 1812 Patriotic War with Napoleon's troops. Source: ITAR-TASS
The authorities are trying to come up with a new way of supporting Russia's film-makers, admitting that the current model of funding for the film industry is not effective enough.
According to Prime Minister Dmitry Medvedev, tax advantages and state funding have not been enough to revive the Russian film industry and the government must look to other ways to bolster domestic cinema. Medvedev made his statements in a late September meeting of the governmental committee responsible for the development of Russian film in front of new Culture Minister Vladimir Medinsky, who added that some state support will not be renewed in the future if the proportion of homegrown films in circulation in 2012 is less than 18 percent.
The annual meeting of the committee was the first for Medinsky, who took office in May. He has not been a popular figure in the artistic community and faces new hostilities following this proposal. In a statement, film union KinoSoyuz raised concerns that Medinsky "presented the prime minister with an unfinished product ... meaning decisions could end up being made rashly, based on work that was incomplete and had not been authorized by professionals, which may have extremely serious consequences for Russian cinema."
Russian film industry is completely dependent on state subsidies and the government has been reassessing its subsidy system for at least a year. On Oct. 1, 2011, amendments to the tax code came into effect allowing VAT to be charged on film tickets; they had previously been subjected to a 0 percent VAT rate. However, the State Duma reinstated the preferential rate in November 2011 following protests from film industry professionals.
They may have less clout now. At the beginning of the September meeting, Medvedev clearly stated that changes would be coming: "I would like to remind you that the advantageous funding system in place for producing Russian films, along with concessions in the form of 0 percent VAT rate for cinemas was introduced primarily as an incentive to keep Russian cinematographers working in Russia. We need to openly acknowledge that nothing has worked."
In the years leading up to 2008, the proportion of Russian-made movies in general circulation increased considerably – from 6 percent in 2002 to almost 28 percent in 2007. But then this figure began to fall, dropping to 15.5 percent in 2010. In 2011, the portion of Russian films was 16 percent, and in the first six months of 2012,16.7 percent. These numbers make it unlikely that the percentage of Russian films offered in domestic cinemas will reach 18.2 percent by the end of the year.
But while subsidy programs haven't worked, there is no consensus about what might. Medinsky has been quoted as saying he would prefer to introduce a quota system – requiring Russian cinemas to show a certain number of Russian films – to maintaining the 0 percent VAT, but fears that introducing VAT on cinema tickets would hurt filmgoers. Industry insider Sergei Tolsikov, executive director of the Film Fund, suggested subsidizing tickets just for Russian films.
The situation is not unique to Russia. In terms of budgets, no country in the world can hope to compete with Hollywood blockbusters. This is why so many countries, especially those with a rich cinema tradition, are doing what they can to protect their national film industry. In general, government support for national filmmakers either takes the form of grants from budgetary or non-budgetary sources, or it entails more protectionist measures, such as introducing quotas.
The leading country for state cinema subsidies is generally thought to be France, and in terms of forcibly protecting the national film market from foreign influence, the best-known example is China. In both these countries film and television are largely intertwined and government measures apply equally to the two mediums.
In France, domestic cinema is directly supported by French viewers, who pay an extra-budgetary tax of 11 percent on all cinema tickets. The money goes straight to the national film agency and is used to finance national film production. In addition to money from ticket sales, the national cinema fund also receives income from paid TV channels: 3.2 percent for unencrypted and 12 percent for encrypted broadcasts.
In addition, French TV channels are obligated to participate in film production; a tax concession system is in place for companies that invest in national cinema, and bank loans allocated to filmmakers can be guaranteed by the French Institute for the Financing of Cinema and Cultural Industries. As a result the proportion of homegrown films in circulation stands around the 40 percent mark.
A similar system, in various different forms, exists in many countries in Europe, particularly in Northern European states such as Denmark, Iceland, Norway and Sweden.
In China, the situation is very different. Determined to preserve its national cinema tradition, China refuses to release many foreign films. Until recently, Beijing had a policy of only releasing a maximum of 20 foreign films a year into general circulation, and their share of the overall revenue from film and ticket sales was not allowed to exceed 13 percent. Similar embargoes also applied to television. For example, foreign TV series could not be aired in prime viewing slots.
China is home to the world's fastest-growing film market – it grew from $150 in 2003 to $2 billion in 2011 – and outside film companies have spent much time and resources persuading the government to lift this ban. Until recently, the only way in to the Chinese market was to co-produce films with local cinematographers. However, following negotiations between the U.S. and China in February, Beijing increased the foreign film quota from 20 to 34 films a year, and their maximum permitted share of film industry revenues was raised to 25 percent.
Quotas on national films also exist in former Soviet states. For example, Ukraine has a law stipulating that at least 30 percent of films shown in theaters and aired on TV must have been produced in Ukraine. The law, however, is ineffective – Ukraine does not make nearly enough movies to meet viewers' demands.
All rights reserved by Rossiyskaya Gazeta.