China eyes Russian assets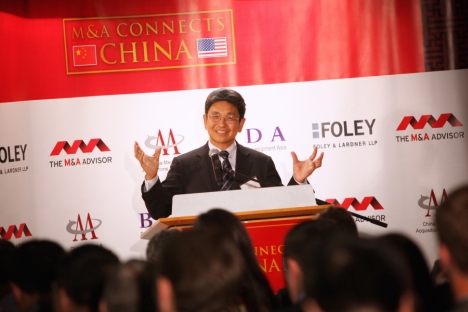 Yuan Tian, chairman of the China Entrepreneurs Forum, speaking at the recent M&A summit in New York. Source: Press Photo
A recent seminar on mergers and acquisitions (M&A) in emerging markets focused on China and its purchasing power both vis-à-vis Russia and within the country itself.
While many economies around the world are running out of steam, China's purchasing power continues to grow. The world's second-largest economy has an almost insatiable demand for resources, and China is looking for places to get it — acquiring companies in Russia and the United States, among others.
At the beginning of October, the 2012 International M&A Advisory Summit gathered specialists in mergers and acquisitions in New York City for an exchange of best practices in M&A with concentration on the BRICS countries, but China dominated the discussion.
"During the next 10 to 15 years, China will invest around $1 trillion abroad," said Yuan Tian, chairman of the China Entrepreneurs Forum.
"More and more Chinese manu­facturers would like to go to other countries to set up the manufacturing there and sell locally," Tian said. But where that isn't possible, an alternative way of penetrating a market is to buy a business that has its own technology, competitive brand and distribution channel in place.
Speaking about the situation in China, Alexis Rodzianko, chief financial officer of Russia's Metropol international investment and industrial group, said: "China is intensely consuming energy, so they are interested in buying energy production sites, as well as steel and metal production."
The abundance of natural resources in Russia attracts Chinese investors, who have also acquired a lot of companies in the Far East. Rodzianko said that Russia has stable growth, but it is cheap to enter the market since the country is perceived as riskier than it rationally should be.
Rodzianko said that his company has been in discussions with Chinese parties about buying assets in Russia but has not yet finalized any deals. The negotiations go more slowly with Chinese enterprises, as the companies need to receive approval from the state for any major transaction.
Wei Wang, chairman of the China Mergers & Acquisitions Association, said that Russia is attractive for Chinese investors not only for oil and gas, but also for the infrastructure that provides access to Europe.
Russia itself has shown interest in buying companies in Europe in recent years, but this activity slowed following the 2008 financial crisis. The latest big acquisition was the February purchase of Austria's Volksbank by Russian banking giant Sberbank for approximately $800 million. The deal earned Sberbank the Financial Service Deal of the Year award at the summit.
All rights reserved by Rossiyskaya Gazeta.