Tate Publishing's new book traces the life of Russian constructivist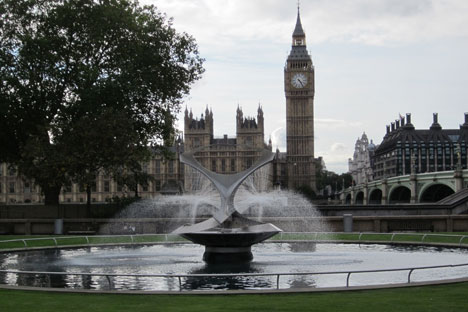 Naum Gabo's fountain near the Big Ben. Source: Phoebe Taplin.
A new monograph on the influential Russian constructivist sculptor Naum Gabo reveals gems about his life, work and philosophy.
Webs of water spin from a steel sculpture in the garden of London's St Thomas's Hospital, against the backdrop of Big Ben across the River Thames. This elegant fountain is the work of Naum Gabo, a pioneer of the constructivist movement that began in Russia in 1919 and profoundly influenced art across Europe and America.
Gabo's work appears in such scattered venues as New York's MOMA, the Guggenheim Museum, the Hirshhorn in Washington, and the Rotterdam branch of De Bijenkorf department store, which commissioned a 25-metre-high freestanding metal sculpture. But the largest collection of Gabo's work is actually here in the UK in the Tate Galleries. And, using material from its archives, Tate Publishing has brought out a new book on the artist this month.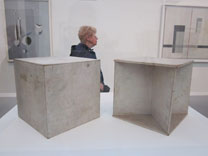 Gabo's Two Cubes in the Tate Modern. Source: Phoebe Taplin.
Gabo's Two Cubes (1930), which is on display in the Tate Modern, illustrates Gabo's idea of constructing an object's inner space. The cubes are made of painted wood, one solid and one inverted. This idea was central to his philosophy of sculpture. As his brother Alexei explained in a 1964 biography: "Its function was not to delimit the boundaries of things but to show the trends of hidden rhythms and forces in them."
Born as Naum Pevsner in Russia in 1890, he changed his name to Gabo in 1915 to distinguish himself from his other brother, Antoine Pevsner, who was also an artist. Together they wrote the 1920 Realistic Manifesto, which rejected a millennium of "static" art, in favour of a new element in visual art: "kinetic rhythms, as the basis of our perception of real time."
Gabo was involved in many collaborations. In the 1920s, he worked with Diaghilev, founder of the Ballet Russe, to produce a geometric, transparent set for a ballet. In the 1930s he entered an architectural design into the competition to build the new "Palace of the Soviets". He also lived a somewhat nomadic life. In 1922, he moved to Berlin to take part in the "First Russian Art Exhibition", where he lived for a decade. Gabo moved again, to Paris, and then spent ten years from 1936 in England, where he edited artistic journals and married Miriam Israels. He became part of a famously creative group, while living in Cornwall. There is a fabulous beach photo taken in 1942 of Gabo in his swimming trunks, dangling seaweed above abstract artist, Ben Nicholson, who is sat on the sand with a sunhat and dog. In 1946 he moved to the United States where he lectured at Yale, Harvard and Chicago, took American citizenship in 1952 and died in Connecticut in 1977.
Also in the Tate Modern is Gabo's "Spheric Theme (Penetrated Variation)", created during the artists years in Cornwall in the 1930s. A single sheet of bronze forms a rounded shape, bisected by a flat square. Gabo was to work and rework this form over decades. He wrote about his spheric-theme series: "I enclose the space in one curved continuous surface … and give the space the curved character which it has in my perception."
The pioneering constructivist ideas that Gabo brought from Russia were to have an incalculable effect on art in Britain and also in the USA. The critic and poet, Herbert Read in 1942 had called Gabo's dynamic Spiral Theme, "the highest point ever reached by the aesthetic intuition of man."
In his later years, his thoughts returned increasingly to his childhood in Bryansk, as he wrote in a memoir, to the "image of myself as a young boy, saturated to the core by Russia, its people, its nature, its songs, its language, its land and sky…"
Over the years, Gabo created some of the 20th century's iconic sculptural images. "Constructed Head No. 2" is probably his most recognisable image, a geometric bust made from intersecting flat pieces of metal. From a small cardboard model in 1916, this figure grew to a two-metre steel head in 1966, when Gabo refers to it in his diary as "my child." In the same year, Christopher Cornford of London's Royal College of Art described the figure, at the opening of the Gabo exhibition at the Tate, as a modern "Madonna of the Annunciation", embodying "in her very structure the most beautiful and profound discovery of 20th century art".
All rights reserved by Rossiyskaya Gazeta.