Burger King begins its takeover of Russia in Siberia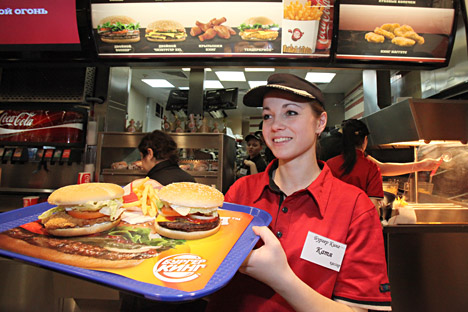 Burger King is targeting Siberia. Source: RIA Novosti / Vladimir Fedorenko
After 20 years on the sidelines, the fast-food chain is looking to make up for lost time by entering the Russian market in Siberia, where competitors have yet to venture.
"We may be 20 years late into Russia, but we're determined to become the market leader," said Dmitri Medovoy, general director of Burger Rus.
In pursuit of this goal, the company is targeting Siberia. Until now, Burger King has only had a presence in Moscow, Moscow Region, St. Petersburg, and Yekaterinburg: a total of 70 restaurants in Russia, compared to 12,600 worldwide. "Siberia is a priority region for us — it has a high purchasing power and low competition," Medovoy said.
The first two Siberian Burger King restaurants will open in shopping malls in the city of Surgut by the end of 2012, says Jose Cil, president of EMEA Burger King. Exactly how many restaurants the company plans to open in the next two years (particularly in Siberia), Cil and Medovoy did not disclose. Medovoy only stated that the company intends to set up shop in all the major cities of the region. In general, Burger King plans to open several hundred restaurants in Russia, and has not set itself a limit.
The investment required to open a restaurant under the franchise ranges from $314,500 to $2.65 million (depending on the lease and the cost of renovation), which includes an initial investment of $50,000, reads the Burger King Worldwide website.
The only international chains currently operating in Siberia are KFC and Subway. In the past decade, KFC has opened both its own restaurants and franchised outlets, said Ilya Politkovsky, director of external communications at Yum! Restaurants International Russia & CIS, without specifying a figure. Subway has 42 outlets in Siberia: a figure that is set to rise to 49 by the end of the year, according to the company's press office.
McDonald's Corp. has been in Russia for more than 20 years now, but, until recently, the company had never ventured east of the Ural Mountains. Khamzat Khasbulatov, president of McDonald's in Russia and Eastern Europe, explained in April that the problem comes down to logistics and lack of suppliers. "We have signed agreements with suppliers, and they're ready to work with Siberian outlets," said Medovoy.
McDonald's has since quickly changed its mind. "We're now in talks with local mayors [in Siberia] and exploring the possibility of entering the region. The first outlet is due to open in Krasnoyarsk in late 2013 or early 2014," said the company's vice president for development in Russia, Viktor Eidemiller, in August.
Expansion into regions with low competition is the right strategy, believes Andrei Petrakov, who is the executive director of the consulting company Restcon. "It's logical to focus more on remote areas, since there are few quality premises left in Moscow and St. Petersburg," Petrakov said. "Lack of space really is a problem," said Medovoy, agreeing. In his view, Burger King is ready to expand into other regions as well, if suitable sites can be found.
The first franchise under the Burger King brand was opened in 2010 by Burger Rus, which belongs to co-owner of the Shokoladnitsa chain of cafes, Alexander Kolobov. June gave way to the creation of a joint venture project to develop the chain: VTB Capital acquired 47.22 percent, with the rest of the shares going to Burger Rus and Burger King Europe.
First published in Russian in Vedomosti.ru.
All rights reserved by Rossiyskaya Gazeta.