Relations between Russia and the United Kingdom are improving, albeit more slowly than one would have hoped. But, in my opinion, we have been steadily moving towards what in diplomacy they call rapprochement.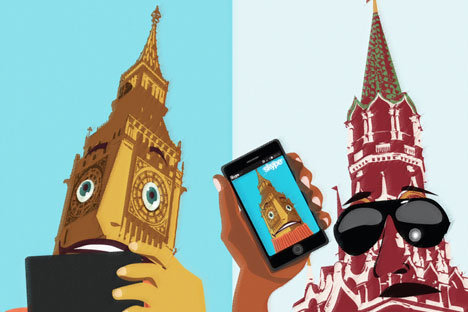 Click to enlarge the image. Drawing by Alena Repkina
The Olympic Games in London this summer demonstrated this most vividly. We sincerely congratulate the British organisers on their splendid achievements and are looking forward to making use of this valuable experience and expertise in holding the Sochi Winter Olympic Games in 2014.
It may have gone less noticed by the wider public that the Olympics also helped to put our bilateral political dialogue on a more promising footing, offering exciting opportunities in economic, cultural and other areas of our diversified relationship. The meeting between President Vladimir Putin and Prime Minister David Cameron in London on August 2, their third in a year, underlined that we do have more in common than sometimes meets the eye.
We agree to disagree on some issues of principle to each of us but continue to work together towards overcoming some of the negative legacy of the recent past. More importantly, the two leaders discussed at length the forward-looking bilateral agenda in order to deepen co-operation between Russian and British businesses and facilitate an increased exchange of cultural, educational and other contacts to benefit ordinary citizens, which is the ultimate objective and criterion for our joint endeavours.
In addition to the complex political issues, in particular in the Middle East, the international economic background is still very fragile. There persists continued uncertainty in the world economy, with the American economy said to be edging towards a "fiscal cliff", China slowing down against the continuing debt crisis in the eurozone and the emerging markets also starting to feel the impact of the deterioration on the global markets.
In this context it is important to remind ourselves that Russia and the UK are in many respects natural partners as history shows and share the same economic logic in seeking to diversify their economies, complementing each other in natural resources, financial and human capital, high technology and retail market opportunities.
President Putin and Prime Minister Cameron have, in a way, challenged our respective governments and businesses to rise to the new agenda, roll up our sleeves and get down to working together in order to make our partnership bear tangible results.
It is this question that the Russia-UK Joint Steering Committee on Trade and Investment had to answer when its co-chairs First Deputy Prime Minister of Russia Igor Shuvalov and Vince Cable, UK Secretary of State for Business, Innovation and Skills led their high-level business delegations to its ninth session in the Queen Elizabeth II Conference Center in London this month.
On the one hand, over the years we have laid a solid foundation for strong economic ties for the long term. We restored our bilateral trade volume to its pre-crisis level, it grew 33% last year and reached $21.2bn (£13.2bn). This trend has continued and in eight months of this year the trade stood at $13.7bn.
The accumulated British investment in Russia has also been restored and with $25.7bn, as of July 2012, the UK stays in fifth place among our foreign partners with a share of about 8 of total foreign investment in the Russian economy. In current terms the inflow of capital from UK to Russia is also rising, and in the first half of this year it almost doubled to $7.5bn on the same period last year.
On the other hand, Russia occupies a place in the second dozen of UK trade partners and accounted for less than 2% of UK total exports and imports in 2011. The UK occupies a similar place in Russian foreign trade. Around 90% of Russian exports to UK are mineral fuels and other commodities which impact the value of our bilateral trade flow through their fluctuating prices.
In capital terms, while some of the largest foreign investors in Russia are, I am pleased to note, British, the direct UK investment is quite modest at only $3.2bn. We welcome the latest announcement by BP of its strategic partnership with Rosneft. The direct Russian investment in Great Britain is less than $3bn.
This is why we cannot and should not rest on our laurels. The potential for our economic partnership is there and should be not only recognised but further enhanced with participation of all the stakeholders. In the spirit of the Russia-UK Joint Declaration on a Knowledge-Based Partnership for Modernisation signed by our leaders in Moscow last year, we need to re-energise the bilateral economic ties and proactively engage with a wider economic community, above all, small and medium businesses, expand our mutual regional opportunities and expose the respective businesses to available support and stimulative measures provided by the government initiatives and national markets.
In this respect the forthcoming agreement between Russia's Export Credit Agency and UK Export Finance is an important and reassuring step in the right direction. Building on the existing joint projects of British business with the Russian Direct Investment Fund, the Skolkovo Innovation Centre and the Rusnano Corporation, we need to increase the value-added part of our co-operative ties and focus on high-technology opportunities both in production and research.
There are exciting new possibilities in the energy sector, including direct gas supplies to UK through the expanded Nord Stream pipeline and Russian participation in the building of British nuclear power stations. The close co-operation in financial and professional services would provide the supportive background to these efforts, and we should not shy away from creative approaches such as joint venture funds and supply chain guarantees.
I am confident that while the governments should and will rise to the new economic challenges and actively support these and other business initiatives, the entrepreneurial drive will have to come from our businesses to help set the agenda for the future. The joint steering committee provides the right framework to do that.
Alexander Yakovenko is Ambassador of the Russian Federation to the United Kingdom. He was previously Deputy Minister of Foreign Affairs of the Russian Federation.
All rights reserved by Rossiyskaya Gazeta.