'What we see', a fly-on-the-wall documentary by the young British director Gregg Houston about Two Door Cinema Club, has been translated into Russian for the first time. Interestingly, the first screening took place not in Moscow, but in the Metenkov House Photography Museum in Yekaterinburg, the biggest city in the Urals.
The film is shot using a single camera, by one person, and depicts the band's everyday encounters and occurrences as they tour around Europe. PR Manager at the Metenkov House Photography Museum, Anastasia Piletskaya, had the idea of showing the film out in Russia's provinces.
"I had heard of Two Door Cinema Club, but I'd never been a big fan", Anastasia told RBTH. "This group isn't particularly well-known in the Urals, but when their Moscow tour dates were announced the tickets were sold out within a day. Some friends of mine in Moscow showed me the film, and I knew immediately that it would be a big hit with Yekaterinburg photographers and cameramen, especially those just starting out in the profession, and I thought it would also be liked by anyone with an interest in documentary cinema."

Simultaneous translation of 'What we see'. Source: Tatyana Andreeva
"There is something to be learned from Houston's approach; the composition of the frames; the way it's edited, and its amazing video sequences. One moment that stands out, for example, is when Houston films a band member drying himself offstage, and then camera focusses in on a star struck female fan staring him with an expression that words will never adequately describe," she added.
Anastasia found Gregg Houston's website and wrote to him about her idea of showing his film in Russia. The director responded straightaway, writing that he was "very happy and proud", and requested to see photos of everyone who attended the screening. Anastasia decided to translate the film herself - and this was generally quite easy, though there were moments when Nastya struggled to understand the banter between the band members. The translation took all of three hours.
The screening was attended by people from all different walks of life: from students to well-known public figures; it united hard-core fans of the group with those who had just came along out of curiousity.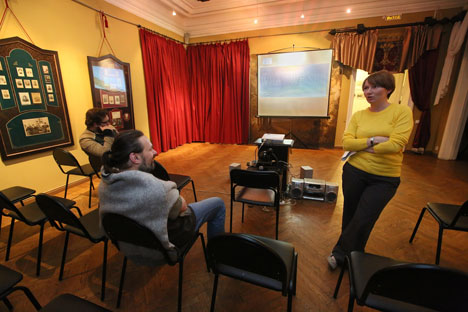 "I had heard of Two Door Cinema Club, but I'd never been a big fan," Anastasia Piletskaya said. Source: Tatyana Andreeva
"I was surprised that this event happened in our city: not many people have heard of this group in Russia", Lydia Glukhova, a student, told RBTH. I really like indie music, and I'm quite into British culture in general. TwoDoorCinemaClub is my favourite group, I first discovered them in 2010 and since then it's been my dream to see them live at one of their concerts. I'd heard a lot about the video that they filmed when on tour in Europe, but I hadn't had a chance to watch it".
Journalist Aleksei Blokhin plays in three bands in Yekaterinburg, and so he came to watch what other groups got up to on tour. "I can't say I'm a die-hard fan of this group, and indie music isn't really my cup of tea, but Two Door Cinema Club is one of the few bands of this genre that I can listen to without getting annoyed", said Aleksei.
The first thing that hits you about the film is the feeling of spontaneity, as if it has been filmed off-the-cuff by amateurs as a personal remembrance of the tour, rather than something that was created for public viewing. At times the film is fragmented, unplanned and impulsive, and at others it seems long-drawn-out, with lengthy shots of the view out of the car window of the passing landscape, silence in the car, and numerous banal details of everyday life.
But this is probably what makes the film so lively and amusing. It seems that the guys in the band wanted to show their everyday lives with all its quirks and oddities, and the film includes plenty of footage of interviews where stupid questions are repeated over and over again.
But this is mainly about three young guys who have been friends since their school days, and who gave up university to pursue their musical goals. The 23-year-old musicians from Two Door Cinema Club spend 300 days a year on tour, living out of a suitcase. "What do you look forward to?" a journalist asks one of them. "My own bed", answers one with a tired smile. But he soon corrects himself. "It's scary to think what would happen if everything went wrong, if, for example, concerts stopped, or if we were forced to take a break..."
The screening was attended by a famous social scientist, professor of philosophy, Sergei Radchenko, who summarised the film as a "tender glimpse of puppies in the warm hands of adults".
"The boys had made the film about themselves, about the way they see the world. Something that is constantly present in the film is care and attention of adults, of the serious people who surround and support them, and how they try to release and develop the young people's creative talents. These grown-up people play a big part in their lives - helping them to organise their tour of the world, giving them the opportunity to sing and have fun. For us, the film creates a particularly warm feeling towards the country they are from, towards England, home of kind and caring people like these. In this respect we could certainly learn something from the English".
All rights reserved by Rossiyskaya Gazeta.