Russian film makers target the UK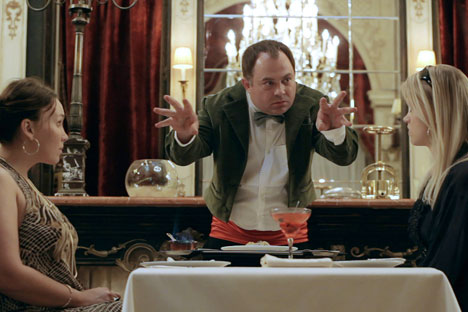 Screenshot of the filmTill Night Do Us Part. Source: Press Photo.
London is preparing to the Russian Film Festival which will take place on Nov. 2-11.
The director of the Russian Film Festival Svetlana Adjoubei talks about promoting Russian films abroad and working more with British film-makers.
RBTH: Russian films have recently been more prominent at international film festivals – in Cannes, Venice, Berlin and others. What has prompted this success?
Svetlana Adjoubei: Russian films are gaining more recognition internationally, partly as a result of a new generation of Russian filmmakers such as Andrei Zvyagintsev, Boris Khlebnikov, Alexei Popogrebsky, Renata Litvinova and Vasily Sigarev.
Their success has recently been recognised and supported by the Russian government. The Russian Cinema Fund was created in 2009 to support Russian filmmakers at home as well as in the international arena as part of a national programme to develop the Russian film industry. President Vladimir Putin personally leads the Council for the Development of Russian cinematography.
RBTH: How does the Cinema Fund help Russian film-makers?
S.A.: The most recent example is the Red Square Screenings that took place in Moscow on October 15-20. The Cinema Fund invited 120 international film professionals, such as film distributors, marketers and agents to see screenings of the best Russian films of recent years. About 50 films were shown over five days at the GUM Cinema on Red Square. It will become an annual event.
Both the Cinema Fund and the Russian Ministry of Culture work abroad. In September, at the Venice International Film Festival, the Cinema Fund presented premieres of three Russian films – Kirill Serebrennikov's Betrayal, Alexey Balabanov's Me Too and Lyubov Arkus'sAnton's Right Here – and it helped producers to work with the press and international distributors.
More new Russian films will be presented at the Rome International Film Festival in November, including Aleksey Fedorchenko's The Sky Wives of the Meadow Mari and Ivan Vyrypaev's The Dance of Delhi. These will be world premieres.
RBTH: How strong are industry links between Russia and Britain?
S.A.: I would like to think that they have become stronger since the establishment of The London Russian Film Festival. But we would like to see more new Russian films released in UK cinemas. Usually, only two or three Russian films are released here each year, and you hardly see any new Russian films on UK television. Russian classics – by Eisenstein and Tarkovsky – are, of course, very popular here.
But I feel that to understand modern Russia you really need to see films made by the new generation of Russian film-makers – so, do come to our film festival.
We choose films that have won awards that would be interesting for British audiences with English subtitles.
The London Russian Film Festival hosts the Russian-British Co-production Forum to encourage Russian and British film professionals to work together. It is organised by the Russian Cinema Fund in partnership with the British Film Institute, and is attended by leading Russian and British filmmakers.
Russia and Britain both have great cinematic traditions and great opportunities – in terms of film locations, modern film studios and, of course, stories.
---
For our British audience!

Be the first to answer correctly the question below in the comment section of this article and win 2 tickets to the Opening Night and After-Party of the 6th London Russian Film Festival on Nov. 2:
What famous location in Moscow is the centre of action in "Till Night Do Us Part," the opening film of the festival?
All rights reserved by Rossiyskaya Gazeta.