Rugby enthusiasts count on tournament to provide a big leap forward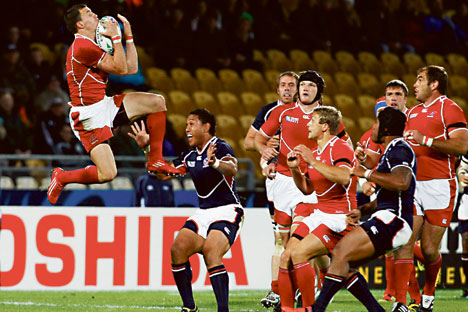 Russian Vasily Artemyev takes a high ball during the World Cup. Source: Reuters / Vostock Photo.
Next year Russia will host the Rugby Sevens World Cup, an event organizers hope will inspire a new generation of players and fans.
Russia took part in the rugby World Cup for the first time last year, losing all its four matches and finishing last in its group. But it did leave its mark on the world's premier rugby tournament.
Not only did the Russian Bears set a new fashion for winter hats with ear flaps, they also scored three tries against Australia, despite being comprehensively beaten 68–22. No other team scored that many points against the Wallabies during the tournament. In all, the Russians scored eight tries, setting a record for tournament newcomers.
The Russian team approached the 2011 World Cup by embracing the Olympic creed: "The most important thing in the Olympic Games is not to win but to take part ... " That the team made it to the World Cup's final stage was a huge achievement for a country where rugby continues to be viewed as an exotic sport.
But for the quirks and timing of world history, Russia's international debut may have turned out far differently from the one in which it suffered that big defeat to Australia last year. Why? Russia produced one of the greatest rugby players the world has ever seen. In 1916, Prince Alexander Obolensky was born in Petrograd, capital of the Russian Empire. But, like many of the Russian nobility at the time of the Bolshevik Revolution, Obolensky and his parents fled Russia for England when the boy was just three. He went on to study at Oxford University and earned two rugby Blues playing on the wing.
Obolensky quickly became one of England's best players; in 1936, the 'Flying Prince', as his fans called him, was granted British citizenship and was selected for the country's national team, scoring two tries in an epic England victory over New Zealand - the first time England had beaten NZ.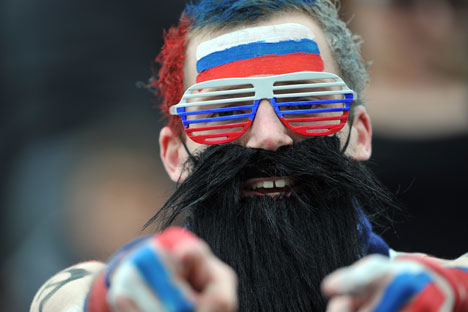 Russian rugby-fan. Source: AFP / East News.
Two years ago, a statue to the great Obolensky was unveiled in the English town of Ipswich, where he is buried – he was killed in an RAF training accident in 1940. Russian billionaire and Chelsea Football Club owner Roman Abramovich donated part of the funds for the monument.
Referring to next year's Sevens tournament in Russia, Dmitry Shmakov, Russian Rugby's director of development, said: "The fans are our first priority. As you know, Moscow is overflowing with all kinds of entertainment and it will be very hard to fill the stands. We are currently working on this and we have a number of activities in the works, including entertainment events and a music festival. The tournament is expecting somewhere in the region of 10,000–15,000 foreign fans. We are hoping that Russian fans will show up, too."
Russian rugby is paradoxical in that as much as people love it, hardly anyone comes out to watch the matches. Russian rugby fans cheer the Wallabies and the All Blacks, but only a few know the match schedule for the national team.
Alexei Sokolov, chairman of the board of Zenit Bank and a rugby fan, said: "Russian state corporations are pouring huge amounts of money into football (soccer) and hockey. At the same time, far less money is required to advance rugby in our country, especially among children. We need government support to do this. Look at Italy – (former prime minister) Silvio Berlusconi has turned rugby into an elite sport in just 10 or 15 years."
Mr Sokolov has been the chief patron of Russian rugby in recent years. His bank finances the national team and in 2008 he founded the National Charitable Foundation for the Development of Children's Rugby. Ian Hill, NZ's ambassador to Russia, is one of the fund's sponsors.
"When we tell the government about rugby, we try to get across the fact that rugby can tackle a lot of social challenges, such as providing youngsters in regions with something to do. Rugby is a great sport for just this purpose. It tempers you, while also being a sport for everyone. And it is practically free to play when you compare it with other sports," Mr Sokolov said.
His bank became the chief sponsor for the Rugby Sevens World Cup, donating €500,000 (about $638,000). But the real dream for Russian rugby fans is for their country to be the World Cup holders, and doing so will require much more investment, first and foremost, from the government. There is hope Russia's 2018 soccer World Cup may help to bring about this change.
All rights reserved by Rossiyskaya Gazeta.