London celebrates Russian Art Week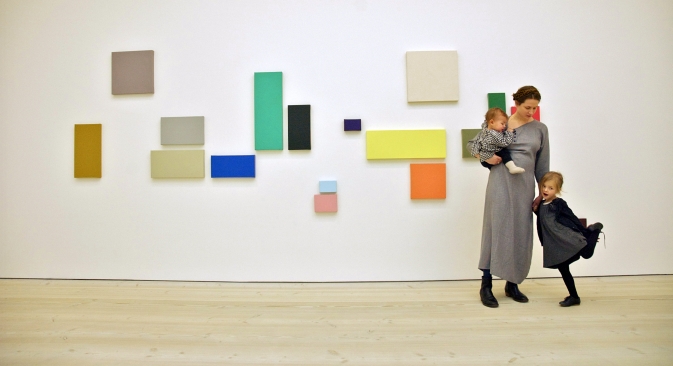 Lyudmila Konstantinova with her daughters next to her work exhibited at the Saatchi Gallery. Source: Irina Korina.
From Nov. 22 till Nov. 28 London welcomes Russian Art Week. While Russian masterpieces go under the hammer at auctions, the work of its contemporary artists is impressing collectors too.
Russian Art Week in London has traditionally been the preserve of elite collectors who flock to the auction houses in the hope of buying a classic masterpiece. But this year, the city is opening up art from Russia to wider audiences. Coinciding with the prestigious auction sales, exhibitions of contemporary Russian art will be displayed in galleries across London.
Last week, the Saatchi Gallery opened two exhibitions of Russian art running in parallel – Breaking the Ice: Moscow Art 1960-80s, showing non-conformist art from that period; and Gaiety is the Most Outstanding Feature of the Soviet Union: Art from Russia, showcasing 21st-century art (the title being a quote from Stalin).
The exhibits offer Londoners a unique chance to see hundreds of pieces, from the internationally acclaimed Ilya Kabakov and Oleg Tselkov to the rising young stars Lyudmila Konstantinovna and Daniel Bragin; from the colourful surrealist prints of Dasha Shishkin, to the unsettlingly realistic photographs of Boris Mikhailov.
"Their art is multifocal and transcendent, poetic and hypocritical, politicised and romantic," says Dimitri Ozerkov, director of contemporary art at The Hermitage Museum in St Petersburg. As Russian art continues to attract interest in London, new galleries are popping up all over the city with the aim of making art more accessible to the ordinary art lover.
One such gallery is ArtMost in Mayfair, founded by the Muscovite Yulia Nagy, who says there are still not enough Russian art events outside auction weeks to cater for non-collectors.
ArtMost has featured emerging artists from St Petersburg, while the latest display, which finished last week, introduced works from the acclaimed Russian film directors Andrey Tarkovsky and Sergei Parajanov. Ms Nagy said: "Contemporary Russian art deserves to be viewed as part of the global art movement, and not as an exotica from a far away mysterious country".
Coinciding with Russian Art Week is the launch of an exhibition at the London branch of the Regina Gallery by the Chechen-born artist Alexey Kallima, called Everything is for Sale, which takes an ironic glimpse at the Russian consumer culture. The gallery has been transformed into a series of shopfronts, kiosks and supermarket shelves.
Romilly Eveleigh, director of Regina London, said: "Kallima is one of the brightest, most promising painters in Russia today. His works are in some of the most important collections in Russia and western collectors are beginning to take interest in his highly ambitious projects".
Meanwhile, masterpieces by classic Russian artists will be fetching small fortunes at the major London auction houses. Sotheby's, closely followed by the MacDougall's sale, are expected to make the most, followed by Christie's and Bonham's.
Classic 19th-century and early 20th-century Russian paintings, tackling subjects ranging from the beauty of the Russian landscape to its folk history, are expected to be the most sought after.
Among them is an imposing 11ft-long canvas by Russian military artist Vasily Vereshchagin, Transport of the Wounded (Sotheby's, estimate £800,000-£1.2m); an early Impressionist work by the avant-garde Mikhail Larionov, Une Journée de Mai (MacDougall's, £900,000-£2m); Boris Kustodiev's masterpiece The Coachman from the collection of the Nobel Prize-winning scientist Peter Kapitza (Christie's, £1m-£1.5m); and the huge 1885 genre painting Fair from Vladimir Makovsky's "Little Russia" series (Bonham's, £1.5m-£2m).
William MacDougall:

"Russian art has been one of the strongest performing asset classes of the past 15 years, growing nearly 700% from 1997 to 2012, even with a drop during the financial crisis. It has performed better than Russian oil prices or equities, and much stronger than US equities. At the same time, the downside risk of Russian art has been favourable. Russian equities fell 75% peak-to-trough in the 2008 crisis and Moscow property around 50%, yet Russian art fell only 30%.
A major reason was that collectors generally do not borrow to finance art purchases, so there was no additional collapse due to collateral being called in by lenders. Another factor is that Russian art surprisingly represents the Russian economy better than the stock market. The latter is nearly all oil and banks, while collectors pay for art from all sorts of revenue sources, including even the sales of bread and toothpaste.
Some analysts suggest that art suffers from illiquidity; yet while it may not be as liquid an asset as blue-chip equities, it is more liquid than small companies and venture capital, where investors can be locked in for years. It is always possible to sell a painting within a few months. This week will see Russian art worth many millions sold at auctions, including ours, in London's Russian Art Week, mostly to people from Moscow and Kiev. They will be making wise investments."
MacDougall's Auctions was set up in 2004 to meet the demands of the burgeoning Russian art market in the UK. At present, it is the only fine art auction house to specialise in Russian art.
All rights reserved by Rossiyskaya Gazeta.