Migrants drag their feet over language test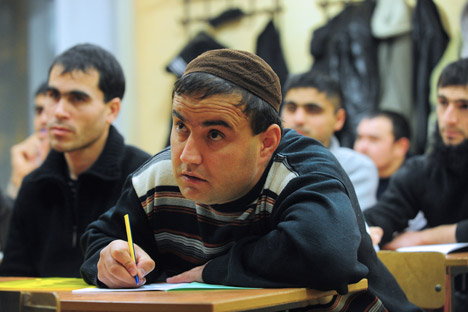 Immigrants working in the housing and utilities sphere, as well as retail and service workers, must now pass a Russian language exam. Source: ITAR-TASS
Out of several million immigrants working in Russia, only 200,000 chose to sit for a mandatory test of Russian language skills in the first week after the new migration legislation came into effect.
Immigrants working in Russia are reluctant to take the Russian exam because it is costly. The Federal Immigration Service, however, claims that it is too soon to raise the alarm, since the main flow of immigrants to the test centers should begin after New Year's.
Amendments on mandatory tests for low-skilled foreign immigrants came into force on Dec. 1: Immigrants working in the housing and utilities sphere, as well as retail and service workers, must now pass a Russian language exam. This does not apply to those who come from Belarus and South Ossetia (where Russian is an official language) and those who produce documents proving that they have taken a course in Russian at school.
From now on, no employer will be able to hire immigrants unless the latter produce a certificate proving they know Russian. Foreigners whose contracts have not run out will not be required to pass a Russian-language test until their contracts expire.
Methodological support for testing is provided by four higher education institutions: the Russian Peoples' Friendship University, Moscow State University, St. Petersburg State University and the State Pushkin Russian Language Institute.
The vice chancellor of the Russian Peoples' Friendship University, Svetlana Elnikova, said that about 200 people reported to the 250 test centers for Russian language testing during the first ten days. Elnikova also reported that none of those tested failed the exam.
The tests stress correct noun declension and use of prepositions. The "reading" section, for example, cites an announcement: "All the workers are going to the medical center by bus." The corresponding assignment asks what type of transportation workers will use.
Representatives of national diasporas have been up in arms against the way the test law is being implemented.
"So far, one gets the impression that the only purpose of the law is to make immigrants pay another levy," Karomat Sharipov, head of the Tajik Labor Immigrants' Association told Kommersant. "None of our compatriots who come to us are going to sit for that exam."
Migrant workers believe that the charge for the test (3,000 rubles, or nearly $100) is too high for unskilled laborers. According to the head of the Federation of Immigrants in Russia, Muhammad Amin Madzhumder, many immigrants do not know Russian well enough and hope that, if necessary, they might be given an opportunity to learn the language by the Russian authorities; the latter have not yet created the proper conditions.
"Immigrants come for one season to earn some money and return home," Usman Baratov, president of the Interregional Uzbek Expat Community, told Kommersant. "It makes no sense for them to spend time on education and money to pay for certificates. The majority of them do not register as workers to avoid extra costs." He said refusal to pass tests might increase illegal employment in Russia.
Previously, head of the Federal Migration Service (FMS), Konstantin Romodanovsky, said that nearly 20 million people come to Russia every year to work; yet his agency registered only 260,000 immigrant workers in 2012.
Still, the FMS has said that it is too early to worry. "Many immigrant workers still have their work permits, so we believe that the main load will fall on the period after the New Year holiday," the agency's press secretary, Zalina Kornilova, told Kommersant. She added that introduction of Russian language tests for immigrants would benefit the immigrants themselves, above all. "This alone will prevent them from becoming illegal," Kornilova said.
Beginning in 2015, the FMS intends to have immigrant workers pass not only Russian language tests but also tests in Russian history and Russian law. A draft law to this effect is already pending before the State Duma.
First published in Russian in Kommersant Daily.
All rights reserved by Rossiyskaya Gazeta.