Navalny and his brother suspected of embezzling $1.8 million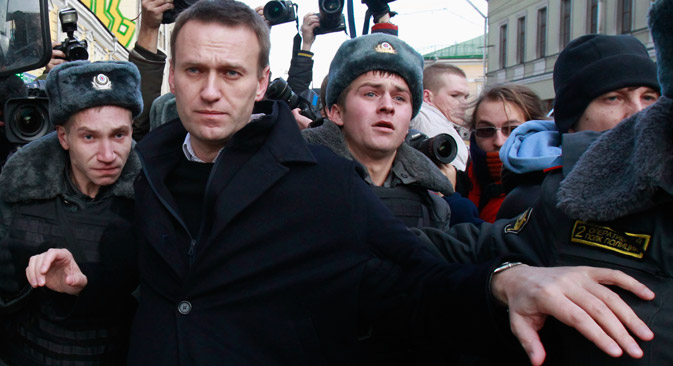 Once again, Russia's anti-corruption campaigner Alexei Navalny is faced with criminal charges of embezzlement and laundering. Source: Reuters / Vostock Photo
The Investigative Committee starts a second criminal case against opposition leader Alexei Navalny, suspecting him and his brother of misappropriating 55 million rubles through a cargo shipment deal.
Russia's Investigative Committee announced Dec. 14 that is was starting a criminal case against opposition leader Alexei Navalny and his brother, Oleg, a senior manager at Russian Post. The brothers are suspected of embezzling and laundering 55 million rubles ($1.8 million), for which they can receive up to 10 years in jail.
According to investigators, in the spring of 2008 Oleg Navalny, the head of the mail sorting department at Russian Post (Pochta Rossii), "coaxed representatives of a trading company with international capital doing business in Russia" into signing a cargo shipment agreement with Main Subscription Agency, a company started earlier by Alexei Navalny.
Investigators have found that the trading company transferred over 55 million rubles ($1.8 million) to Main Subscription Agency for services provided between August 2008 and May 2011, while the "real cost of the cargo shipment was under 31 million rubles ($1 million)."
"Oleg and Alexei Navalny have embezzled over 55 million rubles," the Investigative Committee reported. "The Navalny brothers spent most of this sum on their personal needs, and to legalize the money received illegally, the Navalnys transferred over 19 million rubles from the account of a front company, Kobyakovo Willow Weaving Factory, which they co-founded."
"No idea what's happening, my phone is burning," Alexei Navalny tweeted Friday while sitting at a meeting of the audit committee of Aeroflot, Russia's biggest airline, whose shareholders elected Navalny to its board last June.
Alexei Navalny reported on his Twitter page that his brother's office and his parent's home were being searched. "I'm not enough for them, now they've gotten to my family," he commented.
Last July the Investigative Committee charged Alexei Navalny with misappropriating 16 million rubles ($500,000) through a timber supplies contract concluded in 2009, when he worked as advisor to Governor Nikita Belykh of the Kirov Region, located to the west of the Urals.
Last August the offices of the Kobyakovo Willow Weaving Factory, run by Navalny's parents, were searched on the Investigative Committee's orders through the timber supplies investigation.
Navalny is also a witness in the investigation of what the Investigative Committee has characterized as "a mass riot" at Moscow's Bolotnaya Square that broke out during an anti-Putin rally the day before he was sworn in office as president for the third time on May 7 this year.
Earlier this week, investigators said that the disturbances were instigated by Givi Targamadze, a Georgian MP from Mikhail Saakashvili's party "United National Movement," who allegedly sponsored some of Russian opposition leaders.
Friday's statement by the Investigative Committee came one day ahead of a big opposition rally co-organized by Alexei Navalny for Dec. 15. The Moscow city government refused permission for the rally, citing potential traffic problems in central Moscow.
All rights reserved by Rossiyskaya Gazeta.