Authorities plan to ban individual protests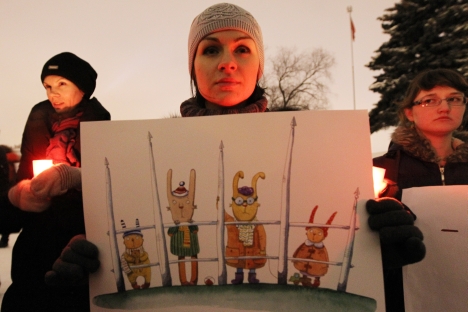 A participant of stand-alone protests against the Dima Yakovlev bill that bans American adoption of Russian children. Source: ITAR-TASS
Moscow City Duma designates special places for opposition rallies but bans motor convoys around the Garden Ring Road and stand-alone picketing
At its last meeting of the year, the Moscow City Duma adopted a series of amendments to the Law on Public Rallies including new fines and restrictions on small-scale protests. The fines are part of a series of amendments that also included the establishment of authorized places to protest in the Russian capital, in the model of London's Hyde Park.
As of Jan 1, protests can be held at Gorky Park and Solkolniki Park without government approval, however, protestors cannot use structures or any additional equipment that might require special assembly and disassembly work.
The plan to establish these zones was known beforehand, but the increased fines and restrictions came as a surprise to observers.
The restrictions include bans on picketing by individuals or small groups outside courts or the State Duma and fines up to 600,000 rubles ($20,000) for drivers participating in driving protests on Moscow's Garden Ring Road.
While federal law sets the minimum allowable distance between stand-alone picketers at 50 meters, the Moscow City Duma amendment recognizes such actions a public event attended by two or more persons even if the distance between them exceeds 50 meters if the stand-alone picketers "are united by a common organizer and a common purpose."
"The amendments to the political rallies law contradict the Constitution, which guarantees freedom of assembly," said Boris Nemtsov, a member of the opposition's Coordination Committee and Co-Chairman of the PARNAS party.
Moscow lawmakers had trouble explaining exactly what public actions involving vehicles will be subject to the new ban. According to City Duma member Irina Svyatenko, it will only extend to vehicle formations whose actions are of a political nature.
Svyatenko said she had introduced this amendment because "as a deputy from the Central District, she was receiving complaints from Muscovites tired of people waving flags and honking their horns."
"One car doesn't create a problem, two cars make a convoy. Paratroopers with their flags, motorists wearing St. George ribbons, and wedding convoys won't be banned," Svyatenko said.
However, the First Deputy Head of Moscow's Department of Regional Security, Vasily Oleinik, said that even a lone motorist could face charges for carrying a placard, adding that motorists displaying Russian flags would face no penalties, because this is a state symbol.
Those who do violate the ban will be punished under Article 20.2 of the Russian Administrative Code, which the State Duma toughened last summer. It provides for a fine of up to 300,000 rubles for private individuals (up from 2,000 rubles) and 600,000 rubles for officials (up from 50,000 rubles).
"This is absurd: why is it that you can drive around within the Ring Road with a Russian flag and not with political slogans or political symbols? I think this is something that the European Court of Human Rights should look into," said Sergei Davidis, a member of the opposition's Coordination Committee and the Solidarnost Movement's Political Council Bureau.
Deputies representing the only opposition party in the Moscow City Duma, the Communists, who hold three seats out of 35, opposed the restrictions on protest actions. Communist Vladimir Svyatoshenko noted that car rallies happen infrequently in Moscow and don't create problems.
Pyotr Shkumatov, coordinator of the Society of Blue Buckets, which fights against abuse of power by government officials' cars considers the ban on public actions using vehicles "a delirium" and "an agony" of the government.
"Nobody can prohibit you from sticking or tying anything to your car, since a car is private property," Shkumatov said.
First published in Russian in Gazeta.ru. Maria Makutina, Irina Reznik, Polina Matveyeva, Yekaterina Vinokurova and Zhanna Ulyanova contributed to the story.
All rights reserved by Rossiyskaya Gazeta.