Obama's envoy plans Moscow mission to revive the 'reset'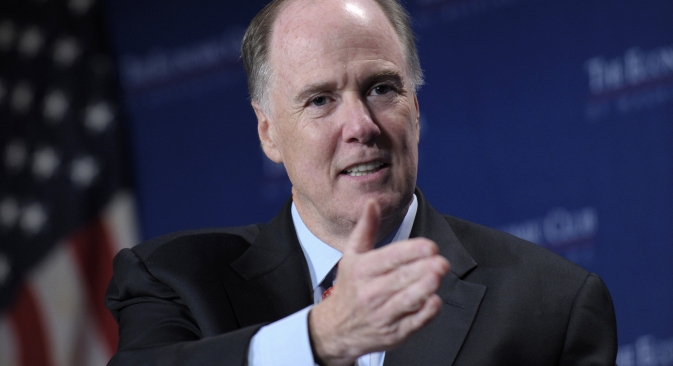 U.S. National Security Advisor Tom Donilon is expected to come to Moscow in January 2013. Source: AP
National Security Advisor Tom Donilon is expected to meet with President Vladimir Putin days after Obama's re-inauguration.
U.S. President Barack Obama's second administration will make its first tentative attempt to breathe new life into relations with Russia in late January, when U.S. National Security Advisor Tom Donilon is due to travel to Moscow to meet with President Vladimir Putin.
The purpose of the mission, days after Obama's Jan. 20 re-inauguration, is to lay out Washington's vision of U.S.-Russia relations during Obama's second term and to convince the Kremlin that the "reset" is not dead and buried.
Donilon's meeting with Putin is also expected to include Russian Security Council Secretary, Nikolai Patrushev, and U.S. Ambassador to Russia Michael McFaul.
A U.S. diplomatic source for Kommersant reported that Obama was proceeding from the fact that laying the "reset" to rest would be unwise and that, in spite of their differences, the two sides should try to find as much common ground as possible to reverse the current deterioration in U.S.-Russian relations.
The source said that the White House does not include the post-Soviet space in its list of foreign policy priorities, as its main focus is on Asia ("containing China"), the Middle East and Europe.
That last point is of crucial significance for the Kremlin, which does not hide its concern that the U.S. could try to muscle Russia out of its former Soviet republics, which it considers to be its sphere of special interest. Moscow's irritation was made clear by its reaction to Secretary of State Hillary Clinton's statement in December promising to actively oppose "the re-Sovietization of Eastern Europe and Central Asia."
In response, Putin's press secretary Dmitry Peskov accused Clinton of incompetence. Meanwhile, in his address to the Federal Assembly in December, Vladimir Putin warned that Russia would not allow outside forces to impinge on its national interests.
As indicated in the new draft "Foreign Policy Concept of the Russian Federation," Moscow's priority abroad is the post-Soviet space. In this connection, the U.S. diplomatic source said that Clinton's statement reflected "her personal opinion and not the official position of the U.S. administration."
If Moscow responds positively to Donilon's mission, it will be a key step in preparing the way for Obama's planned visit to Russia. The Kremlin is thought likely to prefer Obama to visit Moscow in the first half of the year, so as to keep the agenda separate from September's G20 Summit in St. Petersburg.
Discussing Obama's Russia visit with Foreign Minister Sergei Lavrov in November, Clinton emphasized that it "must be full of serious content" and lead to some real agreements. Samuel Charap, a senior researcher at the International Institute for Strategic Studies in Washington, said that "if Obama goes to Russia before the G20, it will only be due to a breakthrough in weapons control and non-proliferation.
"I would not say that the talks on missile defense have stalled for good. If the parties reach a compromise, it is possible that the leaders could sit down at the negotiating table to discuss further reductions in nuclear warheads," Charap said. "The two sides are also now working on a document that could ultimately replace the expiring Nunn-Lugar agreement. This 'nuclear basket' is Obama's personal priority in relations with Moscow."
Russian experts are more skeptical about the possibility of a breakthrough on nuclear weapons.
Given the differences over missile defense, Yury Rogulev, director of the Franklin D. Roosevelt Foundation for American Studies at Moscow State University, said that any agreements reached would only relate to Afghanistan and the economy.
"When it comes to a major event such as the withdrawal of troops, Russia's participation is vital," Rogulev said. "Russia's assistance in the reconstruction of Afghanistan will also be needed long after 2014. Obama has a key interest in strengthening cooperation in this field."
Economic cooperation could take precedence over political deals, Rogulev said, as "it is sought not only by Moscow, but by American business, which the U.S. president cannot fail to take into account."
First publsihed in Russian in Kommersant daily.
All rights reserved by Rossiyskaya Gazeta.