Skoltech's first class presents their inventions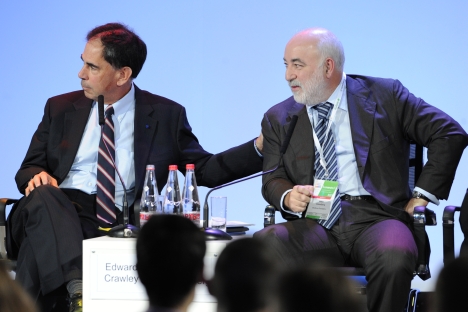 Skoltech President Edward Crawley and head of the Skolkovo Foundation Viktor Vekselberg (L-R) at the international innovation forum, Rusnanotech 2011. Source: RIA Novosti / Ilya Pitalev
Students of the first class at the Skolkovo Institute of Science and Technology presented their latest accomplishments to Skolkovo Foundation President Viktor Vekselberg at a recent symposium. Apart from their academic appraisals, the students demonstrated projects that were ready to be commercialized, including an automatic washing system for garbage containers, a navigation system for cyclists, and an improved web money application for smartphones.
Six months ago, the first class of the Skolkovo Institute of Science and Technology (Skoltech) began their academic careers at the institution by studying abroad. Because Skoltech's campus is still under construction, the university arranged for the 19 students admitted to its inaugural class to study at four partner universities: the Massachusetts Institute of Technology (M.I.T.) in the United States, Imperial College London in the UK, ETH Zurich in Switzerland and HKUST in Hong Kong.
"We applied to whichever of the universities cooperating with Skoltech we wanted to go to. The place we were assigned to was also influenced by our area of interest," said student Rustem Feyzkhanov.
In mid-January, the students returned to Moscow to demonstrate the first fruits of this experience. During their time abroad, the students had been challenged to solve specific problems during their time abroad. The American approach turned out to be fairly localized – the students studying at M.I.T. were working on projects to help people in their everyday lives.
These projects could easily be turned into private business. In the European labs, the students focused on uncovering solutions to more global problems: For example, they were involved in developing a new type of solar battery capable of condensing up to 90 percent of the energy put out by the sun (modern devices capture only 50 percent).
During the symposium, Skolkovo Foundation head Viktor Vekselberg listened with interest and did not attempt to single out any one project. However, a source who wished to remain anonymous said that the projects that were ready to be commercialized made a particular impression on Vekselberg.
These included an automatic device for washing garbage containers, which is already in operation on the MIT campus, and the Tap Desk program, which makes it possible to automatically save presentation slides with the aid of a link added to a mobile phone's browser, making it no longer necessary to copy the information from the slides by hand or to take a photo of the screen.
On Feb. 10, Tap Desk will be tried out during a conference in Skolkovo, and, if the program works correctly, it will start to be used for all events in the facility's main building, the Hypercube.
"We haven't thought about commercializing the project yet," said Vage Taamazyan, one of the inventors of Tap Desk. "We'll be giving the program away free in America and in Russia. Some professors at M.I.T. were interested, and the Skolkovo Foundation also liked the development. All you need to do to start using it is connect the computer on which the presentation is stored to our server and give a short link to the audience."
Another project Vage is involved in has already managed to move outside of universities. This is a navigation system for cyclists; it communicates upcoming turns through vibrations in the right-hand or left-hand grip on the handlebars so that the cyclist can avoid looking down at a navigation screen.
Alta Bicycle Share, a bicycle company based in Portland, is planning to use the device. Incidentally, Alta is planning to enter the New York market this year, and students very much hope the company will bring their navigation system along with them.
Not all of the student developments were notable for their innovative quality. One team was engaged in creating electronic advertising and information panels for bus stops, even though such panels are already in active use around the world. Another team simply worked to improve the WebMoney Purse smartphone application. Vekselberg noted, however, that the first results were impressive overall.
"We're building a new type of university, and you are its first generation – the ones who need to set the right tone for the whole project. We'll do everything we can to ensure that, when you finish Skoltech, you won't want to leave and take your potential out of the country. I wish you success, boldness and single-mindedness!" Vekselberg said in his concluding remarks to the first Skoltech class.
All rights reserved by Rossiyskaya Gazeta.