In Russia today there is no genuine, contemporary, art market. In this intellectually and materially rich country, the figures would easily match those of a single art district in New York or, say, Shanghai. In the wealthy, pre-crisis year of 2005, the turnover of the world art market totaled $280 billion. In Russia, the legal turnover on the domestic market for that same year was $3.7 million.
In spite of this, local contemporary art makes a big splash every now and then – and there is always a non-commercial or, rather, social element to these splashes.
Even the record price paid for Grisha Bruskin's "Fundamental Lexicon" (nearly $1 million) at Sotheby's was due less to artistic merit than to the short-lived fashion in the West for all things perestroika.
The latest stars in the social arena are, of course, the girls in the punk band Pussy Riot. A lot has been written in the West about the scandal involving top members of the Russian government and these guitar-wielding hooligans; in Russia, there has even been too much written.
By way of example, the article on Leo Tolstoy on the Russian Wikipedia has 70 or so footnotes appended to it, whereas the article on the Pussy Riot trial has 420.
The trial made a lot of noise and will have even more consequences. Meanwhile, the feminist group has overshadowed other young artists involved in art activism in Russia: street art that is aimed, in the words of curator and critic Nina Felshin, at positive social change.
The most well-known art activist in Russia today (not counting Pussy Riot) is Artyom Loskutov from Novosibirsk. The police did a lot to promote him as well. Loskutov invented the "Monstration" parody of Soviet demonstrations, where whole echelons of workers from different factories were forced to parade through the streets "voluntarily" on holidays, bearing placards and slogans.
Today, those ideological slogans look and sound quite surreal. The return of this Soviet-era practice in the early 2000s prompted Loskutov's "Monstration" – an annual carnival where young people rid themselves of negative energy by taking these "grown-up" traditions to absurd lengths.
The Siberian police were extremely irritated by these brightly dressed throngs of youth brandishing placards with statements like: "MAMA, FORGIVE ME, I PROMISE I'LL VACUUM!"; "PIGS ARE PEOPLE TOO!"; "KEEP YOUR CITY CLEAN, EAT A PIGEON A DAY!"
Law enforcement provided Loskutov with much free advertising in the press. Special agents who usually deal with terrorists and the Russian mafia turned up on his doorstep and searched his apartment. There they found (though it is not clear how) a few grams of marijuana.
The case was long and drawn out. Loskutov was eventually made to pay a fine, became a star on the Internet and moved his "Monstrations" to Moscow.
This is not a story about the morals of the Russian police, whose colleagues in the West are often guilty of no less senseless repressions. In Russia, no one has ever heard of a young artist suspected of taking part in a graffiti project (based solely on the traces of paint on his clothes) being sent to prison to serve an actual sentence. Yet, in London, this is common practice.
Many of Russia's art activists come from the comparatively free-living graffiti movement. The most humane of them are members of the Moscow group Partizaning, which sees the capital as a huge apartment that needs to be fixed up and decorated.
They promote street art online and in specially published collections; but they devote most of their time to their illegal renovations, drawing zebra pedestrian crossings where they do not exist but should, or hanging brightly colored mailboxes around the city for people's wishlists for improving life in their particular district.
Graffiti artists are not generally inclined to engage society in a dialogue, but, of late, there have been more and more exceptions to the rule. Take, for instance, Misha Most, leader of the collective project Zachem (Why).
The word "Zachem," written in different sizes and styles, has been appearing on different buildings in Moscow for the last 10 years – sometimes as a philosophical question, other times as a rebuke for the ugliness of the architecture.
Misha's Most indicative street project to date was "The Russian Constitution," which consisted of articles of different laws stenciled on patches of pavement.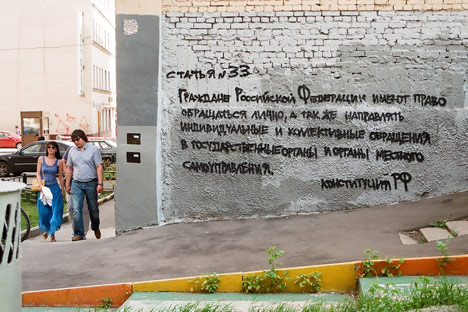 Misha's Most graffities attract attention to the Russian Constitution. Source: Misha Most.
These primers are useful to Russian citizens who, as a rule, do not know much about legislation. At the same time, they create extra work for law enforcement officers, who are obliged by the Constitution (see the Article on graffiti) to paint over these texts.
Another notable project combines elements of urban activism and political expression: in different cities of Europe, wooden birdhouses that look like video cameras have appeared in the trees, reminding residents about total control and providing nests for birds at the same time.
Pasha 183, who, unfortunately, died of unknown causes on Friday, March 29, was much loved by Western reporters – though he took offense when they called him the "Russian Banksy" and did not show in galleries. He did, however, take advantage of grants when it was a matter of covering the high costs of his monumental works.
Pasha 183 was a talented graphic artist with a highly developed sense of imagination and humor. He once noticed that a pile of cement bricks at a Moscow factory looked proportionally just like bars of chocolate: he took a few quarts of paint and turned an unfinished cement wall into a giant Alyonka chocolate bar (Alyonka being the chocolate bar of choice among Russian children).
In another part of town, with a little paint and some simple props, Pasha 183 transformed an ugly building that had disfigured beautiful Rozhdestvensky Boulevard in the historical center of Moscow into a fairytale gnome's house with lintels around the windows, a fretwork porch and flowers in pots – only upside down.
Art activists are philosophical about the fact that most of their work is doomed to destruction: they care more about the public response to their work than the work itself.
Interestingly, one of the members of Pussy Riot who received a suspended sentence is now doing performances with a group called "Pust Stirayut" ("Let Them Erase It"), which, when said quickly, sounds almost exactly like "Pussy Riot." It also expresses the credo of all street artists. Indeed, let them erase any work: its memory will remain.
All rights reserved by Rossiyskaya Gazeta.