Way to go: Sergei Dovlatov becomes a part of New York City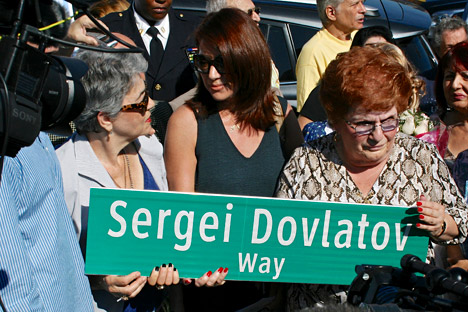 Dovlatov's widow, Elena (left), his dauther Katherine (middle) and Council member Karen Koslowitz at the unveiling ceremony for Sergei Dovlatov Way in New York. Source: Ivan Zakharchenko / RIA Novosti
New York pays tribute to an adopted Russian son by changing the name of a street where he lived.
New York has honored the memory of Russian-American writer and journalist Sergei Dovlatov by naming a street after him in district of Queens. The unveiling ceremony was attended by representatives of the municipal authorities and public organizations of New York as well as by Russians living in the area.
"The Russian diaspora has made a considerable contribution to the development of our city and we appreciate it, as is evident from the honoring of the outstanding Russian immigrant, who for many years lived in New York," city council member Karen Koslowitz said.
Officials from the mayor's office and Dovlatov's widow Elena unveiled the first sign with the street's new name, which was attached to a traffic-light pole at the intersection of 108th Street and 63th Drive in Forest Hills.
"I would like to thank every single person who signed the petition, friends and people we don't know, everyone who lent their voice to this initiative, who wrote letters. Even though a large number of those voices came from outside the United States, they still mattered and they were counted. So thank you. (Democracy at work)", said Dovlatov's daughter Katherine.
Katherine Dovlatov and the writer's widow Elena were skeptical at first about the renaming, but a group of activists, including Greta Rozensweig, Alex Rubin, Boris Koltsov, and Alexey Pivovarov helped the idea to come true.
"They did all the legwork, they talked to all the right people, they set up websites and coordinated media, they wrote letters, and in the end their determination and hard work paid off. We are not only grateful to them, we have become good friends."
New York City Council ruled on June 28 to designate the intersection of 108th Street and 63rd Drive in Queens, where the writer lived for more than 10 years after emigrating to the USA, as Sergei Dovlatov Way. Two weeks later, the ruling was approved by Mayor Bill de Blasio.
In 1984, the intersection of 67th Street and Third Avenue in Manhattan was renamed in honor of Russian scientist and human rights advocate Andrei Sakharov.
Based on materials from ITAR-TASS.
All rights reserved by Rossiyskaya Gazeta.